Meant To Be In '09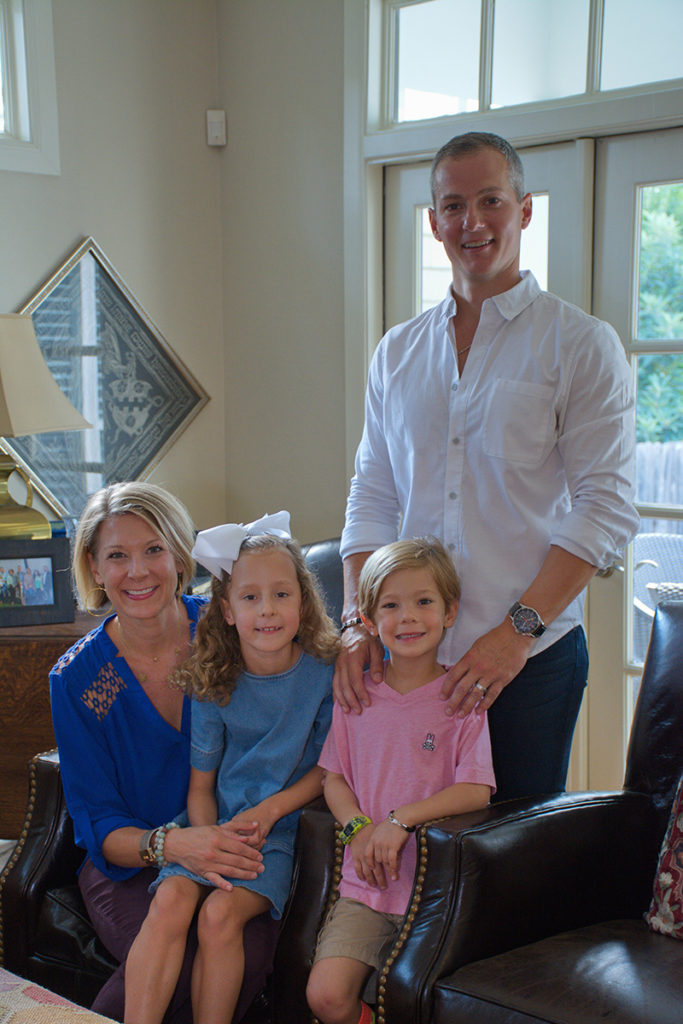 ThMyriad paths have led countless non-native folks to the Alamo City, many eager to permanently put down roots and establish themselves within their new communities. Often, it's an economic opportunity that dictates the move or maybe just a simple desire for immersion into our enviable, multicultural lifestyle. For recent '09ers Brooke and Jared Meabon, their motivations for coming hit much closer to home.
After being faced with two unexpected and serious medical challenges while residing in the Atlanta area, the Meabons were ultimately beckoned to San Antonio, thanks to its extensive health care offerings coupled with its ability to provide substantial familial support. In other words, the right doctors and Brooke's mother and stepdad were all here – definitely powerful reasons for a relocation. Fortunately, as you'll read, the at times scary situations that caused Brooke and Jared to strike out on their own unique path to SA have been resolved with the joyful outcome (for them and our neighborhood) that now this delightful pair and their children have truly become one with their adopted 78209, and they're loving it! Really, when considering everything it took to get them here, maybe it was just "meant to be."
Like many stories of upheaval, theirs is touched with initial sadness but thankfully is blessed with an abundance of resulting happiness too. First, however, a little introduction is in order. Brooke, although born and raised in Midland, did spend a few high school years in North San Antonio living here with her mother and stepfather during the 1990s. After graduation, however, the young and eager-for-change 18-year-old first headed off to college at Texas Tech University and then later moved to Dallas, always with the intent of "making her own way" and "not in San Antonio." As she remembers, "I liked the city but didn't want to be that girl who left and then came right back home."
Jared, who grew up in Erie, Pa., had successfully established himself within the hospitality industry. It was after he was transferred to a Dallas hotel that he and Brooke first met – she was then employed by the same property. And as Jared remembers of their first meeting, "I knew she was something special. It wasn't long before we were dating. We tried to be discreet since inter-office romances were frowned on, but soon discovered that all of our co-workers were aware of the situation." It must have been pretty obvious, but as Brooke says, "What were we to do?" And anyway, nobody seemed to mind.
After a year together, Jared received a job offer from another company that would move him onto the hotel-development side of the business. That was great, but the new position required a move to Atlanta. By that time, however, there was no separating this destined twosome, so off they both went, with Brooke ultimately transferring to a position in sales within an Atlanta branch of her current employer. A few months later, the pair married (at a ceremony held in San Antonio), then contentedly settled down as newly wedded husband and wife.
It was in 2009, after four years of marriage, when the Meabons received a double dose of frightening news that would quickly alter their plans. The first concerned Brooke's beloved stepfather, who had been recently diagnosed with brain cancer. And if that weren't bad enough, shortly thereafter, and 11 weeks into her first pregnancy, Brooke, with Jared by her side, was told their unborn daughter had a serious birth defect that severely affected the development of her internal organs. With their child's dire prognosis, coupled with Brooke's stepfather's condition, as she states of that difficult time, "I realized how much we needed to be close to family and a support system. God definitely had plans for us to move to San Antonio." And as further proof of a heavenly intervention, a few months after their daughter's diagnosis, an SA-based regional position in Texas suddenly opened up within Jared's new company. It allowed the grateful couple to relocate without adding financial worries to their other concerns. As Jared recalls, "It was almost miraculous how everything came together, easing our lives." By 2010, the Meabons were settled in the city (near the Medical Center) and bravely facing dual situations.
Seven years later, as Jared attests, "It all seems like a dream." Unfortunately, Brooke's stepfather succumbed to his illness, but "the family remained together throughout the ordeal," and that proved comforting. Regarding their daughter's condition, as both attest, "Harper is now 100 percent, thanks to the extraordinary care she received here. We were blessed by the outcome and now have a wonderfully normal and happy child" – two, in fact since they also have a son, Harris, named in honor of Brooke's stepfather. And through it all grew the realization that San Antonio, and now 78209, is where this undaunted family will forever call home. Brooke seriously relates, "So much has happened here, and so much of it was good. We just can't leave."
Today, comfortably ensconced in their Old Alamo Heights house off Broadway, life is great. Both kids are enrolled in AH schools, Jared's career is soaring (he's now a VP of development for a national chain of hotels), and Brooke finds time (somehow) beyond motherhood to professionally write and consult. She's also heavily involved with the Alamo City Mom's Blog, which she happened to co-found, and throughout her new community, especially with the little ones' school's PTOs. Both she and Jared and their thriving children love their new(ish) home in '09 (Grandma even moved into the neighborhood a few houses away) and wonder "What took us so long to get here?" Whatever the reasons, looking back, it really does seem like it was all "meant to be." Amen!
By Ernie Altgelt
Photography by Martin Waddy