Melanie Shankle Shares Life's Amusing Moments In Her Blog
---
by: Courtney Burkholder
---
Some women wouldn't appreciate being called Big Mama. But for Melanie Shankle, the nickname began as a term of endearment given to her by her daughter, Caroline, and eventually became the name that reshaped the course of her life. Author of the thebigmamablog.com, a blog site dedicated to motherhood and family, Melanie has built a business sharing the touching and amusing moments of her life.
Raised in Houston and Beaumont, Melanie attended Texas A&M University, where she received her degree in speech communications and, more importantly, met the man who would become her husband, Perry Shankle. A long-time resident of Alamo Heights, he grew up in San Antonio and is the owner of Perry Shankle Landscaping Company. Married since 1997, the Shankles have one daughter, Caroline. Life in the Shankle home is the inspiration for the day-to-day hilarity chronicled in her daily blog.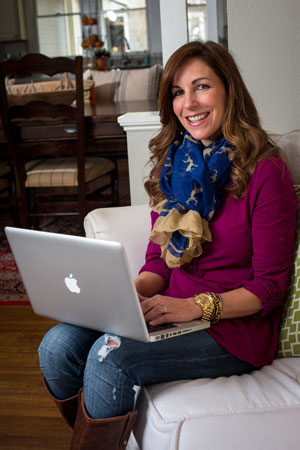 Melanie became the official Big Mama in July of 2006. "I started the blog as a way to record my family memories," Melanie says. "I'm not much of a scrapbooker, but I have always loved to journal. The blog seemed a good way to keep track of the little things going on in my life." Initially, Melanie's blog was her little secret: "I didn't even tell Perry. I just typed my stories at night before I went to bed. I never dreamed anyone other than my family and friends would want to read them."
But read them they did! Today, the Big Mama Blog has over 125,000 subscribers who tune in weekly to read about the happenings of the Shankle household and to find inspiration in coping with their own lives. "I'll never understand why so many people read it every day, but at least part of the reason is because I really try to find the humor in every situation," Melanie says. "Life can be so hard and so serious, and I think people always like to find a minute that doesn't feel so heavy."
After two years of writing and growing the Big Mama Blog, Melanie was ready for a new challenge. "I had always wanted to write a book, but had no idea how to go about it," she admits. "I had a few friends in the writing industry, and I'd heard it was really hard to break in." At a writing conference in 2008, while speaking on the topic of blogging, Melanie met a literary agent and gave him a sample of her writing. "He took me on and really walked me through the entire process of writing the book," she says. Her first book, Sparkly Green Earrings, a memoir, debuted on the New York Times Best- Seller list in February 2013.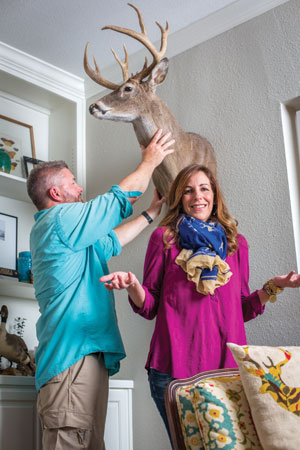 Sparkly Green Earrings is Melanie's story about the small, seemingly insignificantments in a mother's life that fall by the wayside in the midst of all the chaos, but that are what truly make each of us Mama. "The good thing is there are always new moms interested in reading a book about motherhood, so there is always new interest," she says. Last month, on February 4, Melanie released her second book, The Antelope in the Living Room, a memoir dedicated to marriage that also debuted on the New York Times Best-Seller list. "We all have those little things about our spouse that drive us crazy, whether they are literal or proverbial," she says. "The Antelope in the Living Room is my story of two people sharing one life. Anyone who is married can relate." In this book Melanie tackles marriage with the same insightfulness and humor that mothers found so appealing in Sparkly Green Earrings.
When Melanie isn't writing or blogging, she can be found out and about in Alamo Heights attending basketball and soccer games, shopping with her best friend, Amy Fisher (also known as Gulley, a regular on the Big Mama Blog), and performing all the normal duties that famous mom-bloggers get to do, like grocery shopping, laundry and dry-cleaning pickup. She is also a regular contributor to ThePioneerWoman. com, and she serves as the emcee for Lifeway's annual DotMom conference. But her favorite job: soccer mom, right here in Alamo Heights.
"I really love living in Alamo Heights," Melanie says. "I moved around a lot when I was a kid, so I love the fact that Caroline will graduate with many of the same kids she is in school with now. I also love that Alamo Heights has the charm of a small town but the convenience of living in a big city. So many people who grew up here come back to raise their families here, and that's a testament to Alamo Heights."