Kathy and Ron Ripps
Opening Doors and Creating a Community
By Meredith Kay
Photography by David Teran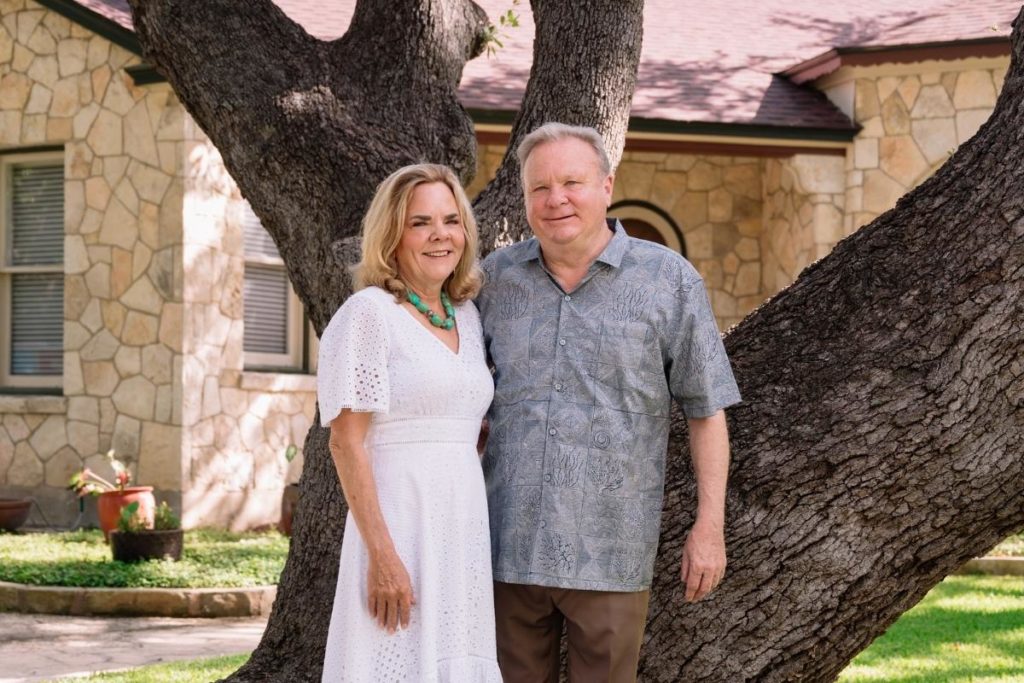 It's no secret that people are moving to San Antonio in record numbers, and the city is experiencing tremendous growth as we recover from the pandemic. The boundaries of our city are expanding, but the Alamo Heights community continues to thrive and remain consistent. Real estate in the '09 area is at a premium, and one area couple has capitalized on this industry's growth and cherishes the community they have been a part of for nearly 25 years.
Ron and Kathy Ripps met through mutual friends, and they have been married for 24 years now. Kathy was born and raised in Kansas City, but she fell in love with San Antonio 30 years ago when she was visiting a friend and moved south shortly thereafter. Kathy taught special education at Bradley Middle School before returning to school at Our Lady of the Lake University to earn her advanced degrees in psychology and counseling. She loved the tight-knit community that she found in Alamo Heights, and once she and Ron were married, they decided to settle down and raise a family here.
Ron is a fifth-generation San Antonian and a graduate of McCollum High School. He is a savvy investor and active stock trader, and he has also built a small real estate empire with over 60 rental properties across the state of Texas. Some of the properties are long-term rentals, and some are vacation rentals. Ron and Kathy's daughter, Amber Breunig, who also lives in San Antonio, manages the properties with her father.
In 2007, Kathy met the parents of one her students and was intrigued with their real estate business. She loved working with students and admired the dedication of the staff at Bradley Middle School, but she decided to change careers and became a real estate agent with Kuper Realty. The brokerage firm eventually merged with Sotheby's International, and today, Kathy is one of their top-selling agents, specializing in luxury properties from downtown San Antonio to the Boerne area.
Kathy loves the Alamo Heights community and has noticed that it is always attracting new residents. She says, "There are always new faces moving into the area. The outstanding schools draw families in, and I've noticed that people who grew up in the area often return to their childhood neighborhoods after finishing school or moving around. Alamo Heights is very community-focused, and everyone knows their neighbors."
Ron and Kathy Ripps live in a traditional ranch-style home that was built in 1939. They have made many changes to the house over the years and are especially proud of their beautiful yard and the huge trees surrounding the property. They love the walkability of their neighborhood, and Kathy loves that she can walk to the grocery store and interact with her neighbors when she is out and about.
The couple is very active in their community, and they love to patronize the arts scene in San Antonio. They are members of the Los Amigos Ski Club and have traveled the world, most recently returning from the British Virgin Islands. Kathy is an active member of the National Association of Women Business Owners (NAWBO) and is proud of the work that her colleagues do to raise scholarship funds for dynamic young female students. She is also active with Impact SA, a women's non-profit collective that awards high-impact grants to other non-profit organizations serving the Greater San Antonio area. Ron is an active member of the San Antonio Rotary Club. Together they are a force to be reckoned with, and they look forward to continuing to contribute to a community they are proud to call home.