by Bruce X. Forey  |  Photography by Al Rendon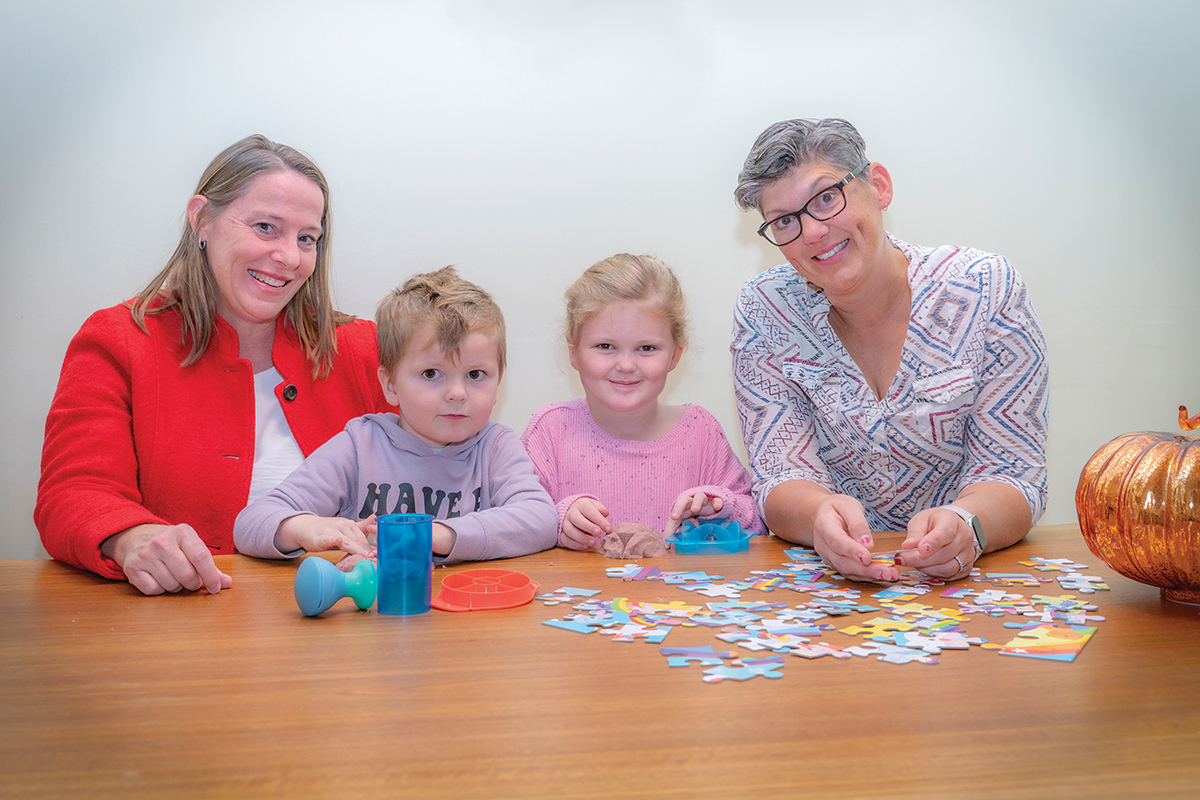 It's a familiar story – a member of the armed forces gets stationed in San Antonio, is impressed with the Alamo City, and moves here after their service is complete. However, not all establish roots in 78209. But for Michelle Rowe, the people and attractions within the zip code offered everything she wanted to call home. 
"I'm from the East Coast, and after my military service, I moved to New England. During COVID, I decided to relocate to San Antonio and live in 78209," Michelle said. "The sense of community reminds me of New England, there are a lot of things to do nearby, and I wanted my two children to attend Alamo Heights schools." 
Part of Michelle's 22-year military career was spent at Kelly Air Force Base serving as an Aeromedical Evacuation Nurse. She traveled all over the globe providing hospital-level care for military personnel and civilians as they were flown to a hospital for specialized medical attention.
"We took patients that were typically stabilized but, in the air, it's way more intense care than what you provide on a rotary winged transport," said Michelle. "We carried up to 72 patients, with a crew up to seven, usually two flight nurses and three techs."
After an exciting military career, Michelle turned to something completely different for her next chapter in life – she bought a balloon decoration business 17 years ago in New England. 
After moving to San Antonio two years ago, she renamed it Alamo Balloons and worked to build a customer base. A storefront was part of the plan, but she waited for the right location to come about. Michelle ran the business out of her home and then got a game-changing opportunity doing an event for a local school. 
"I was doing balloons for Woodridge Elementary School and realized I'm in, I've got some name recognition! That's when I opened my store in Arcadia Grove Shopping Center, in the heart of Alamo Heights," Michelle said. "I found the right spot, the right size, the right location."
Soon after opening her Arcadia Grove location, she was welcomed by the tight-knit 78209 small business community. 
"Most of the store owners in the shopping center came over to say hello and wanted me to do events for them," Michelle added. "We really try to help each other. It's been fantastic."
Alamo Balloons continues to expand. Michelle has a growing list of small business and corporate customers and stays busy doing events with Alamo Heights I.S.D. schools. 
Her two children think it's cool their mom owns a balloon design operation. Her kids enjoy hanging out at the store, watching mom create something that makes people happy.
"We're popular with the younger kids. For their little friends, if we know it's their birthday, we'll take them a balloon bouquet or will deliver some balloons. I love being able to offer that," said Michelle. "I also enjoy sharing the joy of balloons with friends and small businesses colleagues at no charge, just to support what they're doing."
There's something about a balloon creation that brings a smile to children and adults. It's Michelle's favorite part of the profession. Quite the contrast from the serious business of Aeromedical Evacuation Nurse.
"I don't know of any other job that gives you this much satisfaction and immediate gratification," Michelle said. "We don't run into many cranky people. People are celebrating an event, and you get to be a part of that special day."
When the balloons are at rest, Michelle and her children take advantage of what the immediate area offers. There are frequent visits to The DoSeum, Hemisfair Park and other popular attractions. It's soccer season and spare time is spent with practice and at the games. To find out keep up with Michelle and her balloon ideas visit her Facebook Page at Alamo Balloons.