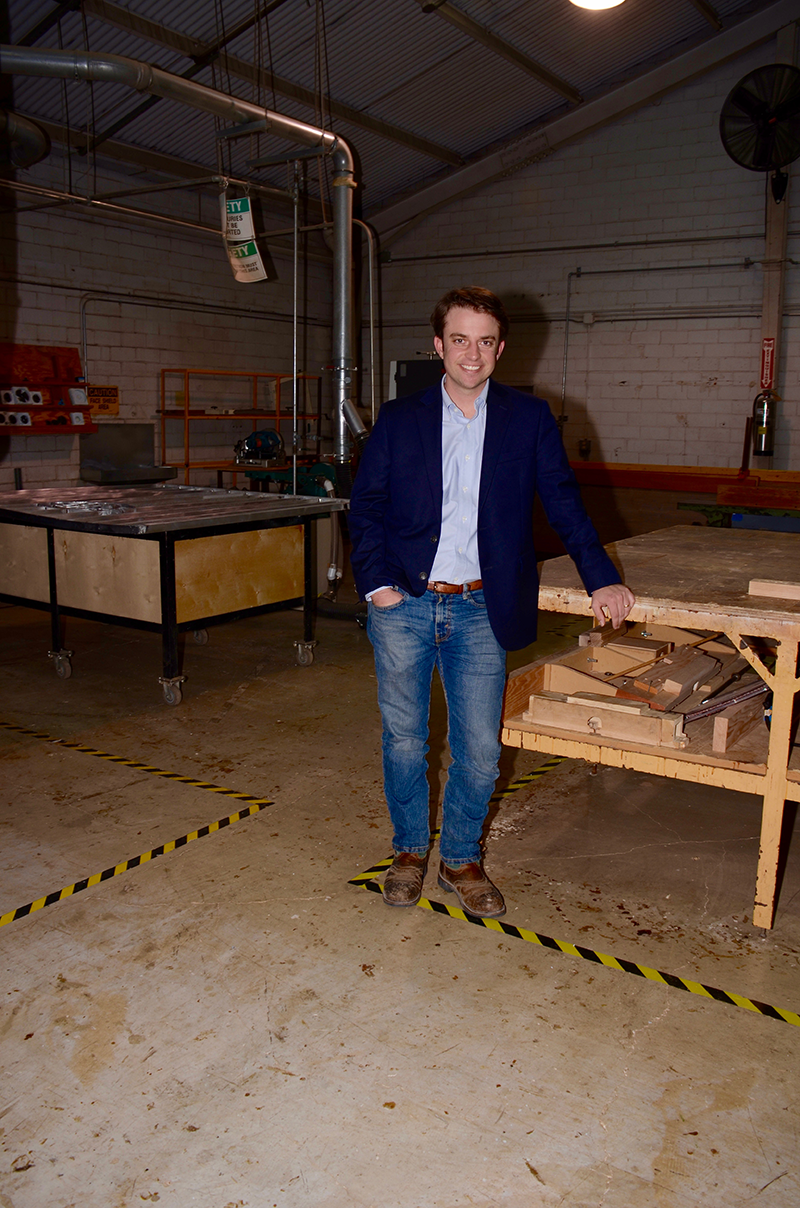 Talk to anyone in government in Alamo Heights, and they will all say Lawson Jessee's truly one of a kind. He was elected to City Council by just nine votes in 2015, when he defeated two-term incumbent Councilman Bobby Hasslocher. He was just 27 years old.
The final victory tally was actually 10 votes. "We had one absentee ballot that year, from a soldier serving in Iraq. He or she voted for me," Jessee told 78209 Magazine.
That close a race would be newsworthy on its own. But add to that Jessee's age — he'll turn 30 in May of this year — and you have quite a story. Indeed, Hasslocher was more than twice Jessee's age. Councilman Wes Sharples, at 37 years of age, is the second-youngest member of Alamo Heights City Council.
Jessee grew up a political activist. "I was even complimented by a Secret Service agent when I protested John Kerry's appearance in San Antonio during the 2004 presidential campaign," he recalls. "I was holding a sign at the rally. A Secret Service agent asked me to remove the stake it was attached to." Jessee readily complied, without objection. "The agent told me I was one of the most polite protestors he'd ever met. I liked that."
A fourth-generation resident of Alamo Heights, he has stayed very close to his roots. "I could toss a baseball from my house on Wildrose and hit my grandfather's house a block away," he says. Jessee and his wife, Julia, and their baby live on Wildrose Avenue.
After graduating from Alamo Heights High in 2006, Jessee decided to pursue a lifelong dream to become a lawyer. He enrolled in a pre-law program at George Washington University in Washington, D.C. But he quickly discovered law really wasn't what he wanted to do. He returned to Texas to attend Texas A&M University in College Station. His dad, Troy, had graduated from A&M in 1982.
Jessee's family was in the construction business, and as he thought more about what he wanted to do, construction was a powerful magnet, and A&M had a wonderful construction science curriculum.
After graduation in 2010, Jessee joined two of the world's largest construction companies – the Beck Group and then Skanska — learning the business from the ground up, preparing himself to join his dad's construction firm – Troy Jessee Construction — in San Antonio.
In a roundabout way, construction pushed Jessee into running for City Council. He favored the proposed new construction of an apartment complex at Broadway and Austin Highway. Councilman Hasslocher opposed it. "I thought the project would be good for Alamo Heights and the Austin Highway – Broadway corridor. It offered young people an opportunity to live and work in the city, with easy access to retail shopping," he said.
City Council member Lynda Billa Burke told 78209 Magazine she's thrilled to have Jessee on Council. "He is so respectful. It is wonderful to work with someone who actually listens when you talk with them." And, she added, "The best thing about having Jessee on Council, we have young people now involved in helping decide how their city will grow. He's wonderful during our sessions. He asks a lot of questions, he pays close attention. He thinks before he talks. And when he talks, we listen.
"His goal is to make Alamo Heights a better place. And as bad as politics is now, that a young person wants to do the right thing and work in their community is heartwarming to me. He truly puts the effort into it," she said.
Her enthusiasm for Jessee is matched by Mayor Bobby Rosenthal, who told 78209 Magazine, "Lawson Jessee has been an incredible asset to City Council. When he was first elected, I think many of us may have been skeptical due to his age. However, his youthful energy has been a great benefit to us all. Having an individual with an active career in construction has also been a real plus for us as a community. Lawson understands the scope of projects, materials that will need to be utilized, and he can suggest alternatives."
And while Rosenthal is not ready to hand over the mayor's chair to Jessee, he said, "I strongly believe that Lawson will be a mayor someday—hopefully in Alamo Heights. He has the demeanor to deal with all types of issues. He is very level-headed and seeks what is best, both for our citizens and for the city. The residents of Alamo Heights have no idea how fortunate they are to have Lawson as a Council member. He is a true asset."
Former Alamo Heights Mayor Louis Cooper found the campaign between Hasslocher and Jessee fascinating.
He recalls, "Knowing we had a race between Hasslocher and Jessee, it became very interesting to look into this young man running against a seasoned, very well-known sitting Councilman. I was astounded at his maturity and sense of balance, knowing exactly what he planned to do if he won the seat.
"The fact is, Council needed an infusion of youth. It's somewhat like planting new trees next to the more mature ones. In my numerous years with the city, I have seen many new Council members who are very timid about speaking out and just really do not add a lot of value for a period of time. That's normal. But Lawson came in and is a natural at this! He came in with a terrific knowledge base in construction that helped very much with the building of the new City Hall."
Like Rosenthal, Cooper sees Jessee as mayor in the not-so-distant future: "He is a natural leader, and I truly believe he will be mayor soon. He is able to listen to both sides with respect and let both sides win. More and more young people are now interested in serving on our boards since Lawson has joined the council."
By Ron Aaron Eisenberg