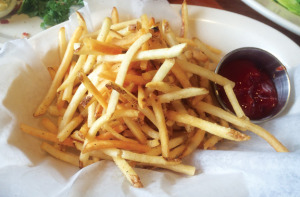 Culinary consistency is probably the most important factor with regard to whether a restaurant will stand the test of time. Many restaurants are eager to capitalize on the latest trends but never manage to put together a reliable menu that appeals to everyone. J. Alexander's, an anchor restaurant located in The Quarry since the development of the shopping center, has not only withstood the changing culinary climate in San Antonio, but they continue to thrive in one of the most visible locations in the 78209 area.
With a diverse menu that spans the globe, a classy atmosphere and decor with rich dark wood accents, cozy booths and an open kitchen, J. Alexander's offers an enjoyable dining experience for both lunch and dinner. It is perfect for a power lunch, and it also offers an intimate setting for a date or special occasion. Service is usually on par, and you'll find that management is actively visible, checking on diners with a warm smile and friendly greeting.
The restaurant features a solid menu offering everything from gourmet burgers to specialty salads, tacos, seafood and steaks. The flavors of J. Alexander's travel the world with dishes like Steak Maui, Carolina Crab Cakes and Scottish Salmon. You will also find a select menu of items offered on a seasonal basis, and the restaurant is eager to accommodate any special request.
The salads at J. Alexander's aren't for the "I'll just have a salad" crowd either. They are huge and hearty, with fresh ingredients and delicious house-made dressings. One of my favorites is the Cypress Salad. It features chopped crispy chicken tenders, bacon, pecans, avocado, tomatoes, cheese and croutons. I like to switch out the usual ranch dressing for the tangy honey mustard dressing, and when you pair the salad with a side order of their shoestring french fries, you've got a great lunch to get you through the rest of the workday.
For starters, I usually order their Smoked Salmon Dip with crispy baguette toasts. It is one of my favorite appetizers. On a recent visit, however, I ventured to try the deviled eggs with sugar-cured bacon and homemade pickle relish. The eggs were piled high with sweet and savory bacon bits sprinkled atop each yellow peak. They were delicious, and there were plenty to share. I'd definitely order them again.
The restaurant serves lunch and dinner every day and accepts reservations as well as walk-ins. From starters to finish, J. Alexander's is a solid restaurant with something to satisfy any palate. From their very popular Slow-Roasted Prime Rib to the spicy Rattlesnake Pasta, along with outstanding desserts and an impressive cocktail list, you will find a way to please even the pickiest friend or co-worker at J. Alexander's.
BY MEREDITH KAY