Happy New Year!
You know the familiar phrase "I am going to kick off the New Year by joining a gym or starting a diet"? Well, now that you've consumed all those holiday candies, cookies and cakes and washed them down with eggnog and Champagne, you might truly feel that way. But stop right there, the fun is just getting underway! Two of the best tasting events are happening in January. Restaurant Week is here again, and San Antonio restaurants are on display, showcasing the finest Alamo City cuisine Jan. 15-27. Restaurants will offer special three-course prix-fixe menus for lunch and dinner throughout the city. Make your reservations and experience SARW lunch and dinner with two tiers to choose from: Tier 1, $15 lunch and $35 dinner, and Tier 2, $10 lunch and $25 dinner.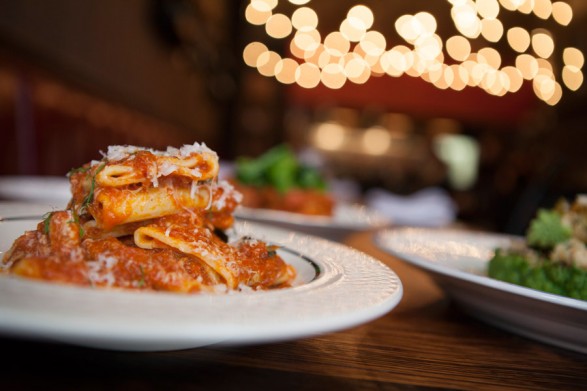 Your taste buds will be happy at these '09 restaurants such as Betos Alt-Mex, Frederick's Restaurant, Café Dijon, Fleming's Prime Steakhouse & Wine Bar, Silo's, Cooper's Meat Market, Max's Wine Dive, Sushi Zushi, Tre Trattoria, 20nine Restaurant & Wine Bar, Nosh, Paloma Blanca and Periphery. Your dining experience will be a charitable one; with each meal ordered, restaurants will donate $1 for lunch and $2 for dinner to Culinaria and the programs it supports. Please check www.culinariasa.org for updates to restaurants and numbers to call to make your reservation. Good eating in the neighborhood!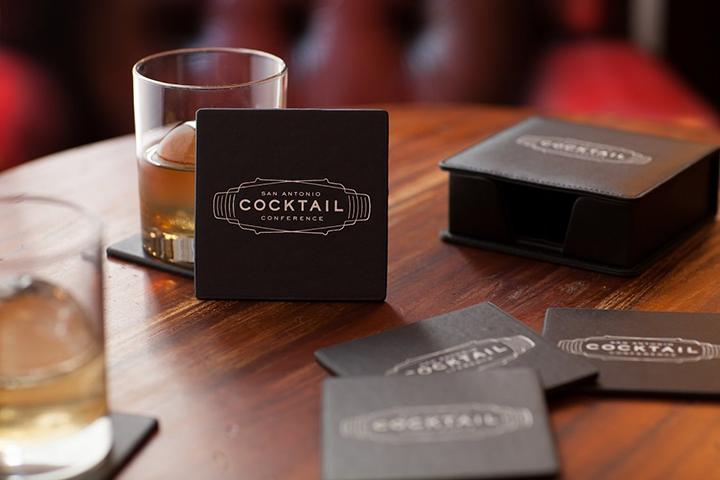 And then there's the seventh annual San Antonio Cocktail Conference, Jan. 5-14. Attend the opening night at the DoSeum for an amazing and entertaining cocktail experience and a stellar celebration with a variety of music, food and fun offered throughout the museum to accent your craft cocktails. Numerous other tasty events, seminars, food pairings and more are offered during the conference. The official drink for the San Antonio Cocktail Conference: Tio Mio. Check it out, and purchase your tickets now before it's too late! www.sanantoniococktailconference.com.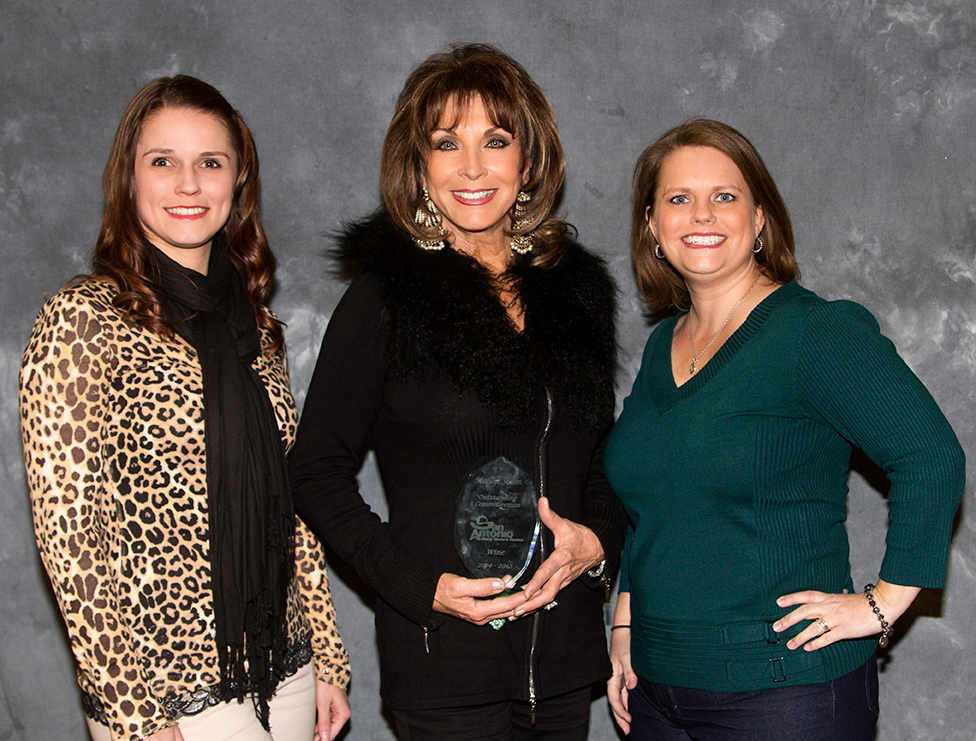 Valentine's Day and the Rodeo will be here before you know it, meaning more food and festivities — you aren't really going to try to diet, are you? The Champion Wine Auction will be held at the Witte on Jan. 18 at 5:30 p.m. Chair Rita Stich heads up Let's Rodeo Ball on Jan. 20 with entertainers Clay Walker, Clint Taft and the Buck Wild Band. Let's Rodeo Ball is a major fundraising event for the San Antonio Stock Show & Rodeo Scholarship Fund. This upscale party will feature great food catered by RK Group.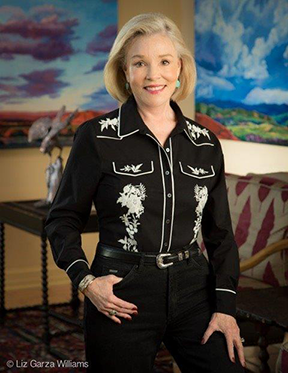 And '09er Bonnie Bowman Korbell has been chosen as the honoree for the 13th annual Cowgirls Live Forever Scholarship Luncheon & Fashion Show, presented by Julian Gold, Jan. 30 at the Witte. Bonnie was chosen based on her independence, courage and resilience as a woman whose life exemplifies all the characteristics that preserve our Western heritage and help to shape the agriculture and youth of Texas. Her profound impact on her immediate surroundings and community provides the foundation for her selection as the luncheon and fashion show honoree. She and her husband, John, have three children: Katherine Brown, Caroline Carrington and John Korbell, Jr. (Jay), and five grandchildren.
Besides being a devoted wife and mother, Bonnie is involved in many community activities. She served on the boards of St. Luke's Hospital, St. Luke's Lutheran Health Ministries, the Argyle, and currently serves as the co-chair of the Winston School Advocates. As an active member of the capital campaign for the Witte Museum, Bonnie was instrumental in gathering support for the new Texas Wild Exhibit. She has served on the advisory councils of Texas Lutheran University and the McNay Art Museum. She is a member of the Charity Ball Association and was active for many years in the Junior League.
Other charitable involvements have included the Cancer Therapy and Research Center, University of Texas Health Science Center, Trinity University, Baylor School of Medicine (Houston), Saint Mary's Hall, the Museum of the Big Bend and Borderlands Research Institute. The Children's Shelter recognized Bonnie in 2013 as Angel of the Shelter, and in 2017, she was honored by Girl's Inc. at their annual luncheon. Honorary chair Ed Whitacre will be at the Cowgirls Live Forever luncheon, and several past honorees, including last year's honoree, Carla Northington, may be in attendance.
Speaking of Julian Gold, they presented a few fashions at Chi Omega's 10th annual Fundraising Luncheon for the Make-A-Wish Foundation. Sheryl Stouffer, Kelly Strange, Jennifer Vizza, Margaret Mitchell, Leslie Oliver, Erin Clementson, Ann McRae, Faith Stouffer, Mallory Ahl, Elizabeth Greehey Marceau and Sallie Guy were among those in attendance.
Live Oak Garden Club members joined hostess Leslie Zinsmeyer for the annual December holiday coffee. Lead hostess Lynn Thompson oversaw the holiday sweets. Mary Alice Bond, Carolyn Wiggins, Maxine Kelley Chiodo, Pat Krueger, Evelyn Williams, Victoria Wood, Theresa Seidel, Kathie Thrift, Kayla McDonnell, Cindy Pennell, Shirley Bryan, Nancy Cook-Monroe, Sarah Forney, Xonia Kargl, Nancy Avellar, Jan Davis, Mary Lou Vielock, Jenny Evans, Holly Jones and Sue Dullnig enjoyed a morning coffee of breakfast sweets, spiced cranberry punch and eggnog with brandy and nutmeg.
And speaking of garden clubs, journey over to the San Antonio Botanical Garden for Art in the Garden. Look for the new sculpture installations and the featured works of art by Diana Kersey that will be placed in the Lucile Halsell Conservatory throughout the month.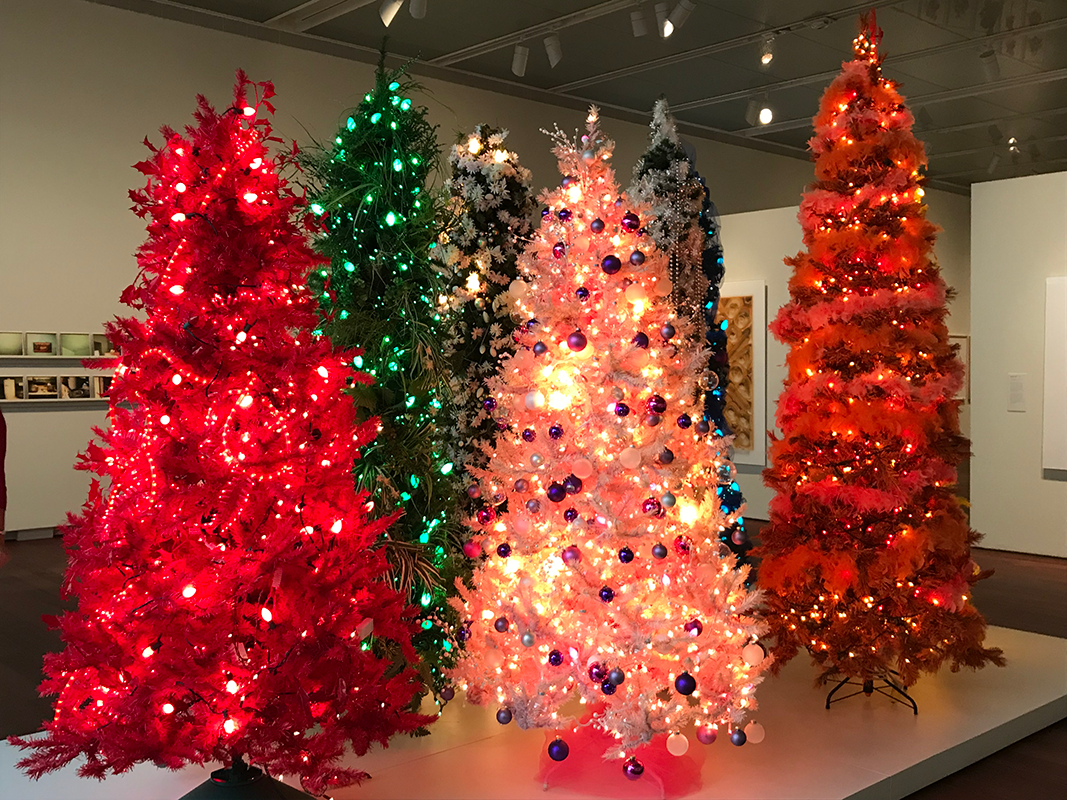 A few days are left (through Jan. 14) to view the exhibition at the McNay Art Museum honoring the life and career of iconic San Antonio artist Chuck Ramirez. The presentation includes photographs from approximately 20 of Ramirez's series; Bean & Cheese, a recreation of one of the artist's early exhibitions at Artpace San Antonio; examples of video and installation work; nine decorated Christmas trees the artist made for friend and patron Linda Pace; and other unique works.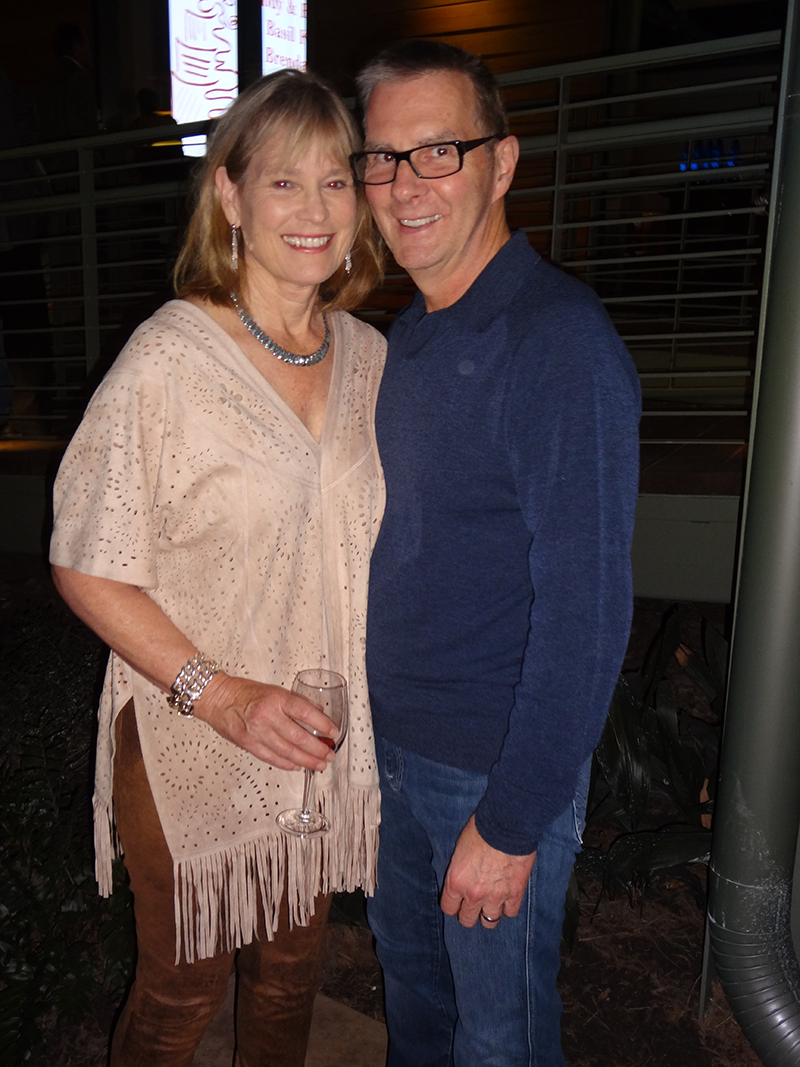 And what a shindig! The Annual Grand Western Shindig was a huge success once again. Chairs Laura and Kennon Guglielmo along with Melinda and Brian Biggs, Dr. George and Jill Vassar, Chris and Courtney Schultz, Sharon and Stuart Seal, Dr. Karl and Lisa Swann, Ross and Lindsey Evans, Kelly and Carl Fellbaum, Peggy and Freddie Cervera, Francie and Kent Calgaard, Don and Shirley Crews, Dina and Lott McIlhenney, Alethea and Bruce Bugg, Kelly and Lee Raney, Maxine and Don Farrimond, Chrissy Sledge and Katherine Buzzini bid on items, danced to Always Patsy Cline Band and raised over $715,000 for Mission Road Ministries. The proceeds are distributed directly from Mission Road Ministries to their client programs through Mission Road Developmental Center and Unicorn Centers.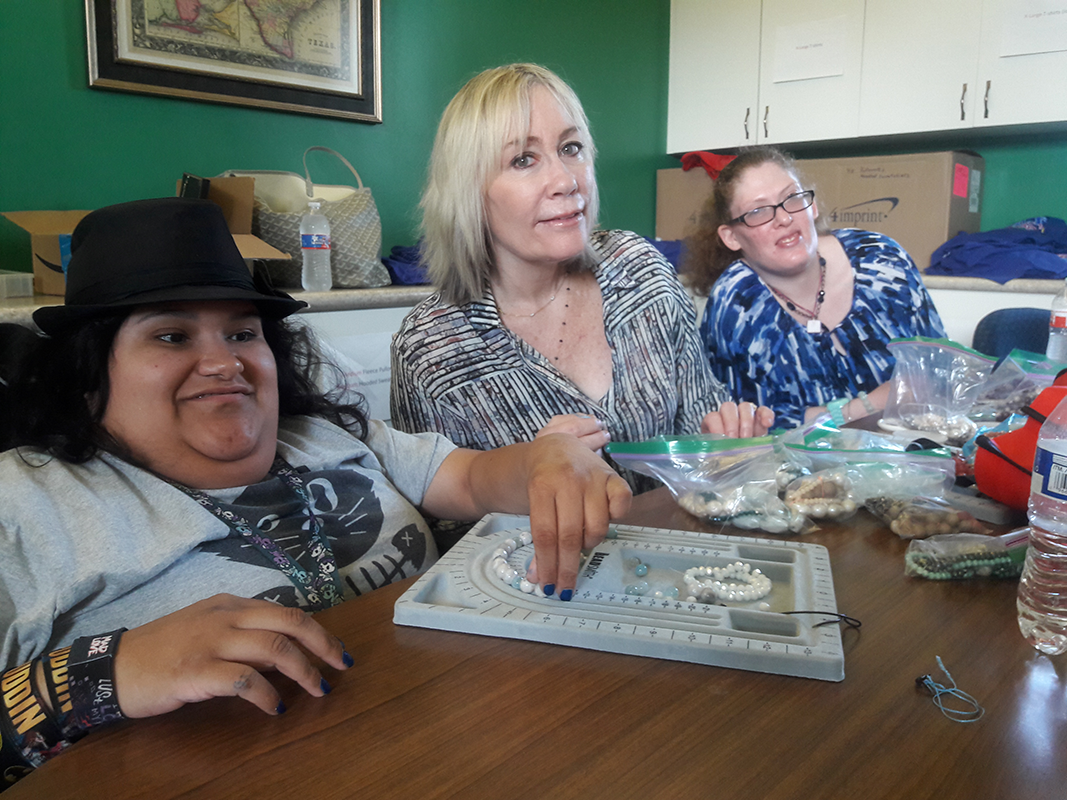 Also new to Shindig was Club 8706, which was created by Amy Kipnes. The club is made up of women with special needs who are daily participants in the Free.To.Be Day Activity Program at Mission Road Ministries. The program provides opportunities for many of these women to be productive while expressing their creativity, such as by learning the art of jewelry making. Creating and designing beautiful beaded necklaces to sell and distributing proceeds back to an array of charities, fostering the sense of belonging to a club, sharing in a common goal and allowing members to experience self-worth and a great sense of pride have brought a positive sense of accomplishment to all involved. Club 8706 …. just bead it! Of course, I must send a big thanks to Lynette A. Farrimond, vp of development and communications at MRM, for her work with Shindig and MRM.
Clint Black was in town for the Annual Tetco A Hill Country Christmas at the JW Marriott. Jon and Shannon Turner (host family), Dick and Jimmie Ruth Evans, Joyce Bradfield, George and Abigail Kampmann, Steve and Heather Mafrige, Bert Pfiester and Mr. and Mrs. Reggie Brooks were a few spotted kicking up their heels and enjoying the festive event with fortune tellers and plenty of great music by Tone followed by Clint Black. Returning Heroes Home was the recipient of a $50,000 gift from TETCO and the Tom Turner Family Foundation to assist San Antonio's wounded warriors. This event brings the total to date to $570,000 that the company has donated to the nonprofit organization.
Kelly Wade Jewelers Debuts With Grand Opening Sparkle
Over 200 guests gathered to celebrate the grand opening of San Antonio's newest fine jeweler, Kelly Wade Jewelers, located at 5926 Broadway on Nov 16 and 17. Throughout the two-day celebration guest's mixed and mingled while trying on collections exclusive to Kelly Wade Jeweler's, including Eden Presley, Sloane Street and Ila, along with many other beautiful collections and pieces while enjoying 15 percent off all jewelry purchases. Light bites by SA Fresh were served throughout the celebration, and attendees sipped on cocktails while perusing new sparkly bling with the opportunity to participate in a store raffle. Two lucky winners each received a $500 gift card – perfect to use this holiday season while checking off your nice list. Featuring a personalized approach to the jewelry selection and process, the shop offers fine jewelry accessible to every woman at every price point. Kelly Wade Jewelers offers custom-made jewelry, sizing, diamond education, appraisals, cleaning, repairs, and private showings. Offering the latest jewelry trends, classic looks, men's offering's and a children's jewelry line, there is something for every discerning buyer.
New Tea Shop Now Open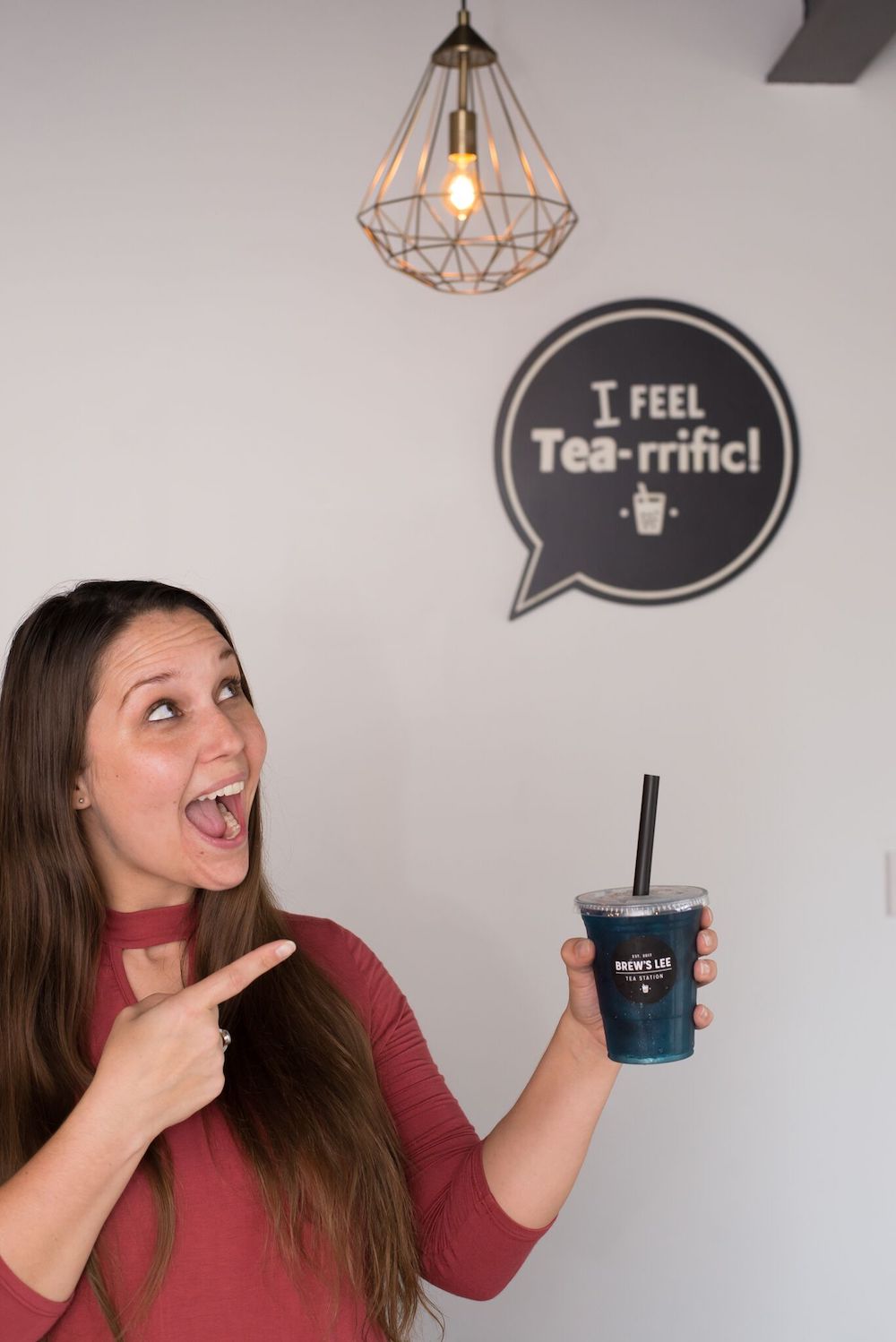 Alamo Heights, newest tea station, Brew's Lee Tea, located at 4009 Broadway street hosted its grand opening in November.
Guests can expect to experience a variety of teas including milk teas, specialty teas, and hot teas. Perfect your tea by choosing your preference of sugar levels and adding classic favorites such as chewy tapioca balls, pudding or chi seeds.
Owners Frances and Billy Lee met while attending the University of the Incarnate Word, where Frances earned her undergraduate and graduate degree, and Billy attained his undergraduate degree. Frances is originally from the Philippines, while Billy is from Taiwan.
After graduating from UIW in 2012, the couple traveled home and began studying the art of making tea. They hold several certificates of achievement, including ones from their study under a brew master in the High Mountains of the Nangang District, Taiwan, as well as the American Barista & Coffee School, and the Texas Coffee School.
Recently, the couple moved back to San Antonio looking to establish their roots. They are excited to share the traditions, techniques and tastiness they learned over years of study with San Antonio locals.
Morgan Penix Combines Love of Music and Architecture to Better the Community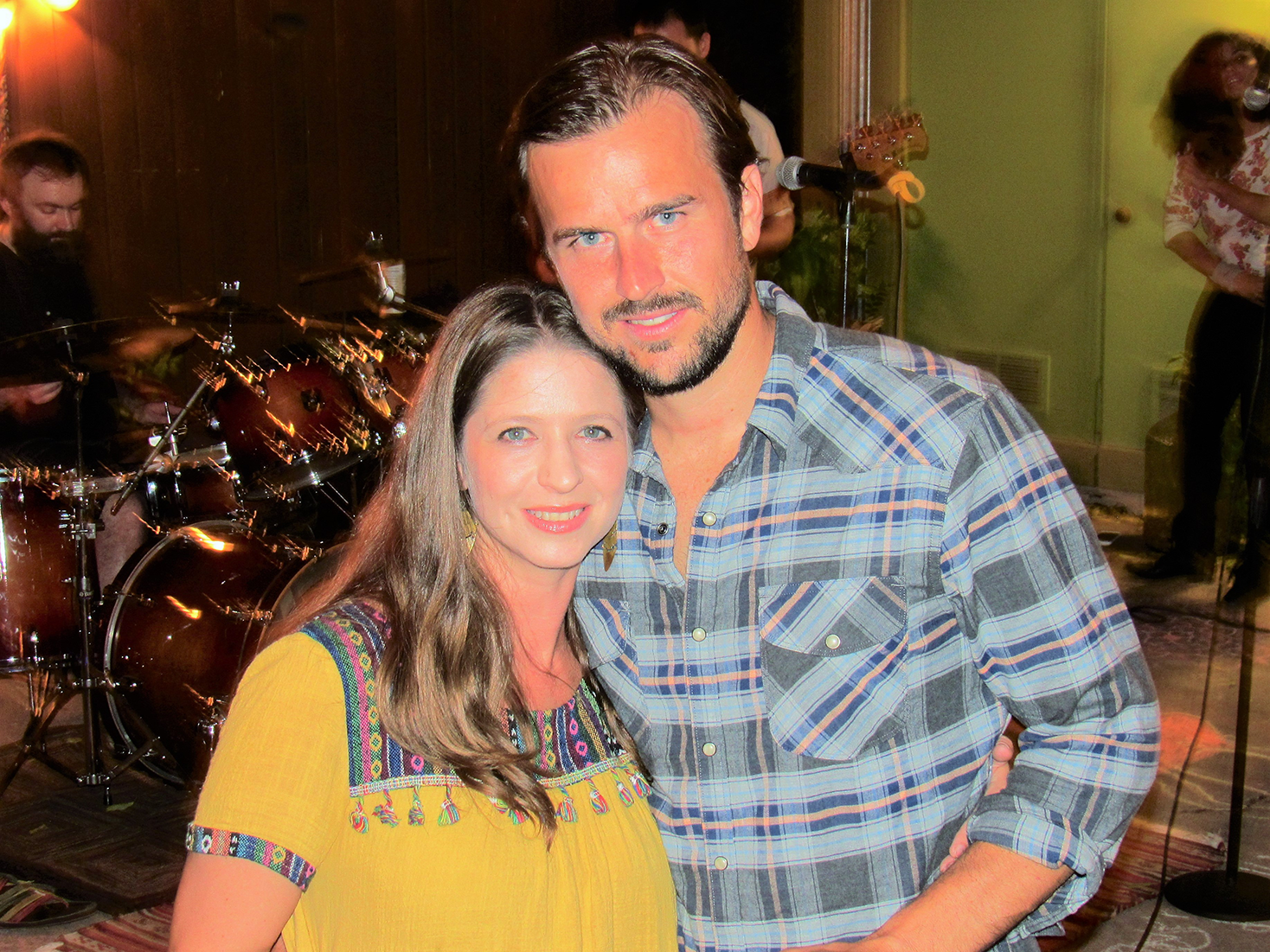 Just across the street from the Witte Museum is what appears to be a sleepy little Mahncke Park street called Allensworth. At first glance, it's a beautiful throwback of bungalow-style homes built in the 1920s, and when you meet the families that live there, you find their passion for community, music and preserving history is strong.
One such resident is Morgan Penix. A mom of two and resident since 2007, Penix, 35, spends her workdays making sure the historic beauty of '09 homes remains for years to come. As part of Adapt Design Build, a local architecture and construction firm, she has helped many local families restore their homes in traditional fashion.
"It's really about helping them keep those original details like larger window trims and patterns that this area is known for," she said. "It's about keeping the charm and the cohesion of the neighborhood."
What's unique about Penix and the homes she helps restore is her ability to involve and support her community through her work. When she holds an open house, it's less about brochures and more about music and art. A musician herself, trained in violin, Penix invites local bands to perform at her properties and also welcomes local artists to stage the homes with their artwork for sale.
"In our neighborhood, music is just something that happens," Penix said. "You can find your neighbors out on their porches playing and join in."
The musical open houses have created quite the buzz in '09, with as many as 80 guests showing up to catch the tunes and see the properties. In the past Penix has accepted donations for the musicians who play, but said with the growing popularity she may be giving back to the community in the future. "It's such a positive thing for our community, and I would love to see that spill over into other things," she said.
Cherished Childhood Memories Spark Beautiful Redesign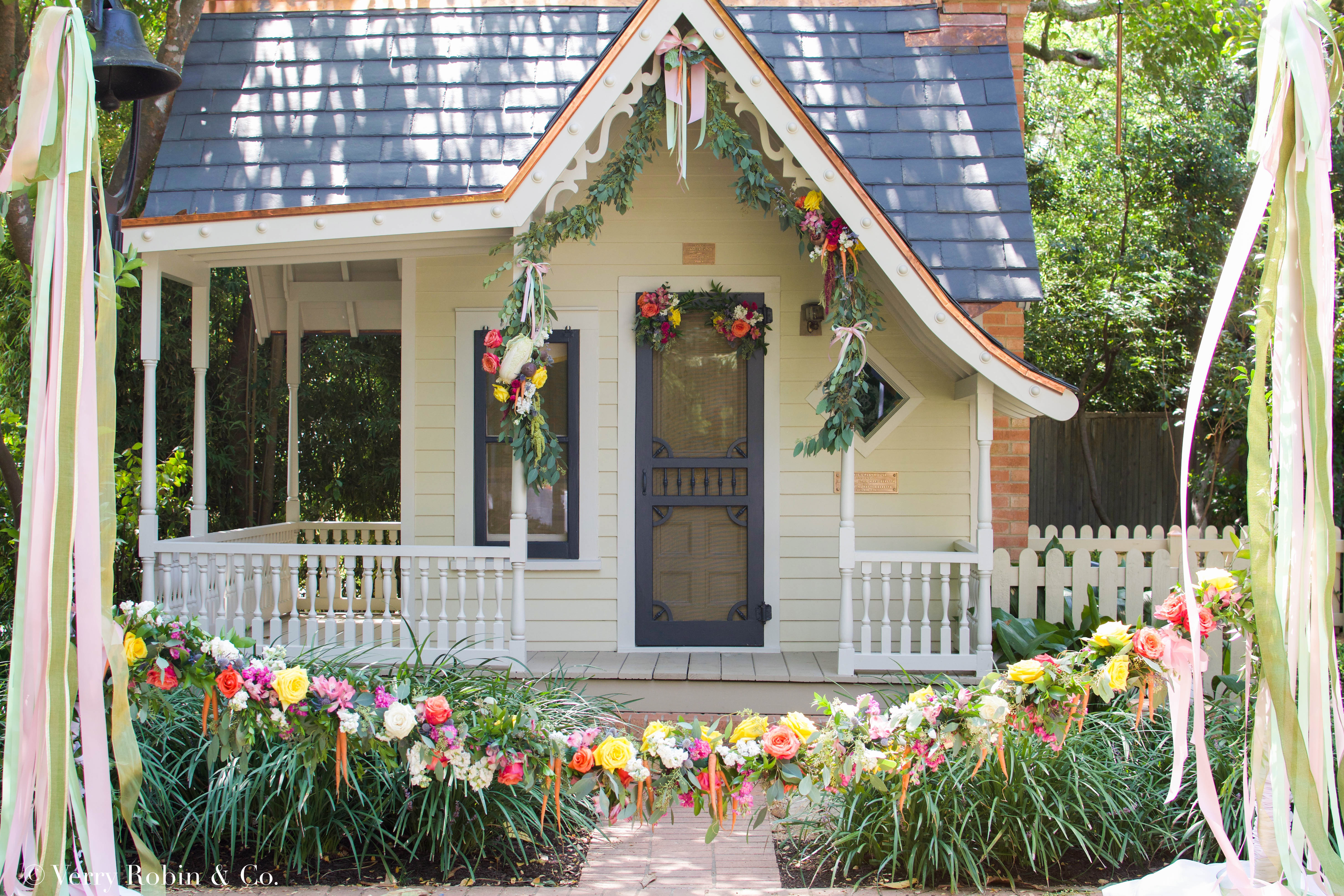 The Argyle has always been a landmark for lavish events in San Antonio with a rich, full history. And in the beautiful garden of this estate there is a playhouse that's created lasting memories for decades.
"Each of us has those places we hold close to our hearts where we made our happiest childhood memories," said Laura Nell Burton, a fourth-generation San Antonian. "Jackie's Playhouse is why I first fell in love with Easter Sunday and in love with The Argyle. Four decades later, my three children love Jackie's Playhouse as much as I still do. It is truly where The Argyle story begins for future generations."
Last summer Burton was sharing with her father that the weathering of the playhouse over time was bothering her, and he quickly replied, "Quit whining and go do something about it."
A designer by trade, Burton and her design partner, Christin Gish, both of Cloche Design, made the commitment to take on the restoration and revamping of the playhouse. With approval from the Argyle Board they were off, raising $40,000 for construction and an additional $180,000 for the Texas Biomedical Research Institute.
Their efforts on this project have secured the most beautiful, magical place for future generations of San Antonians to make the same cherished memories. More than 500 locals came out for Mr. McGregor's Secret Garden Party, which unveiled the newly renovated playhouse and left visitors in awe. Burton's favorite childhood books were by Beatrix Potter, so the home took on the look and feel of The Tale of Peter Rabbit, with magical mushroom and teaspoon wallpapers, strawberry Rousham Romp upholstery, French footstools and a Victorian chaise longue.
"One of the greatest gifts in life is happy memories," Gish said. "We love that we get to give that gift."
Save the Date
Buy tickets now for these events in early February:
February 1
Laugh for Lymphoma:
Serious Fun for a Good Cause
Laugh Out Loud Comedy Club, 6:30 p.m
The fifth annual event celebrates the life of Dr. Karla Diaz Davalos and benefits the Halo House Foundation. This event brings Texas' finest comedians together for an evening of laughs, dining and a toasting of our guest of honor. Our headliner for the evening is Vic Henley. All proceeds from Laughs for Lymphoma benefit the Halo House Foundation and their mission of making life easier for people with lymphoma.
Go to www.Laugh4lymphoma2gmail.com for ticket and event details.
February 2
Casino for a Cause: Under a Moroccan Sky
The Pearl Stable
This event will feature cocktails, hors d'oeuvres, live entertainment, a silent and live auction, a raffle and casino games. Last year's event was sold out; purchase tickets now for a high-rolling good time. Call 210-225-1861 for details. It's presented by the members of the San Antonio Junior League, including '09 committee members Dinah Hutson, Wesley Pennington, Elaine Vornsand, Kate Nummikoski and Suzanne Poynter.
February 2
San Antonio Red Cross Gala
Celebrating Our Everyday Heroes
The Witte Museum
The evening includes a cocktail reception, live auction and entertainment and the honoring of several heroes. Visit www.redcross.org/news/event/local/texas/central-and-south-texas/2018-Red-Cross-Gala.
February 3
Khaki & Plaid's Royal Gala
The Henry B. Gonzalez Convention Center
A magical evening including dining, dancing, auctions and royalty. Call 210-734-1642 for ticket information. Executive chairs are Diana Barrios Trevino and Roland Trevino with honorary chairs Ada Maris and Tony Plana. The Khaki & Plaid Gala is the premier event recognizing the importance of Catholic school education in the San Antonio community. This fun event brings together 1,300 guests, all of whom support Catholic school education here. Thanks to the generous underwriters, sponsors, silent and live auction donors and event attendees, the Khaki & Plaid Gala helps provide critical funding that is distributed in the form of tuition assistance to families and students in financial distress.
By Leslie Foley