In The Loop
By: Ron Aaron Eisenberg
Longtime OP Trash Truck Driver Retires
How many of us stay at the same job for 25 years? Increasingly, folks move around from job to job, but not Robert Lopez.
Lopez, 57, has been driving a trash truck in Olmos Park since 1997. It's a job he loves.
He said, "We're like a family. I got to know all of the residents on my route. I meet their kids and their grandparents. The residents are so polite."
Driving his truck through the community "feels like you're in a parade every day. The residents wave at me, and all the kids are so happy to see me come through their neighborhoods."
Lopez was born in San Antonio. He graduated from Fox Tech High School in 1983. He is especially proud of his two boys – Robert and Richard. Robert graduated from Baylor and Richard from UT Austin. He told me, "They both have good jobs, and they are making good money."
Olmos Park Public Works Director Gilbert Deleon said, "I started in Olmos Park in 1998. Robert was already on staff. He was the one who trained me on how to drive the trucks. He is very dependable, always on time, always here. He has always been a hard worker. I wish him the best in his future endeavors."
"People tell me they are going to miss me, and that makes me feel good." Lopez plans to expand his landscaping business now that he is retired. "I find it very relaxing."
Sidewalks Coming to 78209, Council District 10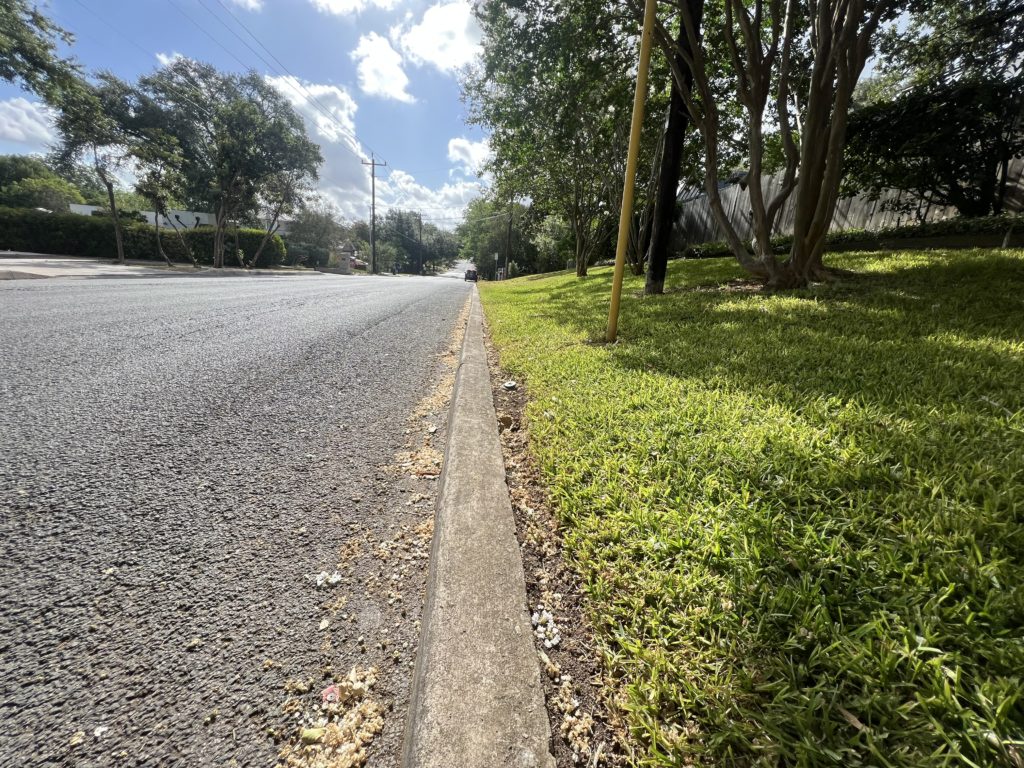 The $1.2 billion-dollar Bond Issue passed by San Antonio voters in May 2022 includes funds to build new and repair old sidewalks in the city.
For Councilman Clayton Perry, that means funds are available for District 10 residents to add sidewalks to their neighborhoods.
A Perry spokesperson told 78209 Magazine that one of the targets for new sidewalks is areas adjacent to public schools. "Sidewalks are a safety issue for kids going to and from schools," the spokesperson explained. "And there are any number of schools where sidewalks just weren't built along neighboring streets. That means students too often are forced to walk in the street as they head to and from school. So, those areas will be a major focus for us to allocate funds for new sidewalks."
And he added, "There are other areas along some major highways in District 10 that lack sidewalks. Like Eisenhauer Road, Austin Highway, N. New Braunfels Ave., and others. We are interested in funding those construction projects, too, if neighbors want to add sidewalks."
The spokesman noted sidewalks are not universally welcomed by residents. "For a variety of complex reasons, some folks want sidewalks, and others do not. Our commitment is to support what neighbors want to do. If they want new sidewalks, we'll try to help them accomplish that goal. But we do not plan to force folks to accept sidewalks."
Sidewalks cost some $1 million per mile to build – or $75,000 to $100,000 per city block, depending on the length of the block.
For neighbors who want to add sidewalks, the spokesperson recommends calling the city's helpline at 311. That number connects citizens to specially-trained customer service representatives who can assist with City service requests — potholes, stray animals, downed street signs, trash collection, new sidewalks, sidewalk repair, and other City requests.
WonderSlice Opens at Pearl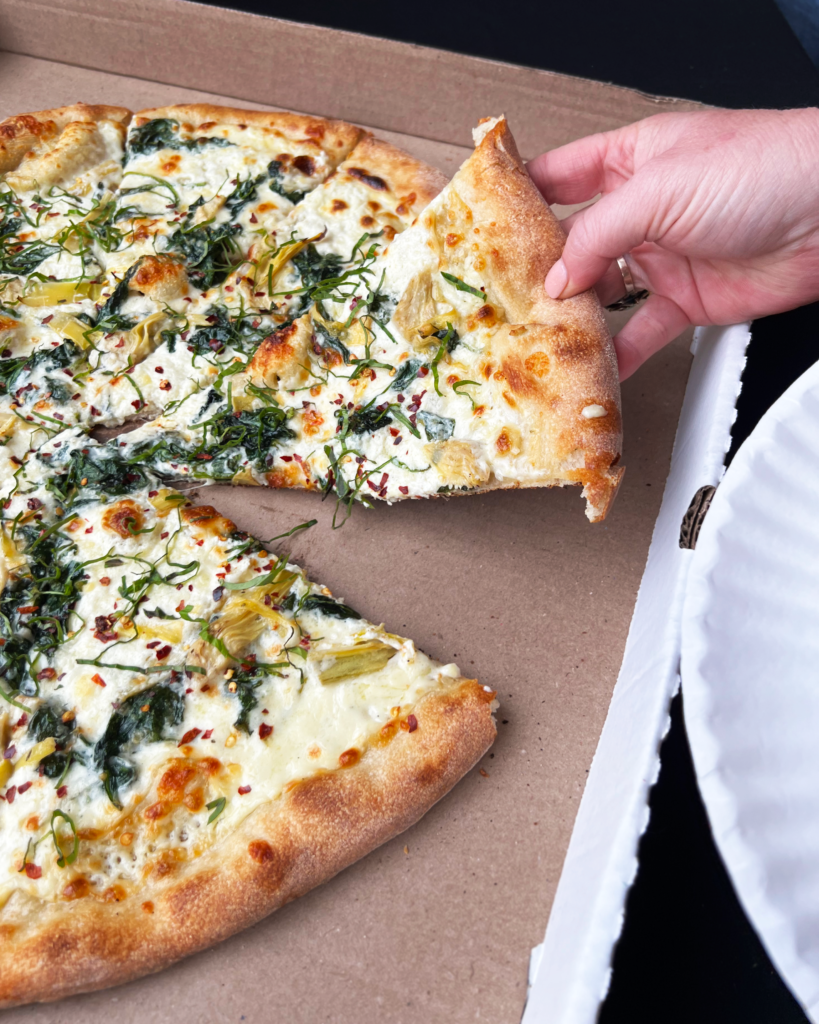 Potluck Hospitality and Chef Ben Schwartz recently announced that WonderSlice, the first pizza concept at Pearl, is open in the Pearl Food Hall.
The new restaurant offers pizza by the slice, plus full pies, homemade subs, salads, and soft-serve ice cream. The operators say the name WonderSlice pays tribute to the heyday of neighborhood pizza joints, most of which specialized in offering pizza by the slice. In the news release announcing the new concept, the team wrote, "The name conveys a sense of nostalgia, with a promise of 'wonder by the slice.'"
Select menu items include the Ball Park pizza, which includes Italian sausage, red onion, broccoli rabe, and chili flakes; the Green Monster pizza with parmesan cream, shredded zucchini, and pesto; and the Meatball or Chicken Parmesan sub with marinara sauce, fresh mozzarella, parmesan, and basil. Broccoli rabe, known in Italian as rapini, is a green vegetable that looks like leafy broccoli but is more closely related to the turnip.
Wonder Slice is open from 8:00 a.m. to 9:00 p.m. Sunday – Thursday and 8:00 a.m. to 10:00 p.m. Friday and Saturday.
Potluck Hospitality opened in 2022. It conceives, operates, manages, and partners on culinary and experiential brands in San Antonio. Potluck's team consists of chefs, designers, and strategists in culture-crafting, brand, and finance who share a love of food and bringing people together.
Zoo Unveils New Attraction, Planet Earth: Deep Sea Adventures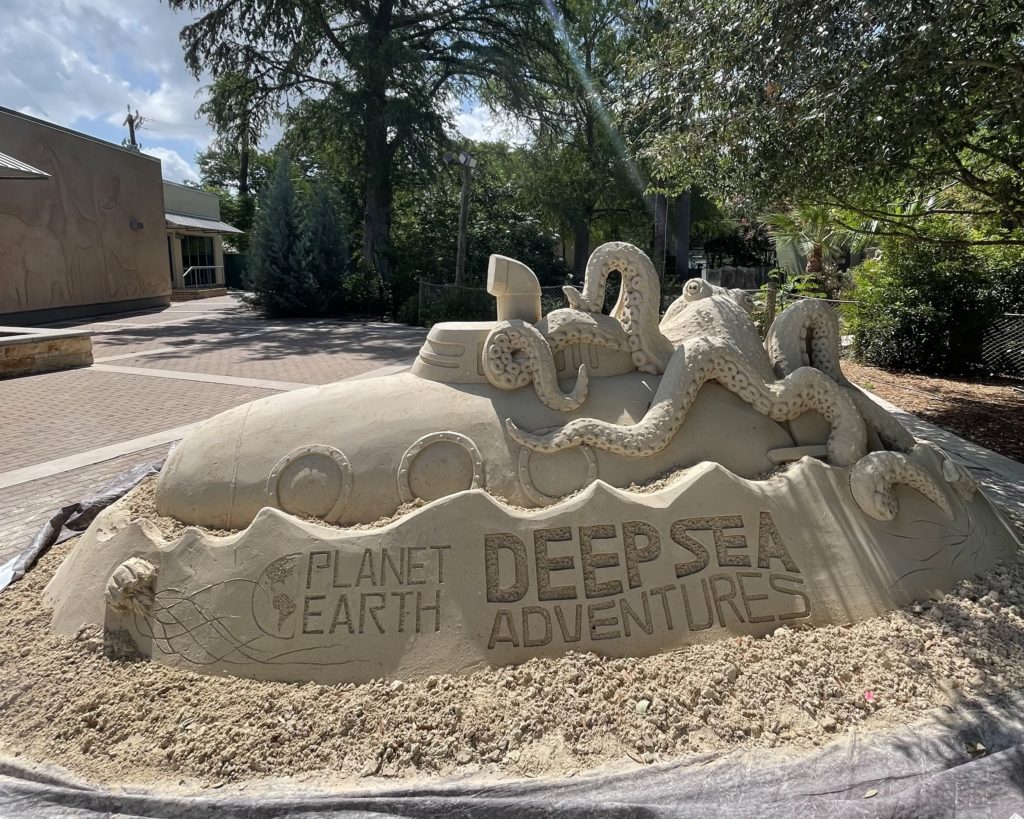 The summer attraction at San Antonio Zoo, Planet Earth: Deep Sea Adventures, presented by Broadway Bank, is now open along with a new 4D Theater!
Through Labor Day, visitors can discover some of the earth's most amazing and rarely-seen deep-sea creatures with interactive exhibits, photo-ops, live entertainment, and sea life encounters that will have the whole family exploring and learning!
Dr. Dante Fenolio, San Antonio Zoo's Vice President of Conservation and Research, transports zoo goers to the bottom of the ocean to experience a rarely-explored habitat absent of light. This incredible world of complete darkness is not a solitary place – millions of life forms inhabit it, including some most people have never seen – until now.
Planet Earth: Deep Sea Adventures brings these shadowy haunts into focus and shows visitors how life forms have adapted to lightless environments, including the evolution of unique body parts and spectacular illuminations using "biological flashlights."
There is no extra charge to visit Planet Earth: Deep Sea Adventure. For more on the new exhibit, go to: https://sazoo.org/planet-earth/deep-sea-adventures/.