By Ron Aaron Eisenberg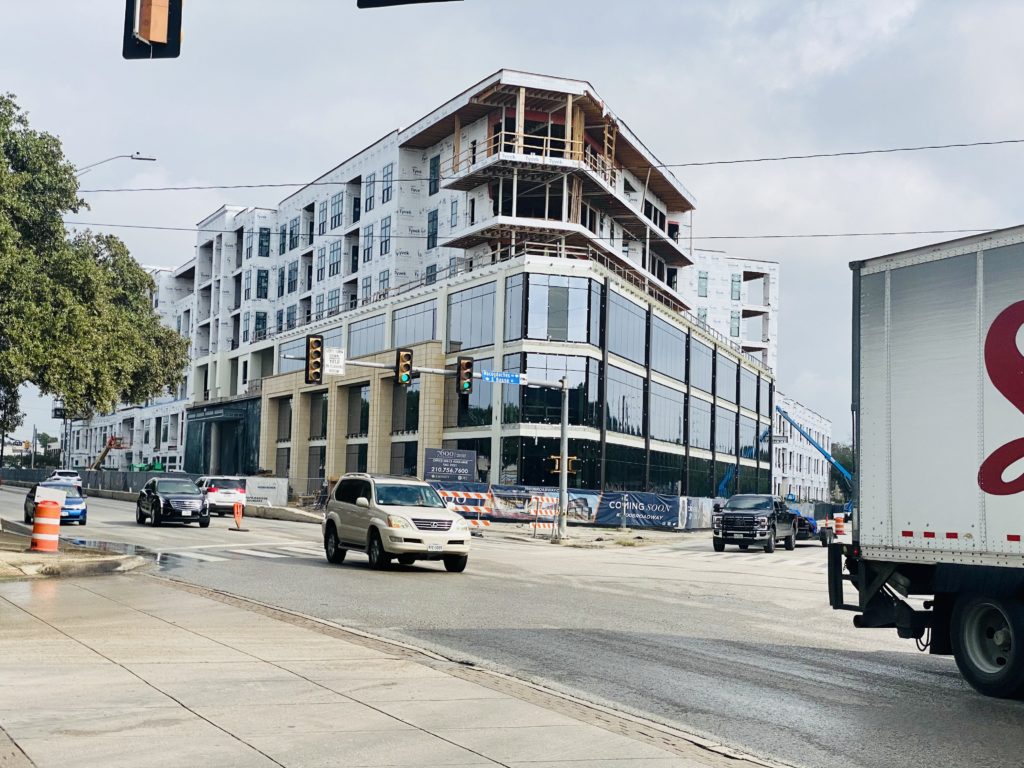 7600 Broadway on Schedule to Open 2nd Quarter 2022
It is impossible to miss the new building casting a shadow along Broadway and Nacogdoches, across from The Shops at Lincoln Heights. The building replaces the aging condominiums and a small retail structure that filled the 4-acre triangle, bordered by Broadway, Nacogdoches, and West Nottingham Dr.
Embrey Partners Ltd. is developing the property. It will feature over 200 upscale residential units and just over 53,000 square feet of office space. 
Embrey Exec Jeremy Williams is overseeing the construction of 7600 Broadway. He told 78209 Magazine, at times, more than 100 workers are on site. The nose of the building, at the intersection of Broadway and Nacogdoches, will house the professional office space, plus Embrey's new corporate headquarters. 
There will be no retail space and no bars or restaurants in the building. Parking will be below ground and ground level but screened from the street, according to Williams.
When Embrey originally floated plans for the site in 2018, some area residents opposed the concept. But, the Oak Park Northwood Neighborhood Association endorsed the project and supported Embrey's request for a zoning change to help facilitate development. Work began on the site in 2019.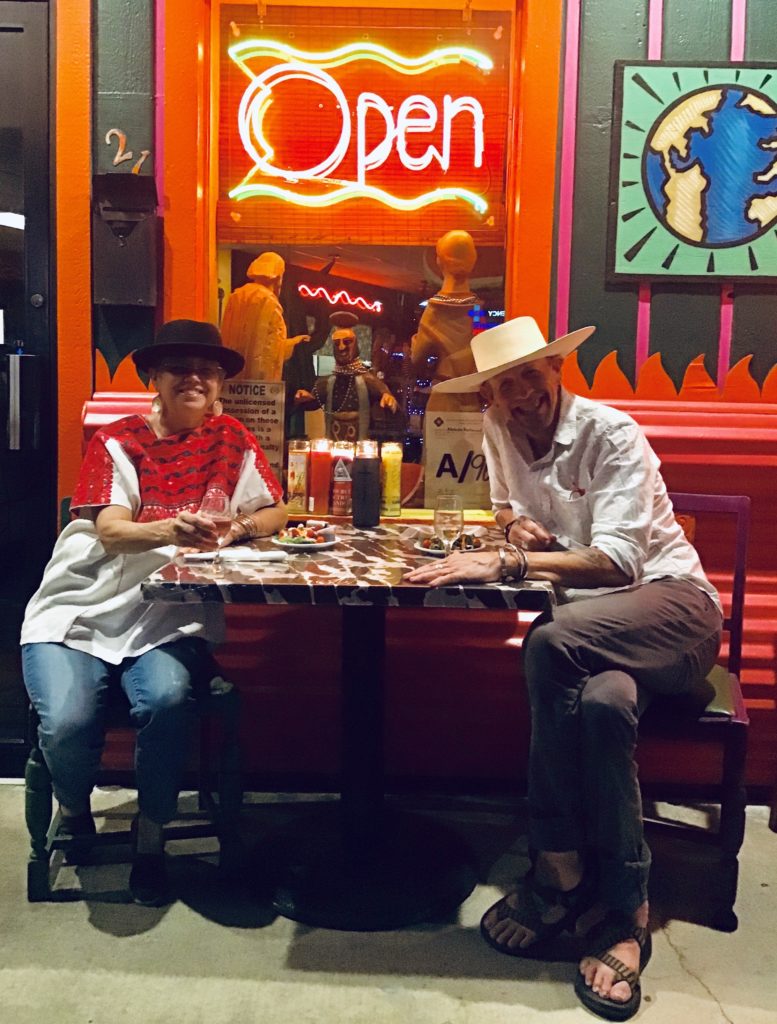 Adelante Closing, One of a Kind Mexican Restaurant in '09
After some 40 years in business, Adelante Restaurant will permanently close on April 1, 2022.
The Mexican eatery has been serving "healthy Mexican cuisine since before it was cool."
Owners Deb & Dan Soder have done it all with just minimal staff. Now, Dan told me, it's time to move on. "I'll be 65 next year. Deb will be 67. After surviving economic downturns, nine- eleven, the pandemic, and more, we just figured it was time."
The couple announced their plans on a board in the lobby of their restaurant to give customers time to digest the decision and to visit Adelante a few times before the doors close for good next year.
Dan laughed when asked if this was just an early April Fool's joke. "No, but the date is significant," he said. "Our wedding anniversary is April 4. We'll have been married 40 years, the same age as Adelante."
"I don't like the word retirement; it sounds like you're heading for an easy chair in a retirement village." But that's not their plan. He'd rather call it "living."
"We do it all ourselves in the restaurant. It's been a lot of work. We have two grandkids now, and life is too short. It's just time to move on and enjoy life. We're open to whatever after we close. It's been a great ride, like being in charge of our own boat. We put two kids through college, and paid off our house in Alamo Heights."
Dan and Deb plan to write a book about Adelante as a lasting tribute to what they accomplished. Their son is a professional photographer, and he will document all of the art and other stuff that fills the restaurant. 
Before we said goodbye, he added, "I love the outdoors." He rides bikes and enjoys spending time in one of his nine kayaks. When not with his grandkids, we can look for Dan on area rivers and lakes paddling his way into the future.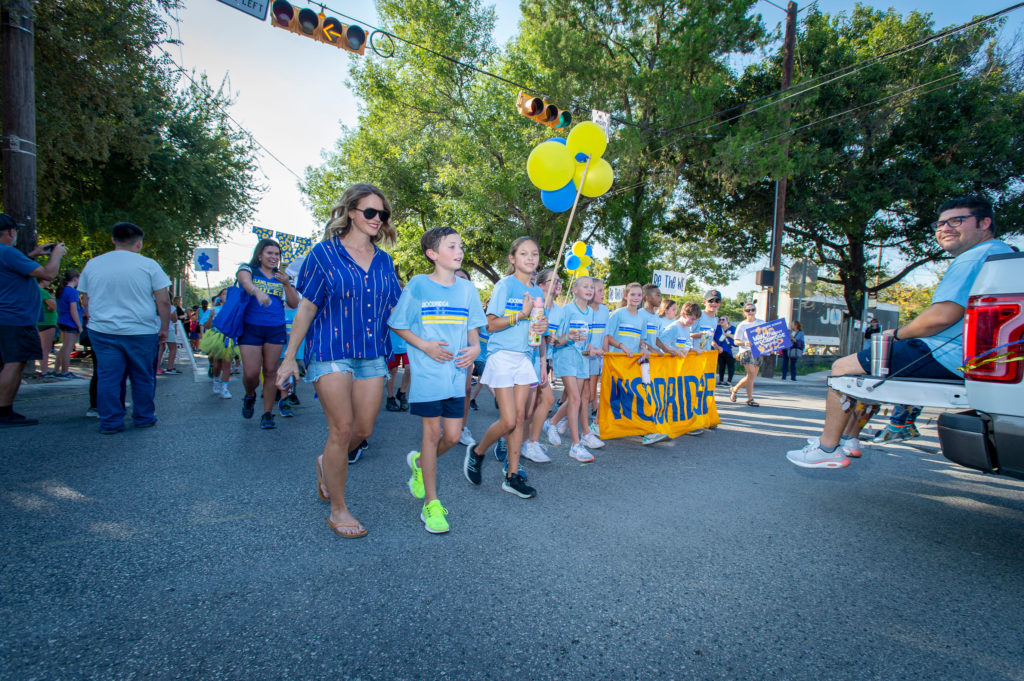 Howdy Parade Kicks Off a Celebration of Blue & Gold
The 2021 Howdy Parade stepped off on Wednesday, October 6. 
The parade always attracts parents, students, and residents sporting their blue and gold, reuniting with neighbors and friends, cheering for their children, students, and teachers, as they made their way up the traditional parade route along Alamo Heights Blvd. The littlest Mules chased down candy tossed from parade vehicles.   
The end of the parade marks the beginning of Howdy Night, the Homecoming Carnival held at Alamo Heights High School, supporting the clubs and organizations at the campus. Silly String was everywhere, another tradition.
The Mule Spirit continued as students celebrated the evening, crowned their King, and lit up the night with the burning of the AH, a unique tradition at AHHS.