By:  Ron Aaron Eisenberg
New Eye Wear Gallery Opens in 78209
Calling itself different than other eye wear businesses, Oculus Eye Gallery at 5024 Broadway says, "Our goal is to get you seeing as clearly as your doctor intended."
The new location is the company's first in the area. Leah Johnson, Oculus Marketing Director, told 78209 Magazine, "We are a passionate eyewear retailer with over 20 years' experience in the eyewear industry. We strive to bring you the best quality, style, aesthetics and service you can find."
Johnson added, "Eyewear should not be about just a brand name stamped at the temple of a frame, but a personal statement, physical enhancement, and a representation of the wearer. This is why we work hard to bring our customers the finest quality and unique eyewear from around the world. We have 4 highly trained opticians in our Alamo Heights location." 
Their licensed opticians offer complimentary VIP styling sessions. "During your session you can relax, sip on a cup of joe, and let us do all of the work. Picking the right frame can be overwhelming, but we help take the stress out of the process," says Johnson.
Oculus Eye Gallery operates its own in-house lab where certified opticians hand-mount every pair of glasses. The opticians use high definition digital lenses when possible to ensure you are looking through the highest quality lens. 
Oculus also recommends taking your eyeglasses in for a deep cleaning and adjustment a few times a year. To help you remember, take them in every time you get the oil changed in your car.
They also highly recommend scheduling an appointment, which can be done on their website
 oculuseyegallery.com or by calling 512-396-1500.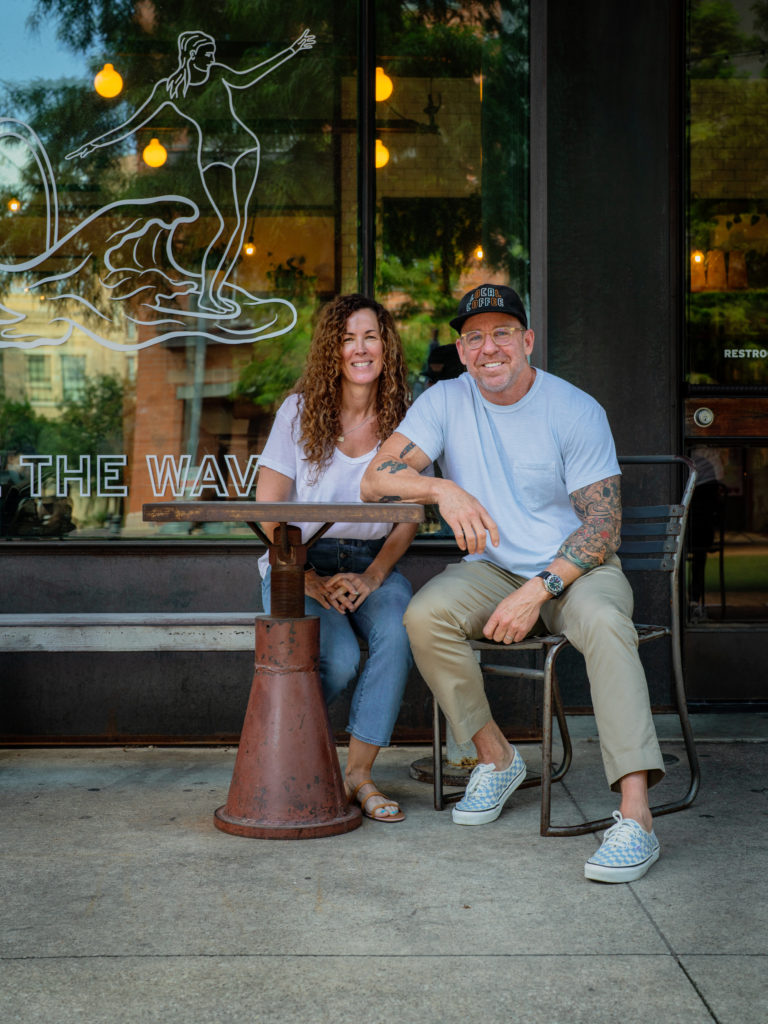 New Smoothie Concept, Kineapple, Now Open at The Pearl
Kineapple – a concept by Robby and Neesha Grubbs, the duo behind Local Coffee Founders, is the newest restaurant to open at the Pearl's Bottling Department. Kineapple will offer a variety of fresh smoothies, healthy snacks, salads, coffee, and more.
The team behind Kineapple says they wanted to create an ingredient-driven menu that is easy for customers to navigate. The menu is designed to make healthy eating accessible and delicious. Kineapple's smoothies can be made with different modifiers like plant based protein, whey isolate, creatine, turmeric, collagen, blue majik, cold brew shot and more. Guests can also pick up a Crunchy Kale Salad, Free Range Chicken Salad Sandwich, Kineapple Farm Bowl, Golden Overnight Oats, an In-house Protein Bar and more. In addition to smoothies and snacks, Kineapple also offers coffee from a rotating list of curated specialty coffee roasters.

The name Kineapple pays homage to Robby and Neesha's youngest son, who struggled to say "pineapple" as a child. He pronounced the name of the fruit with a K instead of a P. The founders wanted the concept to incorporate a pineapple, but wanted it to feel personal and organic, so, they explained, Kineapple felt like the perfect name for this venture.  

Co-Founder Robby Grubbs said, "We wanted to be able to bring high quality, healthy ingredients to the table without sacrificing taste and that's what we've done here."
The new concept will be located in the space formerly occupied by Bud's Southern Rotisserie, located at 312 Pearl Pkwy Building 6. 
School Bus Driver Shortage Confronts AHISD
Like school districts everywhere, Alamo Heights ISD is accepting applications for bus drivers. In the wake of COVID-19, there is a shortage of drivers and a great need for them.
Applicants for AHISD bus driving jobs must be at least 21 years old and possess a valid Texas Driver's License. They should have a driving record that meets the requirements of the district and state of Texas, as well as, be able to pass a background check and fingerprinting. A pre-employment physical evaluation, including a drug test, is required. Plus, applicants must be able to obtain a Texas Department of Public Safety School Bus Certification within 90 days.
The hourly rate for Bus Drivers ranges from $15.06 – $21.66 an hour. Drivers can expect to work a total of 177 days during the school year.
Only those persons meeting the minimum qualifications will be considered. For more on the duties and responsibilities of driving a school bus in AHISD and to apply go to: https://tinyurl.com/37njyjmu. 
Goodbye Zoës, Hello CAVA in Shops at Lincoln Heights
Washington, D.C.-based Cava group bought the Zoës Kitchen chain in 2018. Now it is converting some of those restaurants nationwide into the CAVA concept of fast-casual Mediterranean restaurants, including the Zoës in the Shops at Lincoln Heights.
The restaurant is on the Broadway side of the shopping center.
The Zoës and CAVA concepts are similar.
CAVA features build-you-own lines for diners to choose among bases, dips and spreads, proteins and toppings, including lamb meatballs, roasted vegetables and grilled chicken. It also offers bowls, pitas and salads. While Zoës offers a Mediterranean-themed menu featuring hummus, falafel, salads, soups, pitas, kabobs, plates, bowls, sandwiches, and more.
Tradition Continues at Witte with 51st Annual Game Dinner
The Witte Museum Game Dinner is one of San Antonio's best known and well attended fundraisers. While COVID-19 put a crimp in the annual event last year – forcing it to go virtual, the dinner is back on track for this year.

Dubbed "The Lone Star Revival", the game dinner is set for October 18 in the Witte Museum Zachry Family Acequia Garden.

On its website, the museum noted, "Last year was all about survival for your beloved museum and you came through so generously. This year, it is about revival. Let's come together under the stars to share your love of the Witte and to support the museum as the premier center for nature, science and culture relating to Texas."

The dinner will be limited to 750 guests. As always, the Witte says the event will sell out! Guests will enjoy one-of-a-kind live auction packages, a delicious array of wild game cuisine served by the RK Group, Inc., and a rousing country music concert. For more information call (210) 357-1900.
Corie Properties
Corie Properties Group continues to build upon the legacy left behind by brokerage founder Corie Fuhrmann Boldt. The longtime leader in the San Antonio real estate market recently opened a new office at 5800 Broadway to better serve the Alamo Heights area.

"Our newest office space will empower our agents to do what they do best, which is deliver an unparalleled real estate experience for buyers and sellers in greater San Antonio," said Fred Hutt, CORIE PROPERTIES Group managing partner.

The company, founded in 2011, has served more than a thousand clients in the greater San Antonio tri-city area of Alamo Heights, Olmos Park, Terrell Hills and the adjacent communities.