Boys Will be Boys
The gentlemen of Franklin Park Alamo Heights Retirement Community got all decked out to enjoy these beautiful pieces of machinery.
Whether they wore slacks and sports coats or polos and khakis, they were at the height of fashion posing with classic cars.
Great conversations were had about their first cars and even some first dates! We sometimes forget what amazing memories we have attached to our cars, but this day gave these gentlemen many reasons to reminisce.
Hats off to the guys who brought their cars and motorcycle over for these residents to appreciate. Fun was definitely had by all!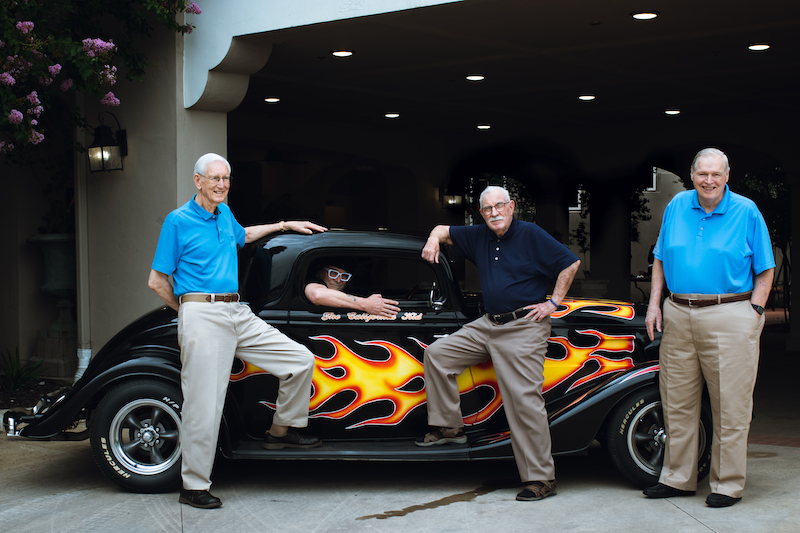 Oregon Based Coffee Chain Coming to Austin Highway
According to an announcement from Evergreen Commercial Real Estate, Dutch Bros. Coffee, an Oregon-based coffee chain, is leasing 1.1 acres at 1255 Austin Highway.
The Austin Highway site would be Dutch Brother's sixth San Antonio location. Dutch Brother's Rilynn Davis tells 78209 Magazine the store is expected to open early next year.
According to its website, Dutch Bros. is a drive-thru coffee company founded in 1992 by Dane and Travis Boersma. It has more than 450 locations, mostly on the West Coast, making it one of the largest independently-owned chains in the U.S.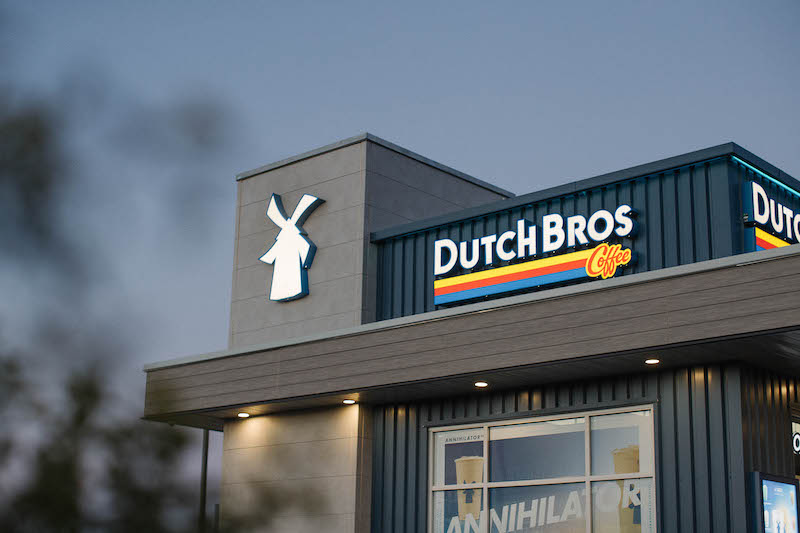 Grand Opening
Juniper Village at Lincoln Heights celebrated its official "Grand Opening" with a formal Alamo Heights Chamber of Commerce Ribbon Cutting on Wednesday, June 9. Guests were greeted in true San Antonio Fiesta style with amazing mariachis, folklorico dancers and of course, a fabulous Mexican food themed spread complete with ice cold Coronas and Margaritas! Juniper Communities, a New Jersey based company, now operates 30 communities from Pennsylvania, New Jersey, New York, Colorado and now Texas, providing a wide range of senior retirement options from fully independent, assisted living, long term care/nursing, rehabilitation to full memory care. Juniper Village @ Lincoln Heights is one of the first of four that are based here in Texas! Juniper Communities is excited to be here and looking forward to the gift of nurturing seniors in the San Antonio area!
Tex-Mex Restaurant Opening in Quarry Market
Lupe Tortilla restaurant is expected to open at the Quarry Market sometime this fall. It is taking over the 9,547-square-foot space vacated by Canyon Café.
According to www.fsrmagazine.com, Stan Holt founded Lupe Tortilla in 1983 in a house in Addicks, Texas, on the outskirts of Houston. His two sons, Judson and Peter, joined the family business in 1997 after graduating from the Culinary Institute of America.
The chain currently has more than 20-plus locations throughout Texas, including Austin, Houston, and San Antonio. The restaurant describes itself as an authentic Tex-Mex institution serving Mexican food made from scratch for breakfast, lunch, and dinner.
Canyon Café had posted on its now-defunct FaceBook page, "While the restaurant had gotten through some tough times in the past, COVID-19 was just too much to bear."
Now, Lupe Tortilla will bring new life to that space as the coronavirus pandemic loosens its grip on San Antonio.
H-E-B Central Market Offering Curbside & Delivery
Central Market is the latest location of the 250 H-E-B stores to offer curbside and home delivery services. The company recently announced it will deliver groceries to 16 zip codes surrounding the Alamo Heights-area store.
The pandemic changed the way many people are shopping for groceries. Digital shopping and demand for home delivery grew dramatically as the coronavirus kept so many shoppers in their homes.
The upscale grocery store is offering free pick up or delivery on the first four orders from the new app, – centralmarket.com/mobile-app.
Central Market – known by many locals as the "Gucci B" — is located at 4821 Broadway. It is open daily from 8 am-10 pm. Curbside pickup appointments can be made online anytime between 8 am – 8 pm, Monday through Sunday.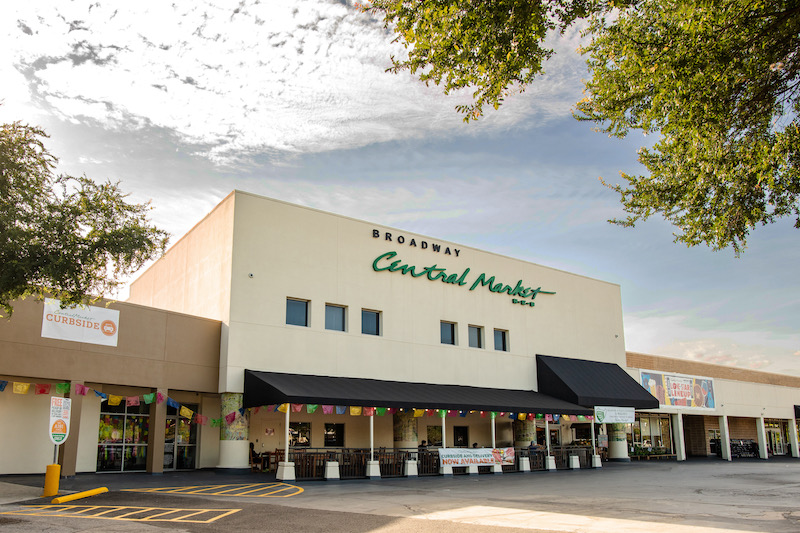 Fashion Brunch at Bistr09
Bistr09 will host a special Fashion Brunch on Sunday, July 11, from 11 am-3 pm, presented by Chef Lisa Astorga Watel and Sloan/Hall boutique. The brunch will feature special guest designer Roger Canamar of Roger Canamar Couture.
The restaurant will be transformed into a runway, with models showcasing the latest creations from Canamar, an American fashion designer from Southern California, now living in San Antonio. He specializes in cocktail/resort wear and has been named designer of the year.
Reservations are required for this exclusive event and can be made via Bistr09's website.
Guests can enjoy brunch options like Eggs Benedict, Huevos Rancheros, omelets, & pancakes, or other options like their B9 Fried Chicken & B9 Burger. Plus, handcrafted cocktails and brunch favorites like Bloody Marys and Mimosas will be available.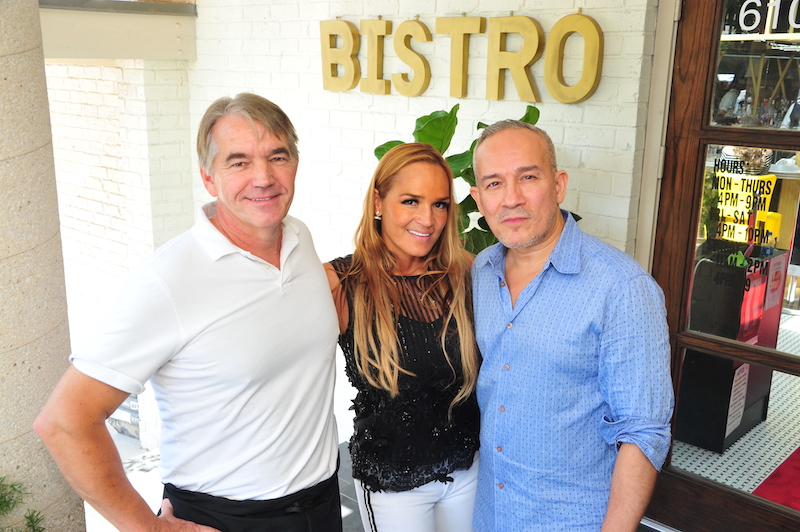 Meals on Wheels Plans New Headquarters Adjacent to 78209
The local non-profit organization that delivers more than 1.2 million meals a year to feed area seniors recently broke ground on a 44,000 square-foot headquarters, production facility, and distribution center. The new building will double the number of people it can currently serve and allow Meals on Wheels to expand its delivery territory.
The building will be located at 2718 Danbury St. near the intersection of Loop 410 and Nacogdoches Road. It will include a kitchen, food preparation space, volunteer training area, and an expanded Grace Place Alzheimer's Activity Center. Meals on Wheels is currently housed in a former Wyatt's Cafeteria at 4306 NW Loop 410.
Construction on the new facility is expected to be completed by September 2022.
Alto San Antonio, New Homes Coming To 1841 Flamingo
Developer Peter Greenblum has begun construction of 18 single-family, two-story homes on a 1.27-acre tract of land at 1841 Flamingo. As we reported in 78209 Magazine in 2018, Stone Brook Manor at Broadway, a memory unit, previously occupied that site until it was demolished.
The new homes will be approximately 2,300 square feet each, with three bedrooms, two and a half baths, and two-car garages.
Lorie Campos, who owns Lux Agency, LLC, a marketing real estate company, is working with Greenblum on the project. The two have worked together on five other projects. No word yet on what the asking price will be for the homes.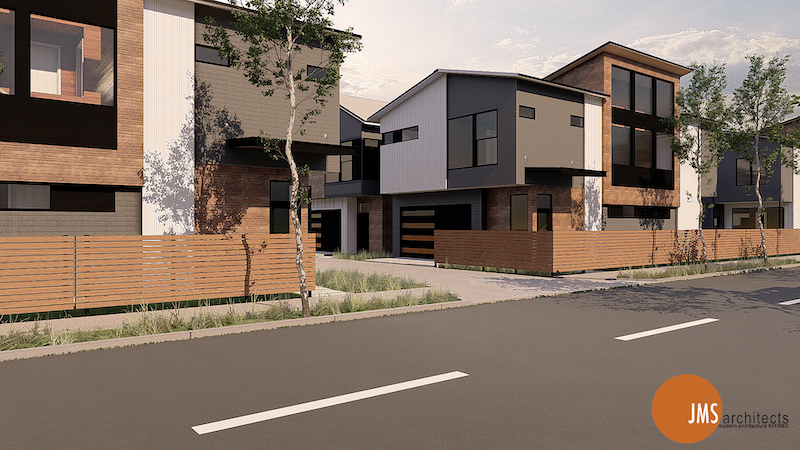 By: Ron Aaron Eisenberg