Turn Up the Heat
February not only brings Super Bowl parties, but it is also the "month of love" — which means roses, chocolates and cupids galore. When it comes to your home, nothing says romance more than snuggling up with the one you love by a cozy fireplace — or is that just a typical romantic movie scene? If so, there's nothing wrong with recreating a little movie magic in your own home; a fireplace can not only warm a room, but your heart, too.
If you feel a space in your house is lacking charm, consider the aesthetically pleasing benefits of a fireplace. Whether it's traditional or modern, massive or minimal, design expert Kelly Parrish Walker, vice president of marketing for Parrish & Co., agrees that fireplaces are popping up everywhere in the home, taking center stage in a room. She shares with us upcoming trends we can expect to see in these charming home accents.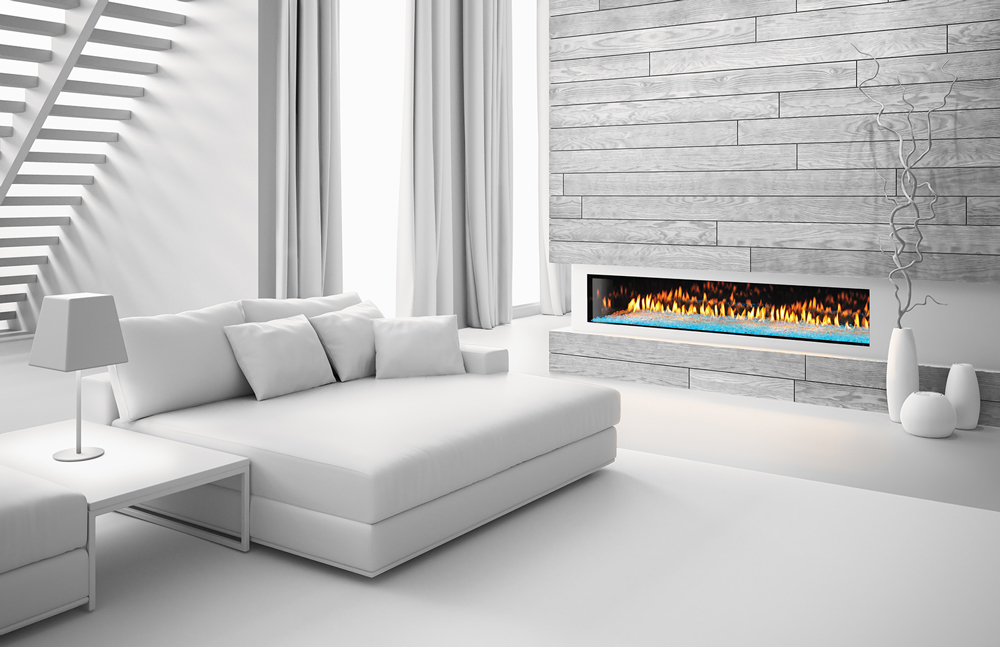 TURN UP THE HEAT
A long, rectangular design is a trending style for most gas fireplaces. "Homeowners are requesting linear fireplaces to achieve a more contemporary look and feel," says Walker. If "modern minimalism" is your forte, having a protective glass that does not expose seams, mesh or metal trim is ideal in capturing a seamless, contemporary look. Extend the fireplace to the top of the ceiling with wood paneling or add a TV or artwork right above the fireplace for a luxurious design without the compromise of function and practicality. Electric fireplaces are an alternative to wood-burners and offer a no-mess, energy-efficient way to stay warm, yet still provide a seamless, upscale look. Many have built-in charging docks, space for media players, shelving and exciting features like flame color and speed that can be managed with the touch of a remote. Whether it's the snap and crackle of the logs or the gratification of an easy remote, fireplaces are a great touch in any home.

A HEALTHY FIREPLACE
"We are seeing so many unique, awesome applications in fireplaces these days," explains Walker. "Consumers are more educated than ever and are seeing healthier, more efficient fireplaces, such as direct vent gas." Simply choosing a direct vent fireplace and inserts can remove 100 percent of combustion exhaust and fumes from your home. Not only do these sealed fireplace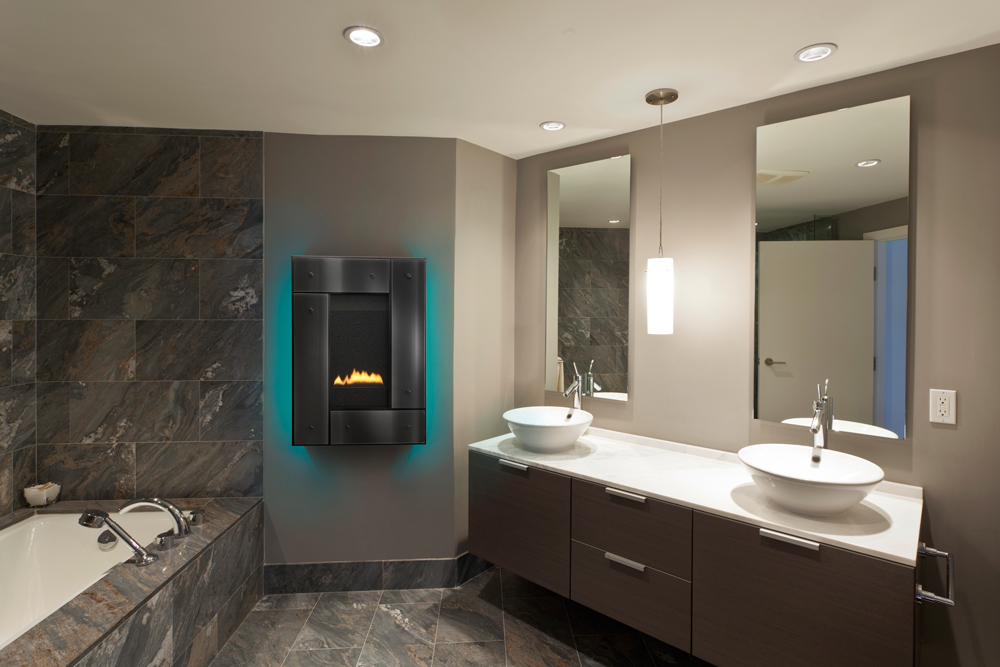 s remove unwanted combustion, they provide optimal heat, conserve energy and ensure a clean, safe indoor air quality unlike any other. Because direct vent fireplaces can be installed through the wall, they can be placed anywhere in a home. If you don't have a wall space, these fireplaces can also be vented upward through the roof. They come in various widths and heights to meet the homeowner's needs, budget and style.
HERE, THERE, EVERYWHERE
"We are seeing fireplaces everywhere," explains Walker. "Bathrooms, bedrooms, offices, see-through units that serve two rooms and outdoors too. The possibilities and options are greater today than ever." There are so many reasons to covet a fireplace. They're beautiful and bring charm to any space and provide yet another surface on which to style and display cherished items, so why not have more than one? Fireplaces create a statement — a focal point in any room — so it's natural to use them to establish an aesthetic for a space. Whether a fireplace is brick, marble, wood or concrete, small or grand, with a mantel or without, the varieties are almost endless. Decorating a mantel can set the tone of a room. Whether you choose to decorate with artwork or family photos, it is very easy to add the homeowner's unique touch to any fireplace and revamp a muted room.
BY KRISTIN MEARS