He Adds the Names to The Barn Door's Rooftop Birthday Sign
The sign atop The Barn Door Restaurant, 8400 N. New Braunfels Ave., has passed along birthday and anniversary greetings to San Antonians since the early 1960s.
For the past two years, it's been busser Tim Mendoza, 61, who climbs to the roof almost daily to put names on the sign. He climbs through a small trap door to reach the sign.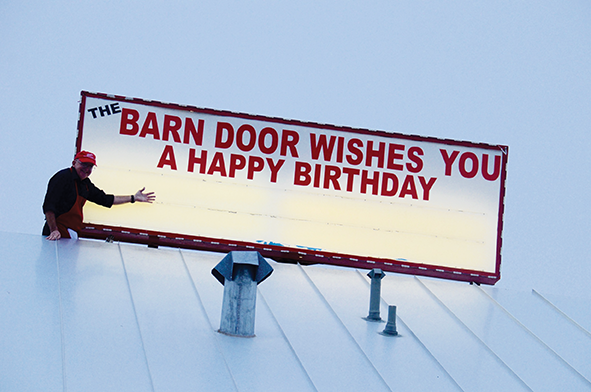 Why Mendoza? He says, "They generally take the new guys up there. When the board is pretty full some nights, it is a real challenge getting everyone's name on the sign. I usually climb up there just before 5 o'clock to try to beat customers into the restaurant, which opens at 5 p.m.
"To me the most interesting part of the job is helping folks in their 90s celebrate their birthdays. The older, the better," he laughs. "We'd been hoping for someone 100 or so. And I recently got to add 'Mary' to the board. She was celebrating her 101st birthday!"
The Barn Door's owner, Randy Stokes, told 78209 Magazine, "In all the years I've owned the restaurant, Tim has taken the most pride in what he does. He is meticulous about spacing names on the board, and he can spell, which, as you can imagine, is very important for that job."
Rebar May Lose Liquor License, Lease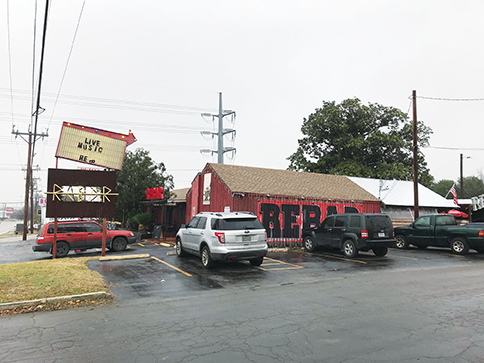 The Texas Alcoholic Beverage Commission (TABC) recently voted to protest renewal of Rebar's liquor license. The bar has been a fixture at 8134 Broadway St. for more than two decades. It has also been the subject of numerous complaints to SAPD, citing noise, fights and other disturbances.
John Brenneman, who lives across Flamingo from the bar, told 78209 Magazine he had tried to work with Rebar management the last time their license came up for renewal. "They made all kinds of promises," he said, "but once the license was renewed, they ignored the commitments they'd made, and it was business as usual."
So with Rebar's license up for renewal again, Brenneman circulated a petition in the neighborhood seeking support to oppose the renewal. Thirty-five residents signed it. "I just figured it was time to get serious about the problems," he said.
As a result of TABC's action, the Frost Bank Trust that owns the property is reportedly considering ending its lease agreement with Greg Bickerstaff. Bickerstaff and Lee Beekly had jointly operated the bar for a number of years. But Beekly told 78209 Magazine, "I sold my interest in Rebar to Bickerstaff. I'm out of there."
Beekly continues to operate Taco Garage at 8403 Broadway St. In addition to Rebar, he previously had operated Revolution at 8123 Broadway. Revolution morphed into Leon's before Beekly moved on. Sam Garcia turned Leon's into Liquid Therapy but quickly changed the name to Broadway Icehouse.
The issue over Rebar's license will go before a judge in the near future, according to TABC. Brenneman promises to be at that hearing.
Salon and Bakery May Be Closing on W. Sunset – Large Lots Coming on Market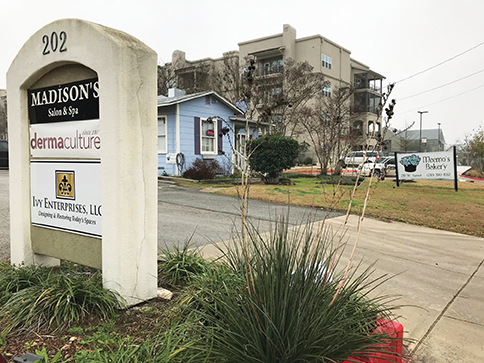 The owner of two large properties at 202 and 210 W. Sunset has notified tenants the property is for sale.
Madison Salon is at 202 W. Sunset. Meemo's Bakery is at 210 W. Sunset.
Robert Snell, representing Seward Madison Brooke Trust, apparently has decided it was time to move on and sell the properties, which are appraised at nearly $1,200,000 by the Bexar County Appraisal District.
Several tenants told 78209 Magazine that Snell has been a wonderful landlord. As one tenant said, "He didn't have to keep the businesses open for the past 10-plus years, but he did, and we are so grateful to him and his family for doing so."
While there is no word yet on interested purchasers, developers have been eager to acquire land along W. Sunset. And there's every reason to believe 202 and 210 W. Sunset will sell in the near future.
*IMPORTANT CLARIFICATION! MEEMO'S BAKERY IS OPEN FOR BUSINESS!
In the March Issue of 78209 Magazine, Ron Aaron Eisenberg reported in THE SCOOP that the properties at 202 and 210 W. Sunset were for sale and changing owners.   This is true, but it is important for everyone to know that Meemo's Bakery is open and serving all their customers from this location until further notice. They are not closing their business at any time and are looking forward to doing even more!
Meemo's Bakery
210 W. Sunset Rd
San Antonio, TX 78209
(210) 390-1592
www.meemosbakery.com
Granma's Kitchen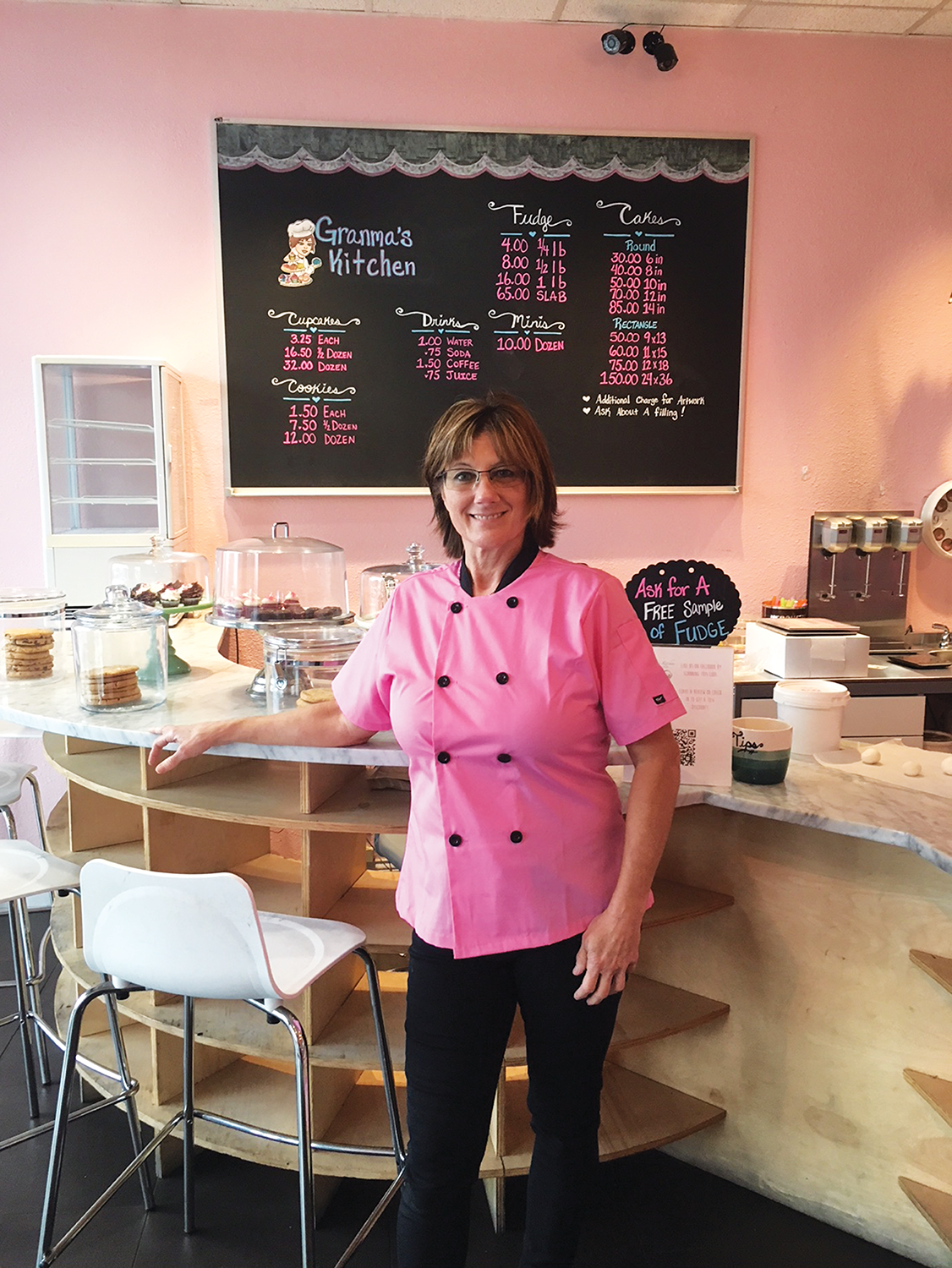 For those who may have noticed, the Cupcake Couture is gone. In its place at 4710 Broadway is Granma's Kitchen, which is owned and operated by Jana Valencia. Grandma's features cupcakes, fudge, cakes, cookies, macaroons and more.
Valencia says, "I learned to bake by default. It started with making fudge that I sold at a flea market in Canton, Texas. People started loving my fudge. I was making it in my kitchen at home. But the demand for my fudge quickly outgrew the space I had to bake at home. I needed a place of my own, and fortunately that's when Cupcake Couture was closing. I just took over the space."
She says, "Baking is a great way to relieve stress. And it makes me feel great to see someone enjoy taking a bite of something I've made."
Valencia grew up in Palestine, Texas, and moved to San Antonio in 2005, working as a retail store manager at Rooms to Go on Blanco Road. "I fell in love with San Antonio, but was looking to get out of the retail furniture business," she says. And thus Granma's Kitchen was born.
Her best-selling treats are the unicorn cupcakes. "We sell a lot of unicorns. And, of course, it should come as no surprise, our chocolate flavors are our biggest sellers," she says.
When asked where the name came from, she replies, "That's easy – my grandchildren. They love coming to Granma's Kitchen."
By Ron Aaron Eisenberg