The Tips Family: Sharing their holiday tradition with the entire community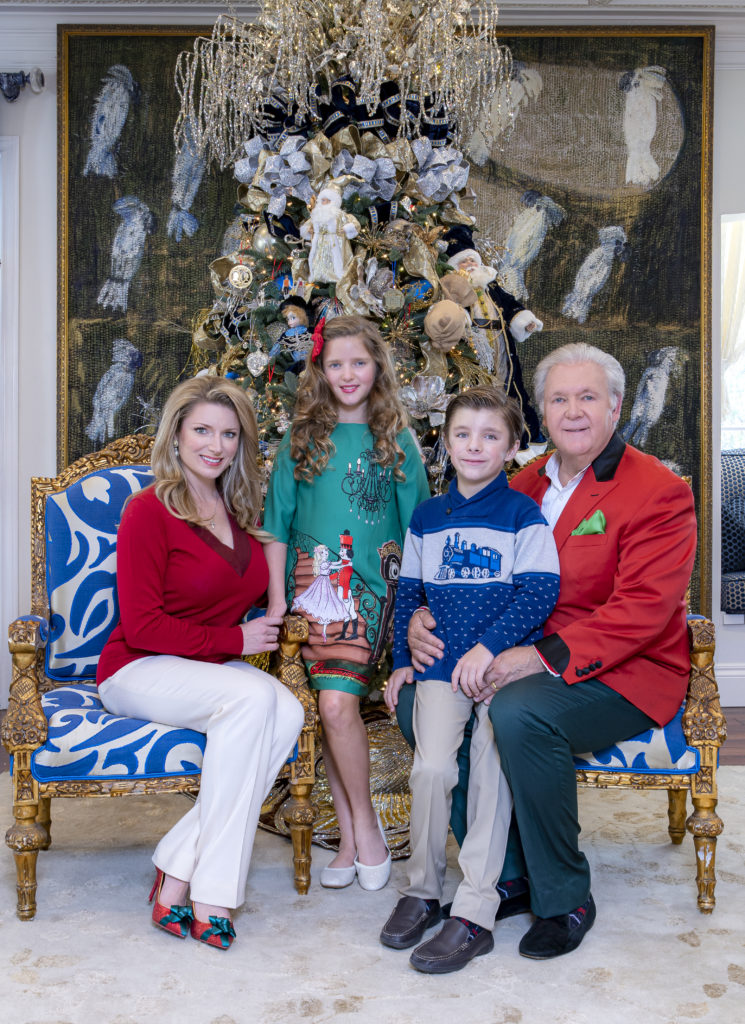 As a young boy growing up in Terrell Hills, Dick Tips can remember his grandmother showing him old black and white photos of Christmases past. The pictures would tell the story of a family that loved helping others, and also enjoyed putting up memorable outdoor decorations for the entire community to enjoy at the holidays. Dick and his wife, Kristin, proudly carry on the tradition of helping others and creating joyous and meaningful Christmas displays for all of San Antonio to enjoy.
"I had my third birthday on the same street we live on now, so the community here has always played a part in my life," Dick said. "It's a backdrop for many of my memories, and the holidays are particularly special to our family. So many families have special holiday traditions. Kristin and I enjoy carrying on these family traditions and as well as placing decorations that my father built many years ago for everyone to enjoy."
As a child Dick remembers drinking warm Dr. Pepper at the old Optimist Tree Lot and watching with amazement as his father put together magical decorations in the front of their home, including a little chapel and more. The décor at the Tips' home has brought cheer to families for years, with visitors coming by throughout the holiday season.
" Just yesterday as we started getting decorations out and wrapping trees a number of walkers came by with their dogs and strollers and stopped by to chat," Dick said. "Many of them were saying how glad they were to see we were decorating this year with everything going on, because it brings them so much joy. The holidays are like a piece of heaven to our family, and we love sharing them with our community."
In the last few years, the Tips children, Peggy & Robert enjoy preparing for the holiday's and helping to decorate but they really love taking part in acts of service with their parents.
"We have a citrus garden, and the kids will pick the fruit and sell it door to door to raise the money needed to buy new pajamas for children in need," Dick said.
Along with brightening the holidays for other children, the twins also participate in Wreaths Across America at Fort Sam Houston with their parents and were so excited to lead everyone in reciting the Pledge of Allegiance during the ceremony.
"I love watching the kids learn the true meaning of the season," Kristin said. "They're God's greatest gift to us. And it's such a blessing to see how happy it makes them to do for others."
The Tips enjoy their time planning for the holidays and it takes about a week to complete all of the decorating. This year they have some new additions in hopes of spreading some extra and much needed holiday cheer with music and digital screens that display images of hope, encouragement and happiness. Visitors coming by to enjoy the lights can now turn their radios to 101.5 and listen to holiday music that accompanies the animations.
"As a family, we embrace the holidays during especially in such a challenging year and remember to listen, sing, reflect, enjoy, pray and to always be grateful," Kristin says.
When the Tips are not out saying hello, they're cooking family recipes, enjoying quiet time together, making memories with matching holiday pajamas and holiday movie nights.
By Christie Cuthbert
Photography by Al Rendon