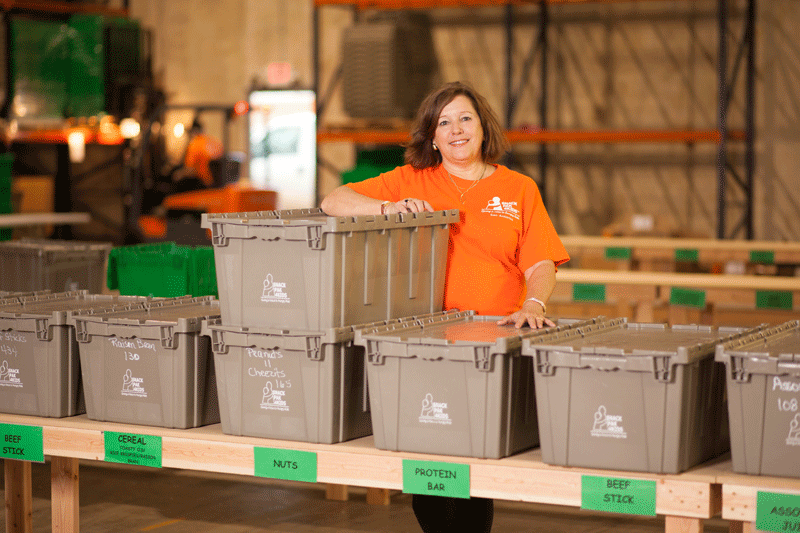 For many, the "empty nest" represents a much-deserved respite from the joyous but undeniably demanding years of raising one's own children. With the little ones successfully launched and thriving independently, most parents feel justifiably entitled to a well-earned breather and maybe just a little more "me time."
But then there's 78209's Leslie Kingman. As the accomplished mother of three sons and a daughter – all grown and flourishing — this maternal marvel, always endowed with a selfless need to nurture, has acquired a newer, more far-reaching focus that inspirationally supports a substantial, needy and very appreciative segment of our area's young. And when you read a little further, you'll see that this serious veteran mom in her post-parenting endeavor is definitely not just kidding around.
Today Leslie is primarily known and appreciated by many because of her laudable work with Snack Pak 4 Kids-San Antonio, but more on that later. Before helping establish this incredible organization in the Alamo City, this energetic Valley girl, originally hailing from McAllen, spent her early adult years primarily as the loving wife of respected neurosurgeon (and lifelong '09er) Dr. Tom Kingman and mother (often a soccer mom) to sons Taylor, Hunter and Trent and daughter Berkley. After a residency stint in Dallas, it was in 1986 when she, Tom and her two oldest moved back to SA and into the large Terrell Hills house where her husband had grown up. After the kids left the nest two decades later, the Kingmans decided to downsize, and in 2012 the happy pair moved up the road into a Bel Meade bungalow where they now comfortably, and more cozily, reside.
Over the years, as Tom's practice thrived, Leslie proudly admits to primarily being a stay-at-home-mom. And with four precocious but precious youngsters to tend to, she was one busy gal. Still, between sports, school and other youth-oriented activities, the always energetic go-getter had and still has time for such worthy organizations as the Battle of Flowers Association and the Charity Ball Association as well as contributing within the Kingmans' church, Grace Northridge. With the additional freedom that resulted from her newer status as an empty nester, however, Leslie, working through her church and with a renewed desire to further "live on mission," sought additional challenges, and as she states, "God put hungry children in my heart."
Rallying to this call and because of Grace Northridge's existing relationship with Lamar Elementary School across from Mahncke Park, Leslie and other parishioners and clergy realized that a portion of the school's student body, many from low-income homes, could benefit from a weekend supplemental food program, but she recalls wondering "how best to implement such an undertaking."
Research ultimately led Leslie and the others involved to Amarillo's Snack Pak 4 Kids organization that amazingly was founded specifically to provide after-school sustenance to needy children. As she relates, "We decided to follow their model because it was well thought out, respected the dignity of each child and was having a positive academic impact on the children who were being served." That was in 2012, and just like its Amarillo counterpart, San Antonio's very active branch now also comprises countless dedicated volunteers supported by various generous churches and organizations whose sole intent is to provide healthy, desirable (kid-friendly) foods packaged and ready to be consumed by hungry youngsters who need a little nutritional help on the home front.
Currently, Snack Pak 4 Kids-San Antonio continues to go and grow. With Leslie functioning as the volunteer executive director (basically, a full-time job), the program has expanded from Lamar to include 12 other appreciative schools in the area, including those in the Alamo Heights system. Under her tireless leadership, an army of unpaid staffers, food suppliers, participating churches and various civic organizations all coordinate to fulfill the program's very worthy goals.
As Leslie admits, "We now serve more than 900 children in the San Antonio area and even operate our own warehouse, but that's just a start because there's so many more who need our help."
Based on Leslie's determination, savvy and can-do attitude, it's pretty obvious she really isn't just kidding around when it comes to taking care of our children. You go, girl!
BY ERNIE ALTGELT
PHOTOGRAPHYBY ELIZABETH WARBURTON