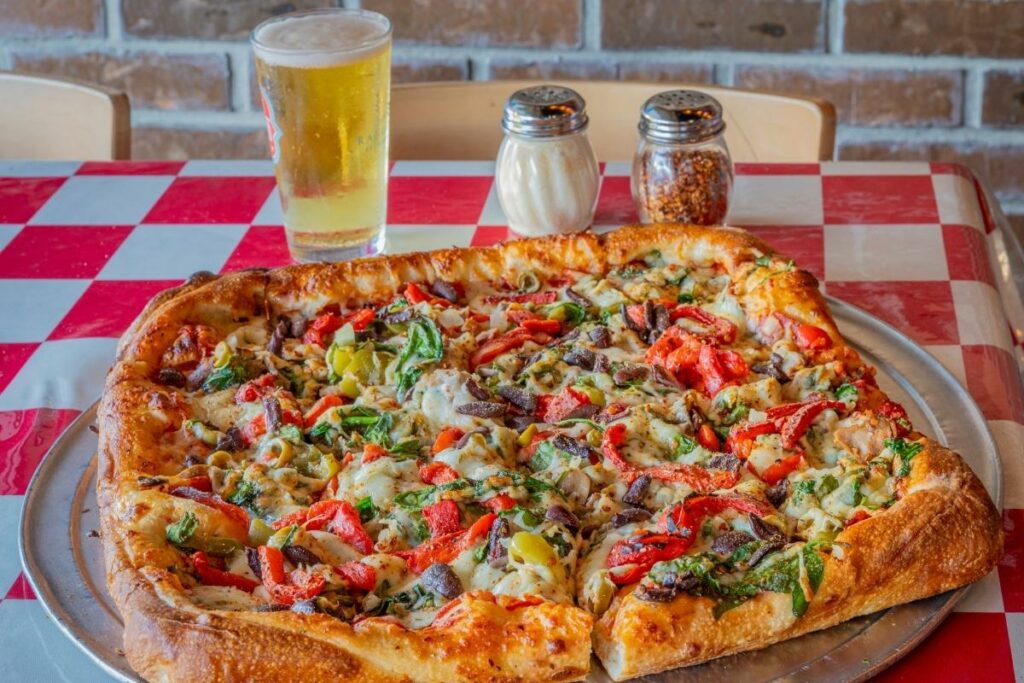 An Italian Slice of Heaven in '09
by Meredith Kay
I'll bet that if you ask anyone what type of local business they would love to have in their neighborhood, a great pizzeria and family café would be at the top of the list. Luckily, the residents of 78209 don't have to travel far to find great pizza and Italian food with Julian's Pizzeria right around the corner in the Sunset Ridge Shopping Center.
Julian Solis, and his wife, Kara, along with their children, Hannah (23) and Cole (27), have created a true family business with Julian's Pizzeria. Everyone in the family works hard to bring the most delicious Italian food to their Alamo Heights neighbors, and Julian's uses only the freshest and finest ingredients, even sourcing their tomatoes from a carefully selected farm in Central California.
Julian's Pizzeria opened in Alamo Heights in 2015, and they also have two other locations. The original Julian's is located off West Avenue near Bitters in the Embassy Oaks Shopping Center, and their newest location is located off Bulverde Road just inside Loop 1604. The pizzeria features a large menu that includes not only traditional and specialty pizzas, but also hearty salads, classic pasta dishes, chicken specialties, and classic Italian sub sandwiches. Julian's also offers lunch specials, but you'll want to get there early as the restaurant fills up quickly.
Julian loves the welcoming vibe of the Alamo Heights neighborhood and says, "We were so blessed to be a part of the '09 community during the pandemic. The local residents supported us throughout that hard time with takeout orders that helped us survive. We didn't have to lay off any of our employees during the pandemic. We are very grateful for the community's support, and we are always looking for new ways to give back to the community that supports us."
Julian and Kara's culinary roots go back to the Boccone's days. Kara's family ran the popular restaurant back in 1994 while Julian and Kara were dating. Julian would often help out at the restaurant, and he fell in love with the business. Once they were married and Boccone's closed down, Julian and Kara decided to branch out on their own and opened the first Julian's Pizzeria in 2005. The family has plans to expand their concept in the future, and now that Hannah and Cole are active in the business, it gives Julian more time to do what he loves best, which is to interact with his customers and help out in the kitchen.
You can't go wrong with the pizza at Julian's, and their thick crust, square pan Sicilian style Pizza Padrone will feed your entire family and satisfy all of the food groups on one giant pizza. Pasta lovers will not be disappointed at Julian's either. Their homemade lasagna, baked rigatoni, and fettuccine Alfredo dishes are outstanding and could rival that of any Italian grandmother.
Julian's Pizzeria is very family-friendly and features a great kid's menu for the little eaters in the family. The atmosphere is warm and inviting, and you can take a look into the life of Julian and his family, as the walls are adorned with happy family photos and memories. The restaurant offers a great selection of local beers along with an impressive selection of wines. It's a great place to catch a game after work, and it is the perfect go-to restaurant when nobody can decide on a place for dinner because Julian's has something for everyone.
Julian's Pizzeria
6462 N. New Braunfels (in the Sunset Ridge Shopping Center)
(210) 595-3405
julianspizzeria.com
Hours:
Tuesday to Thursday 11:00A-2:00P & 4:30-8:00P
Friday 11:00A-2:00P & 4:30-9:00P
Saturday 12:00-9:00P
Sunday 12:00-7:30P
Closed on Mondays