Eat in '09: Ida Claire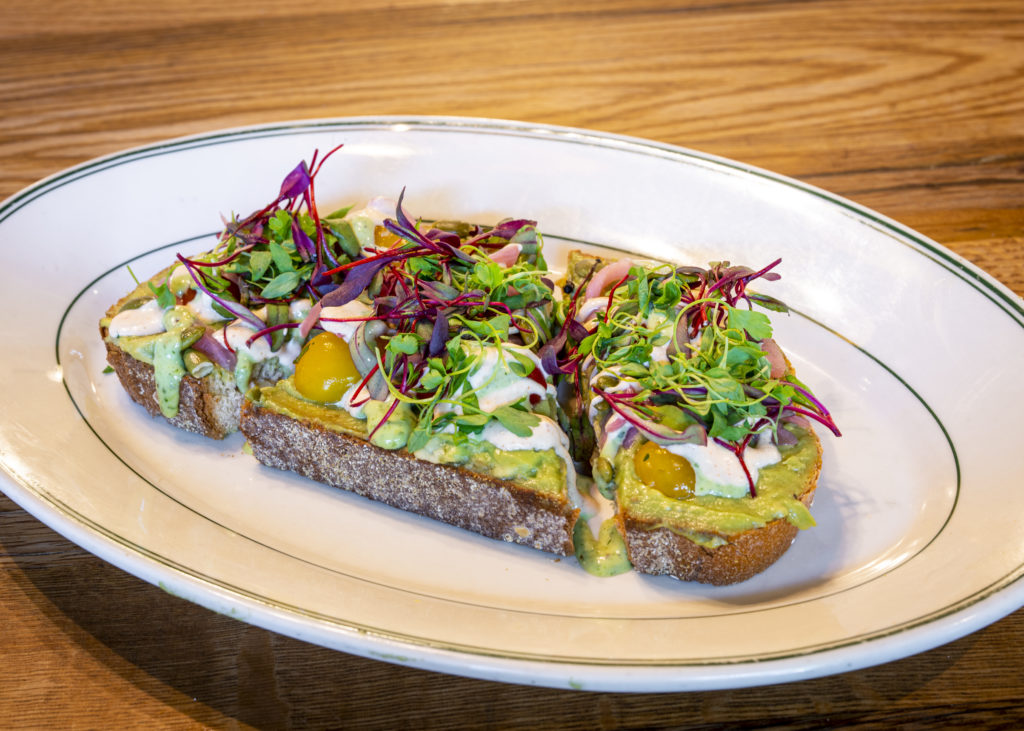 By Meredith Kay
Photography By Al Rendon
We all have a different idea of what "comfort food" means to us personally. For those who grew up in the South, comfort food will always refer to hearty fare prepared with ingredients that have been served by Southern grandmas for decades.
Ida Claire is that quintessential Southern eatery that will satisfy even the pickiest of diners, and the restaurant has been serving the Alamo Heights area since October of 2019. It is located across the street from The Quarry and features a beautiful dining room with quirky collections of unique items lining the walls and the ceilings, along with a spacious outdoor patio area complete with a customized Airstream trailer that can be reserved for small parties. The vibe is fun and funky, but the food is definitely the Southern star at Ida Claire.
The menu at Ida Claire encourages sharing, and the portions are substantial. For something a bit unexpected, you can order the Duck Nachos to start. Pulled duck, goat cheese, duck fat gravy, chives, and sunny side eggs top off a heaping plate of house-spiced potato chips. Another house favorite is their Avocado Toast, which features thick "hippie bread" slathered with fresh avocado and spiced crème Fraiche. It is topped with tomatoes, pickled red onions, and pumpkin seeds and drizzled with a pistou aioli.
For supper, you can't go wrong with their Nashville Hot Fried Chicken, served with pimento cheese toast, pickles, and pickled red onions, or the incredibly popular Blackened Redfish served atop orzo pasta, spinach, and tomatoes, and bathed in crawfish cream sauce. There is something for everyone on the menu, and you'll definitely want to wash all that comfort food down with a cold beer, a glass of wine, or one of Ida Claire's Favorite Cocktails. Just introduced for the summer, you can also enjoy a frozen cocktail flight to combat the South Texas heat. The flight features a margarita, a Paloma, a hurricane, and the ever-popular frosé.
Ida Claire also celebrates life old-school style with their Vinyl Hour every weekday from 3:00 to 6:00 p.m. and again from 9:00 to 11:00 p.m. Come and listen to the house D.J. spin the vinyl or bring in your favorite records to listen to on the patio. Head on over on Saturdays and Sundays for brunch and enjoy Southern breakfast classics like the Fried Green Tomato Benedict and the wildly popular Chicken & Waffle featuring a bacon laced waffle, crispy fried chicken tenders, coffee maple syrup, hot sauce butter, and black pepper gravy.
General Manager Nels Christensen is excited to welcome new guests who have never experienced Ida Claire's charm. He says, "We base our business on Southern hospitality, and we strive to make everyone feel welcome."
The South and its iconic flavors are alive and well at Ida Claire, and the restaurant is set to roll out new summer menu items created by Executive Chef Riley Newman and the Ida Claire team. The restaurant also features live music on Wednesdays, movie nights on the patio on Thursdays, and specialty dinners and events throughout the year.
Ida Claire
7300 Jones Maltsberger Rd.
(210) 667-2145
Hours:
Monday – Thursday 11:00A to 10P
Friday 11:00A to 11:00P
Saturday 9:00A to 11:00P
Sunday 9:00A to 9:00P
Vinyl Hour – Monday through Friday 3:00P to 6:00P & 9:00P to 11:00P