Dr. Kirsten Smith – The Doctor is Back in '09
by Meredith Kay  |  Photography by Al Rendon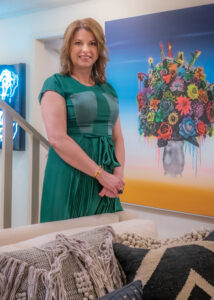 Born at Wilford Hall while her father was stationed in San Antonio, Dr. Kirsten Smith is a third-generation resident of Alamo Heights. Her grandmother lived on College Blvd., and although Kirsten spent her early childhood in Helotes, her family moved back to Alamo Heights, where she graduated from Alamo Heights High School.
Dr. Smith attended Washington and Lee University in Virginia, earning her undergraduate degree in Biology, Natural Sciences & Mathematics. Her path then led her to medical school back home in San Antonio at the U.T. Health Science Center and she pursued her residency in general surgery in Portland before returning, once again, to begin her career in the community she loves.
She recently left her position as the Hyperbaric and Wound Director at Methodist Hospital after 16 years to begin a new chapter in her career to partner with Dr. Ryan O'Quinn at the South Texas Skin Cancer Center. Dr. Smith specializes in wound care, and her passion is helping those patients with the most severe wound issues that have been resistant to traditional treatments. She brings her expertise to her new venture, South Texas Skin & Wound, and practices the most modern and cutting-edge treatments and technologies to help patients with a variety of wound conditions and issues. Her clinic manages wound care for patients from pediatrics to geriatrics and specializes in wounds such as those caused by diabetic ulcers and surgical wounds that won't heal. Her office is located in The Courtyard at Brackenridge Park, and she loves working in the same neighborhood that she also calls home.
Kirsten has lived in her current home on Brightwood Place for 15 years now and says that there was a certain nostalgia in choosing to move back to the area after returning from Portland. She is an avid art collector, and her townhome feels like a cozy and intimate modern art gallery. The space is full of bright, eclectic, and funky pieces that pop from every wall, and she loves living in a community where everyone seems to know one another.
She says, "Everyone I love lives in Alamo Heights. My close friends have become my family, and there is nowhere else I'd rather live and work."
Her previous position with Methodist Hospital gave her the opportunity to really dive deep into the specialty of wound care, but she worked very long hours building her career, so she didn't have much time for herself. With her new endeavor, Dr. Smith plans to put all of her professional energy into bringing the most advanced wound care treatments to her patients and has recently been recognized for her success in using Icelandic cod skin to treat the most difficult open wounds. She has even had the opportunity to speak at conferences in Iceland and, most recently, at the Symposium on Advanced Wound Care in Maryland, outlining her process and success in utilizing this breakthrough treatment.
Personally, Kirsten plans to spend more time traveling and enjoying her free time with friends. She is a wine and champagne connoisseur, and she is looking forward to her trip to France this fall to go wine tasting and explore the Champagne region. She is excited for this new professional chapter in her life and the opportunity to spend more time discovering new local businesses and patronizing her favorite iconic Alamo Heights area restaurants, and basically living life to its fullest in '09.