More Restaurants and Parks Catering to Pups
Guess who was enjoying The Cove the other weekend?
 Your faithful friend, Roxie!
More restaurants are adding outdoor seating because of the pandemic, which means a hearty welcome for pups.
A few years ago, dogs sat home on the couch, and it was too hot to wait in the car.
But backyard dining means a new cafe society, where pups hang out with their families, people watching too.
Not only is Fido invited, but eateries are also serving up doggy refreshments. La Gloria at the Pearl has drinks on tap for pups.
"La Gloria loves puppies!" says Juliana Ibarra, Director of Brand Communications.
"Both of our locations have pet-friendly patios, and we are very excited to introduce 'Puppyritas.'"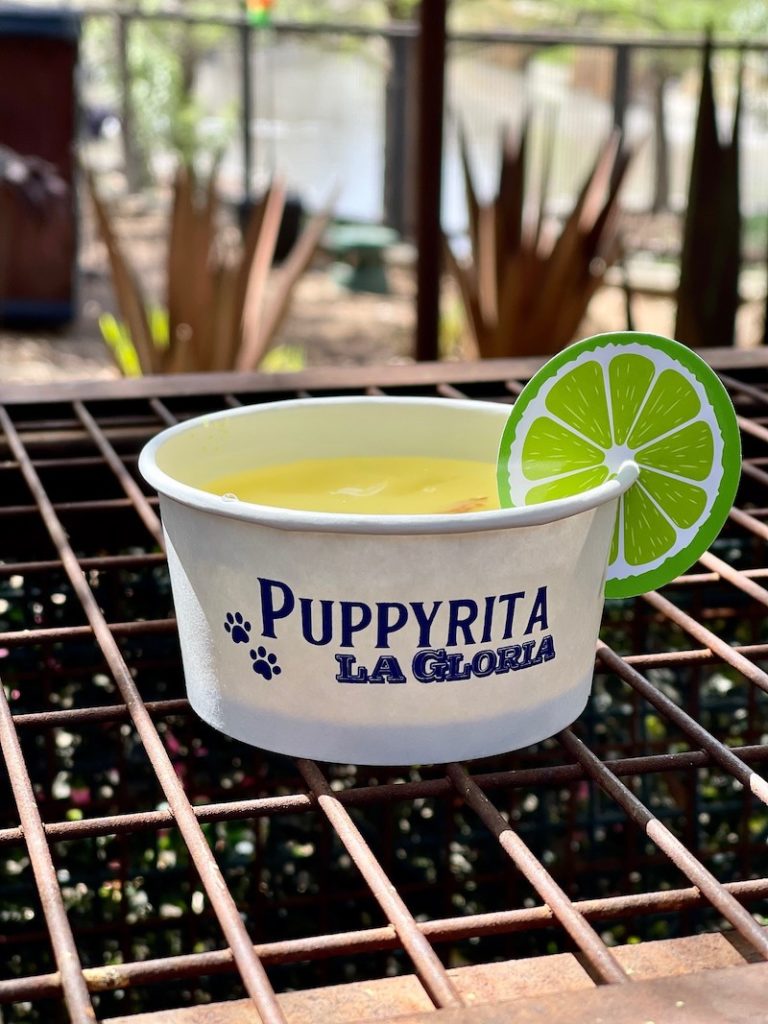 La Gloria has been voted Best Margarita in San Antonio for the past four years.
"So, we figured it was about time our furry friends enjoyed them too! What's in our Puppyrita? Only dog-friendly chicken broth and ice."
Money made from the puppy beverage helps The Cannoli Fund, a volunteer brigade of King William and Lavaca residents caring for neighborhood animals.
 Restaurants have embraced the idea of dogs and cats sitting around their eatery, showing themselves off as available for adoption. A pub in Oregon called Fido's offers a variety of draft beers along with a variety of dogs to visit with—all looking for a home.
 Cool Beans Cafe at La Cantera offers two-footed customers coffee or wine, while a menu coming soon will cater to their four-footed friends, complete with "dog beer" and a dog food platter.
 This restaurant theme started about ten years ago with "cat cafes," where tea room customers enjoyed a scone while visiting with adorable and adoptable cats.
Most restaurants welcoming pups are places with outdoor seating. Bring Fido.com lists those places. They cite that there are 316 places in San Antonio where your dog is welcome.
316!
 And if you need some exercise afterward, there's a new place for walking, running, and greeting other dogs.
"San Antonio Parks and Recreation announces the opening of a new dog park and enhancements at Maverick Park," states the City of San Antonio. It's located at 1000 Broadway.
 "The new one-acre dog park includes fenced sections for all dogs to enjoy together and a section for small dogs, drinking fountain with a pet fountain, and mutt mitt dispensers.  Additional park amenities include new picnic tables and seating, landscaping, a Portland Loo restroom, and trash and recycle bins."
Maverick Park is on lower Broadway, just north of downtown, but there is a lot of construction going on there, so be careful.
"Residents and their furry dog companions now have a great place to enjoy the outdoors and connect with nature," says Director of Parks and Recreation, Homer Garcia III.
  It is our city's 16th dog park. San Antonio is becoming as dog-friendly as Europe!
 "We are glad to see this project come to life. The activation of the park makes for an amazing gathering place for the immediate area as well as a destination for dog owners and people throughout the city," says Joe Alderete III of the Friends of Maverick Dog Park. 
Until next month!
Woof, woof!
Roxie
By Berit Mason