A cut above the competition; Cooper's Meat Market continues to focus on quality
by Bruce X. Forey  |  Photography by Al Rendon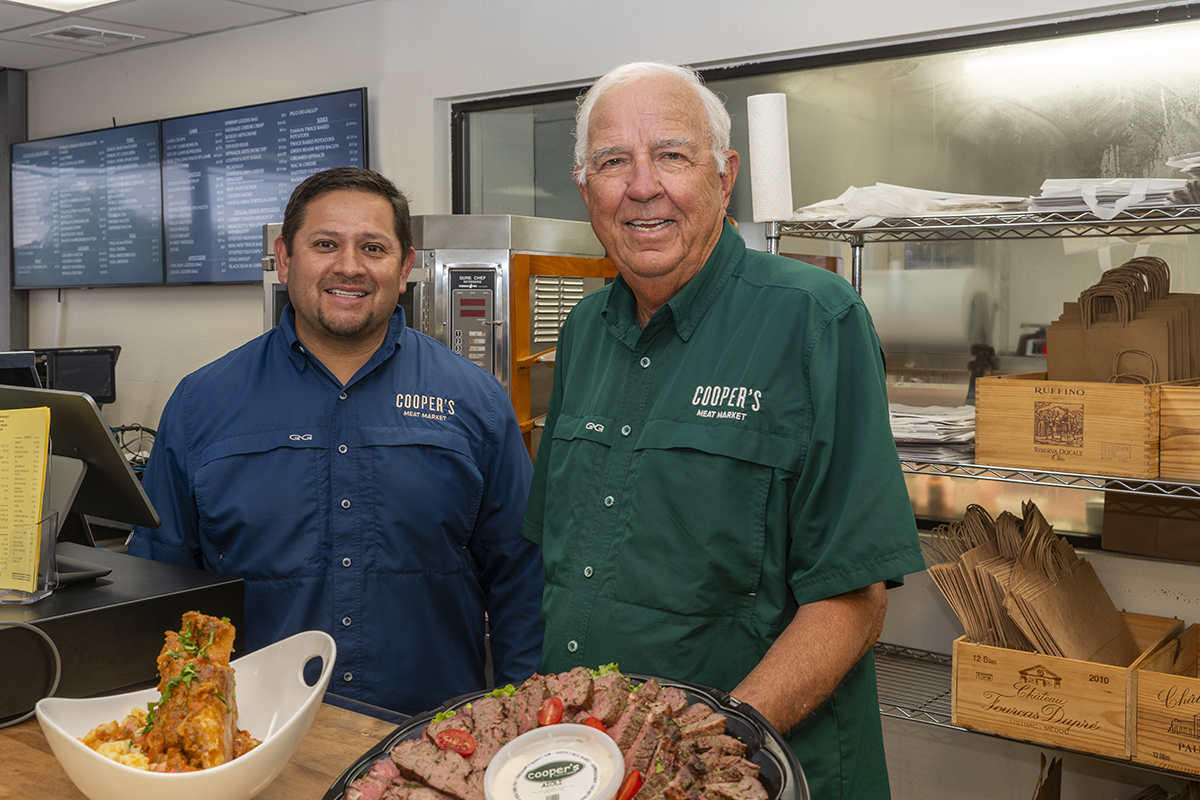 It's the beef boutique of 78209. Cooper's Meat Market is celebrating more than a quarter century in business. Their premium selections of Certified Angus Beef, choice aged grain-fed beef, and exotic meat attract customers from around the United States. 
The store was originally founded by Cooper Boddy in 1997. Mike and Tricia Johnson acquired the business from Boddy in 2007, turning it into a
'09
institution. It's one of the longer-running retail operations in Alamo Heights. 
Cooper's is truly a family business. Mike and Tricia share managing all aspects of the store's operations. Son in Law, Pablo Pacheco, has been with the company longer than the Johnson's owned the store. He oversees many of the cooking duties for Copper's. In 2018, Cooper's Meat Market opened a Dallas location with a steakhouse managed by Mike's son, Michael Johnson. With family being very important to the Johnson's, Tricia recently scaled back day-to-day involvement to spend more time with grandchildren. 
"Tricia and I have three children each, and from that, she has nine grandchildren, and I have five," said Mike.
"She
really enjoys being part of their lives, so I'm here on a full-time basis."
Mike brings a lot of experience as an entrepreneur. He's owned retail businesses, including a frame shop and Mexican restaurant. Mike also had a career in commercial real estate. He still holds his license but rarely does transactions these days. 
Mike has a ranching background but says that doesn't factor much into the meat sold at Cooper's. Two different animals, so to speak – he raised cattle, which he says is different from selling meat at a store. But certainly, understanding how quality beef is nurtured is beneficial for running a meat market. He knows what his customers want, and he delivers. 
"The local grocery stores don't sell our lines of Certified Angus Beef and grain-fed premium beef," Mike said.
"We
have our local regulars, along with many out-of-town customers who stop by and stock up when they visit San Antonio. We also ship our food to clients across the country."
Cooper's offers a lot more than meat for home grilling. Their extensive menu includes foods like casseroles and chicken salad, which are prepared fresh in the store and in constant demand.
"We're making chicken salad practically every day because people just love it," Mike added.
Space is limited in the Broadway store, so Mike is selective about adding new food and merchandise. Wagyu beef from Japanese cattle, considered one of the most flavorful and more expensive meats is a hit. Wild game is also a customer favorite. 
"Customers want healthier meat options such as bison and elk, so we carry quite a bit of that," said Mike. 
Cooper's partnered with New Braunfels Smokehouse and Ultimate Cheesecake Bakery to sell a wide assortment of their products. Cooper's was one of the first retailers to carry Yeti and still stocks a selection of items in the store. You'll also find a curated assortment of sides, appetizers, spices, rubs, wine, and beer. 
The holiday season is a busy time at Cooper's. The diverse holiday menu is full of mouthwatering selections for gatherings small and large. Many patrons buy extra for a quick meal to feed family and guests. A Cooper's gift box makes a unique and delicious present for someone during the holiday season. 
When asked where Mike sees Cooper's five years from now, he doesn't plan large-scale changes to the operation, mostly due to space limitations. He'll instead,
"build
up" the business model in place. 
The secret to Cooper's enduring success is straightforward. 
"First, customers appreciate the personalized service when shopping at our store," Mike said.
"Plus,
we sell among the best, certified beef in the San Antonio area. The selection you find here is just different from any of our local competitors." 
Cooper's Meat Market specializes in party trays and catering year-round. Call (210) 820-3838 or visit the store at 6002 Broadway, Alamo Heights, TX 78209. www.coopersmeatmarket.com.