Thanks for Asking, Coach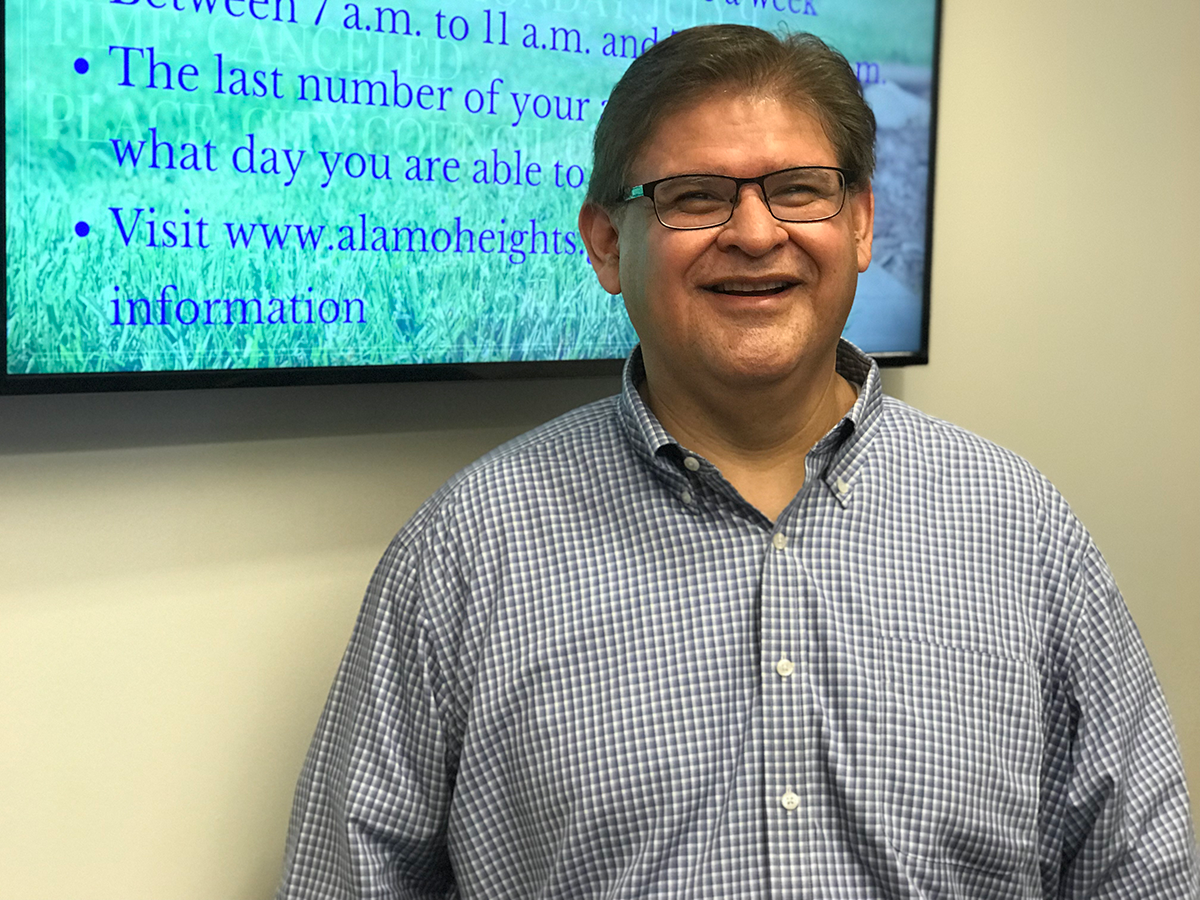 There's no telling what Robert Galindo would have done with his life if his Wheatley High School line coach hadn't inquired about his plans. However, Coach Charlie Peña did. He asked Galindo about college.
"I hadn't considered college until the day Coach Peña asked me about my plans," Galindo said. "In fact, it wasn't something I had thought about."
However, Peña and Wheatley's head coach, Joe Rendon, made it clear that Galindo needed to go to college. Rendon talked with Galindo about what classes he liked in high school. The answer was numbers and math. So, Rendon urged him to pursue a degree in accounting and finance.
Galindo took the advice. He went to St. Mary's University and graduated with a bachelor's degree in 1984. Later, he earned a master's degree in finance from Our Lady of the Lake University. In 1991, Galindo was certified as a CPA.
Clearly, the suggestion to attend college paid off. Today, Galindo is finance director for the City of Alamo Heights, a job he said he loves. However, it's a job he'd never have qualified for without his education and college degrees.
After graduation, he joined the City of San Antonio's Public Works Department, where he stayed for seventeen years. He also worked for New York Life and then USAA.
He left USAA for a position in finance with the city of Schertz. That's where he discovered an affinity for local government and finance. Galindo spent seven years in Schertz. In 2015, he had an opportunity to become finance director for Alamo Heights, where he's worked for the past three years.
Galindo enjoys the job and appreciates the opportunity to work with Alamo Heights city manager Mark Browne. "We work closely together, especially on budget questions," he said. "Mark and I and the other department heads build a budget each year for City Council to review."
Some of his responsibilities also include keeping a close eye on spending. "In some ways," he laughed, "I'm like OMB, the federal Office of Management and Budget, but on a much smaller scale."
Galindo explained why he likes numbers: "I enjoy working with people who want to make a difference for the folks who live in Alamo Heights. It takes a special kind of person to work in the government sector. We're here to serve and to do the best we can for our residents. And budgets – numbers – let us help people throughout our community."
He noted: "When I get up in the morning, I am happy to go to work. We're a team."
What many may not know about Galindo is that he was a caregiver for his mother for nine years. His mom had been living with his sister, who was also caring for an uncle. One day, his mom told him that she thought it was too much for his sister. He asked if she'd like to move in with him, and she said yes. So, he made the arrangements.
"The most important thing I've ever done was caring for my mom," Galindo said. "It let me get closer to her. It was tough, because balancing your career and caring for a loved one is hard, challenging. But, there was nothing more that I wanted to do than care for her."
He recalled an employer who was not willing to accommodate his need to have flexible hours so he could take his mom to doctor appointments and elsewhere, which is a very common problem working caregivers face on the job.
"They were not willing to give me the flexibility I needed," Galindo explained. "Taking time off to help my mom was so important."
Before he accepted the offer from the City of Schertz, Galindo told them he was his mother's primary caregiver. "I talked with them about my need to have some flexibility in my work schedule so I could help her," he said. "They were very accommodating and respectful of my caregiving responsibilities."
Galindo said he and his mother discussed her end-of-life wishes. "She did not want to undergo extraordinary measures to keep her alive, and I honored her wishes," he said. His mother passed away in 2015.
Although caregiving was a lot of work, Galindo said it was very gratifying.
"Family has always been important to me," he said. "I come from a small, close-knit family. Caring for Mom was something I really wanted to do. It was one of the best things I have ever done."
By Ron Aaron Eisenberg