From Yoga Instructor to Fearless Community Leader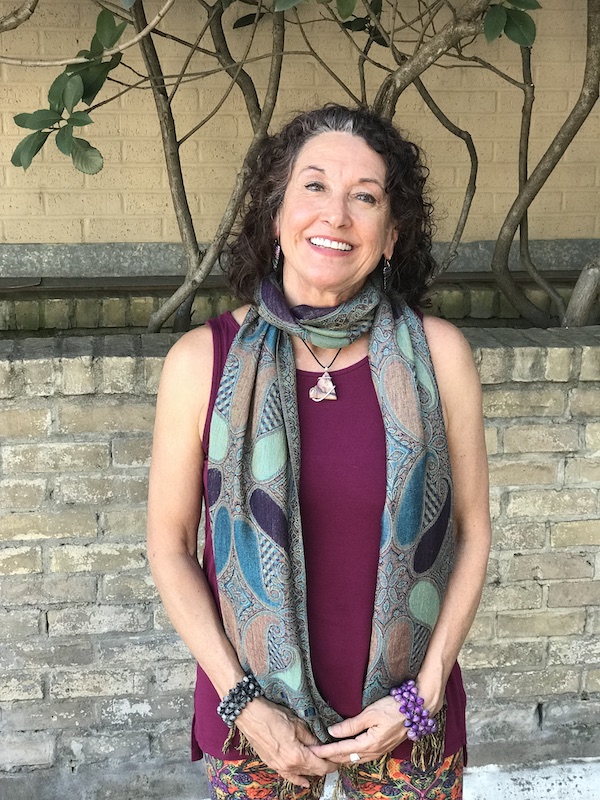 Perhaps there are two Joanie Brooks. There's the innovative yoga and Nia Instructor. And the community activist who fights the wrongs she sees in San Antonio and in her Mahncke Park neighborhood. When it comes to yoga and Nia, Brooks explains on her website (joaniebrooks.com): "My life purpose is to awaken the human healing potential.
"Whether it is a smile, a laugh or a reach to the sky, we all have the ability to self heal!  As a Sacred Athlete and Somatic Movement Educator with over 25 years' experience in the healing arts, I desire for everyBody to reach their full potential and live a life of pleasure."
But most of all, Brooks emphasizes on her website, "I am a teacher and healer to all people."
Perhaps it's the yoga and Nia that keeps her grounded. Calm. Focused. Peaceful. Perhaps.
But when you meet Brooks over a cup of coffee at Local Coffee, on Broadway in Alamo Heights, as I did, it is difficult to escape the piercing, dark brown eyes or the incredible smile. You can literally feel her energy and excitement for life. It's infectious.
Prior to diving into yoga and Nia, Brooks worked at USAA, starting as a systems analyst. Her career was on an upward curve, until, "I got laid off." She immediately jumped into a consulting job with an independent contractor and then she went to HEB until the summer of 2013.
Brooks was born in 1956. She grew up in San Antonio, off Judson Road and I-35, which was considered country in the 50's. Her folks owned 22 acres. Brooks graduated from Roosevelt High School in 1974, and her dad graduated from Alamo Heights High School.
Post Roosevelt, she went to SAC (San Antonio College) where she studied computer science. Then it was off to UT Austin to continue her studies in computer science. "It was brand new back then and there weren't very many women in the program. She graduated in 1982 with a Computer Science Degree,and that same year she married her husband, artist Larry Brooks. They were married in Selma, Texas, at Our Lady of Perpetual Help, a church founded by her grandfather.
After UT, she moved to California where she worked for the Burroughs Corporation as a computer programmer. Brooks says she liked math, despite the stereotype that "girls don't like math." Her work brought her to Dallas, and ultimately San Antonio.
"My husband Larry and I lived in the far north – past Encino Park – but I hated the commute." She was working at the Arsenal for HEB back then.
"In 2004 I told my husband I wanted to move closer to the Arsenal. We ended up in Mahncke Park in 2006. It was close to work and close to my sister, who was living in Alamo Heights. I like to walk to things like Central Market and I can do that from our house."
Her husband, Larry, is an artist who can work from home. "Our home is his art gallery."
She got involved in local community affairs as the comprehensive community development planning process was launched. "I love our community. I am also mindful of planning but it seems as if there was very little mindful planning. But that's changing," she noted.
"I got more and more involved as more and more businesses showed interest in moving into Mahncke Park. My commitment was to help the city of San Antonio help Mahncke Park follow our neighborhood plan."
That's when she joined the board of the Mahncke Park Neighborhood Association. First as vice president then as president.
Brooks said, "A hair dresser's efforts to open a business on a residential street in Mahncke Park galvanized a group of 40 area neighborhood associations to join together to fight encroachment onto residential streets. They all realized that what was happening in Mahncke Park could happen in their neighborhoods too. And, so we all began working together to protect our communities."
As Brooks got deeper and deeper into issues facing her community, she and others realized there was a gap in the NCD (Neighborhood Conservation District) that covers Mahncke Park. While designed to protect the integrity and historic flavor of communities, the gap in Mahncke Park's NDC permitted front-loading garages and homes on much smaller lots than originally planned. The result of that gap in the NCD is a group of homes near the Botanical Gardens. They sit on small, 25-foot lots, with front loading garages.
The homes are out of character for the neighborhood, something Brooks would like to see stopped in the future. She is also concerned about commercial development, damaging the quality of her neighborhood.
Although Brooks is no longer on the Mahncke Park Neighborhood Association Board, she remains very active and involved in a number of issues, including zoning. Her concerns embrace water runoff, parking, land use, density and more. Her priority is protecting the character of Mahncke Park.
Why does she stay so involved in issues impacting Mahncke Park? "Because I love my community."
Her other love is yoga and Nia, a sensory-based movement practice that draws from martial arts, dance arts and healing arts. And she's a personal trainer which keeps her busy too. For more on the yoga/dance side of Brooks check out her website at: www.joaniebrooks.com
When she has time, she loves to go walking with her husband and their dog, a Boston terrier, named Rocket. Spending time with Brooks makes you understand the name "Rocket" perfectly fits her family.
By Ron Aaron Eisenberg