BONNIE GIDDENS
NO ONE LABEL FITS BOARD PRESIDENT
BY RON AARON EISENBERG
When you first meet Bonnie Giddens, you immediately know she is the consummate professional. Well spoken, clearly comfortable in her role as president of the Alamo Heights Independent School District Board of Trustees. But what you may not know about her is that Giddens is also comfortable delivering pigs on her parents' farm and judging cotton at FFA competitions (more below on cotton and pigs). She is a licensed architect with degrees from Texas Tech University in civil engineering and architecture. She's also a wife and a mom.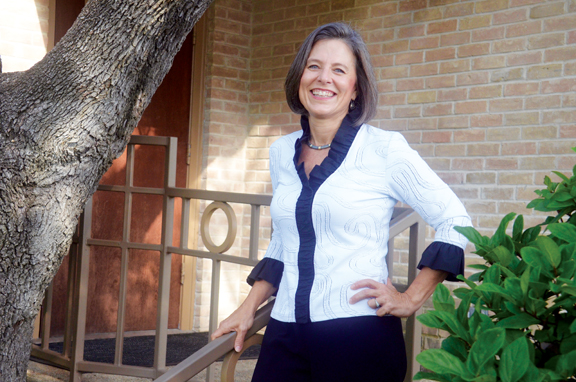 Giddens, 51, recently sat down for an interview with 78209 Magazine.
Q: Please tell us about your roots
A: I was born in Wall, Texas, a very small farming community, near San Angelo. I am the oldest of five and our family farmed cotton and sorghum, raised pigs, and ran some cattle and sheep. My mother had a secretarial background, but she mostly farmed as well. We had to be very organized and frugal, because there was only a once a week trip to the grocery which was not close by. I went to Wall High School with a graduating class of 55!
Q: Will you share with our readers some of the major influencers as you grew up?
A: Growing up on a farm and being involved in Future Farmers of America (FFA) helped me to appreciate the world around me and taught me so much about life cycles. I showed pigs and delivered many piglets. There were so many pigs on our farm, we never named them. Honestly, when they were ready to go to the truck I was happy to see them go.
I learned to judge cotton for local competitions. When I joined FFA, there were not many girls in it. In fact, I was probably one of the first girls in FFA in Wall. While there, I learned I could do things that weren't considered "normal" for girls. I realized I could compete with boys.
Q: After college, traveling, and beginning a career, you eventually became a stay at home mom. Did you do anything else outside of the home?
A: I did. When I quit working full time, I began doing a lot of volunteer work at my church – St. Luke's Episcopal. I loved helping with the Green Door, the church's thrift shop off Broadway in Alamo Heights. I got really involved in it. We started doing things a little differently, and we doubled the revenue, all of which benefited the church and church programs. The thrift shop turns out to be a great community center too for some of our older parishioners who volunteer their time.
Q: Why did you decide to run for the AHISD Board?
A: Along with my volunteer work at St. Luke's, I started volunteering and doing everything I could at the kids' schools. Someone said, "Bonnie, you should run for school board." I'd never thought about it. My oldest were seniors at the time. I ran, unopposed as it turned out, for Place 5 and won. I'm now in my second term. I was unopposed for the second term as well. I'm really not political, but I do value our public school system. I strongly believe we must have an open and free school system that will take and educate everyone. I don't think I would have run for our board if we lived in a large school district. We're a small district. And because of that we really have the opportunity to affect these kids' lives. As a board we try to keep our eyes on the big picture. We don't want to run the campuses. That's not our job.
Q: You're involved in Alamo Heights Schools beyond serving as board president?
A: Yes. I am on my third year as a mentor. We started when my mentee was in fifth grade, and I met her for lunch once a week at Woodridge. She is now in seventh grade, and our relationship is evolving with her evolving need for my presence in her life. Over the years we have developed a relationship that now includes her brother and her mother. I think this is such an important program, and I know our school has many more students seeking mentors than we have adults volunteering their time. Students would benefit greatly from more mentors.
Q: Since much of what you do involves students, what advice do you have for young people?
A: I like to tell students to push yourself as hard as you are capable of and yet have fun and enjoy life at the same time. See where life takes you and see what opportunities open up for you. Stay open to opportunities. I also tell kids not to get too caught up on what college you go to. It's more important what you do with the education.