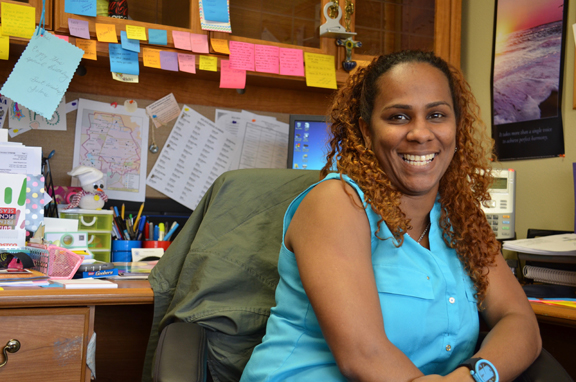 There are a couple of things you notice the first time you meet NEISD's special projects coordinator for all kids' after-school, summer, holiday and camp programs: Yasleitza "Yas" Rivera-Natal walks like a runner, with her arms gently swinging from the shoulders as she moves down the hallway at the NEISD Building on Tesoro Drive. And she smiles. All the time. A welcoming smile that lights up her face.
Walking like a runner comes naturally to Yas. She was a sprinter at the University of Puerto Rico. She also played second base and catcher on the women's fast pitch softball team. She attended the university on a full-ride athletic scholarship. Yas could run. She even competed in the 4X100 at the Penn Relays, the oldest and largest track and field competition in the United States, hosted annually since 1895 by the University of Pennsylvania.
Born in Puerto Rico in 1980, Yas matched her accomplishments in sports with her academic achievements. She majored in secondary education, with emphasis on physical education, as an undergraduate. She then earned a master's degree in school administration, also from the University of Puerto Rico.
She taught PE at a private school in Puerto Rico and also coached high school tennis and softball on the island before going to work for TSA (Transportation Security Agency) in the Department of Homeland Security (DHS).
TSA sent Yas to San Antonio in 2010. She was an airport screening officer at San Antonio International Airport. She loved San Antonio, but she told 78209 she wasn't thrilled with working for TSA.
In October 2010, she accepted a position as an instructional assistant at NEISD's Walzem Elementary School. She quickly moved on to direct the after-school program in the Kids Involvement Network (KIN). She'd found her niche as special projects coordinator for kids!
Yas provides everything the KIN program needs, ranging from building curricula for the summer, holiday and after-school programs to developing field trips, and more. "Every activity is learning-based, even if the kids don't know that," Yas told 78209. "For example," she said, "the culinary classes are actually teaching kids science and math." In 2016, some 4,000 youngsters in grades K through 8 participated in the KIDS programs.
"Our summer programs are designed to keep kids learning over the summer months. We hope little is lost or forgotten between the end of the school year and the beginning of school in August," she says. The NEISD Summer Camps run through Aug. 11, from 7:30 a.m. to 6:30 p.m.
Summer camp activities include sports, engineering, robotics, community service, swimming, science and academics. And there's more. During the school year, Yas oversees the after-school enrichment programs that are offered at every NEISD elementary and middle school campus. Those programs begin when school dismisses for the day up until 6:30 p.m. The program significantly reduces the number of "latchkey kids" who may go home to empty houses. But it also enhances their learning. Yas explains, "We build learning into everything we do."
Yas also coordinates mini-camps scheduled over school breaks and holidays. That's a real plus for parents who may work outside the home and need supervision for their youngsters. It also provides the kids with fun and challenging enrichment programs.
All of the NEISD kids' programs are open to one and all. It is not necessary to attend any of the district's schools or even live within the district's boundaries. And the cost for programs is the same for all.
Yas is also mom. She has a 12-year old son who plays soccer and runs track. But she told 78209 that despite her athletic talent, she's not pushing him into sports. "It's his choice," she says.
With days that seem never to end, how does Yas de-stress? "I love painting. It's my one real stress reliever," she says. And she adds, "I love abstract painting."
For more information about NEISD kid's camps visit the website: www.neisd.net/ComEd/Commed/kidscamps.htm or call Yas Rivera at 210 407-0161.
By Ron Aaron Eisenberg