Dreams of an Old-Fashioned Ice Cream Parlor in the Neighborhood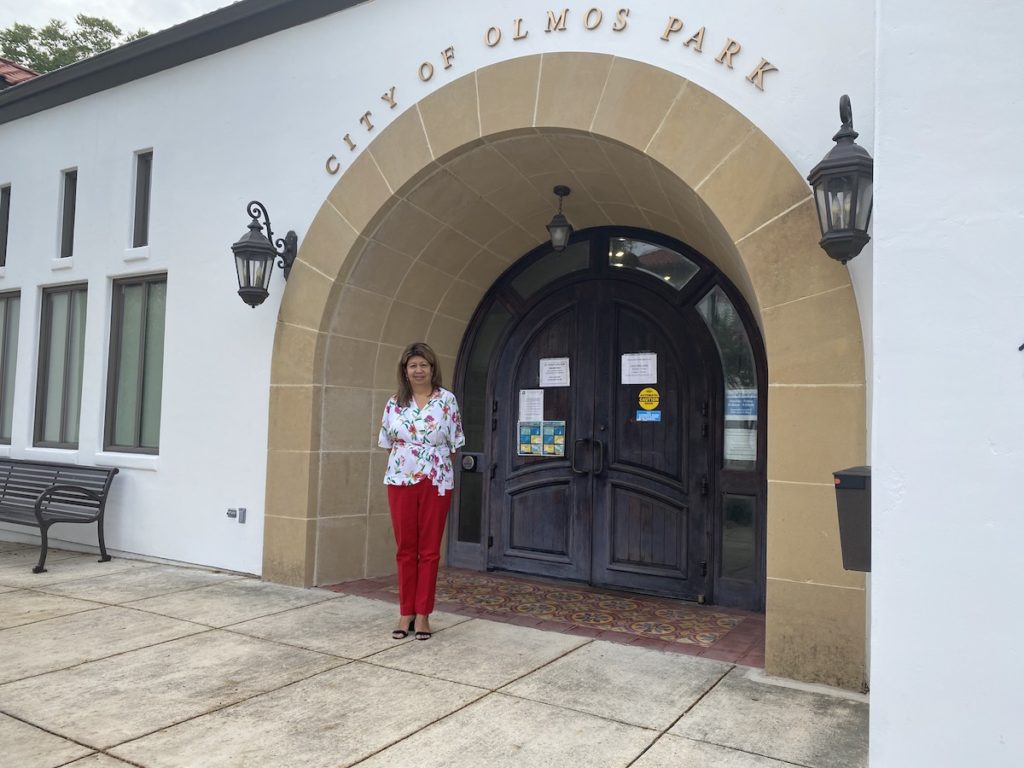 For Celia DeLeon, selection as Olmos Park City Manager in 2013 was the next step on a ladder she'd been climbing for nearly thirty years.
One might argue public service was in her blood. Two of her three brothers chose public service careers – one with TxDot, the other in the Air Force.
Her journey to Olmos Park began in Laredo, where she was born in 1966. From Laredo, her family moved to San Antonio, where DeLeon was raised.
She began her public service career in 1990 with the City of San Antonio's Municipal Courts. She quickly discovered that she liked helping people, getting to know people, and making a difference in their lives.
In 1999, Olmos Park was looking for someone to step in to assist its court with classifying misdemeanors and conducting case research. DeLeon was hired for that job. She's been with Olmos Park ever since. She worked her way up the ladder from court clerk to city secretary, and, in 2013, she was promoted to city manager. It's a big job.
DeLeon serves the City Council as its chief advisor, implements the Council's policy decisions, guides the community's delivery of services, and provides vision and leadership to the organization. She also oversees enforcement of all city ordinances, resolutions, contracts, rules, and regulations. Additionally, she hires, recruits, and supervises municipal employees.
She says, "We have 38 full-time employees, including 13 full-time police officers, 13 firefighters, six Public works employees, and five administrative staff serving a population approaching 2,500 people."
DeLeon notes, "Olmos Park provides 24-hour police, fire, and EMS protection, with an average response time of two minutes or less." She says her job is "to manage the city of Olmos Park, its staffing, and to make sure everything runs smoothly."
DeLeon has mastered the power of listening. I saw that in action when I witnessed an informal meeting between her, the fire chief, and several firefighters. They began talking about equipment and how some of the Olmos Park fire apparatus are old. Fire Chief Michael Goodreau explained the process of purchasing a new fire truck. DeLeon listened, asked a few questions, and assured the chief she understood the need and the process.
What does she like best about her job? "I like dealing with the residents one on one; getting to know them and their families. It's what I love about public service."
In light of COVID-19, DeLeon says, "Things are quiet, and that's how we like it."
I asked her about chickens, which have become an issue in neighboring Terrell Hills. Some residents there want to add chicken coops to their back yards. Others argue they are a nuisance. Terrell Hills is considering an ordinance to allow limited numbers of chickens in yards. But the issue has yet to be resolved.
DeLeon told me they have some chickens in Olmos Park. But they are not an issue. At least so far.
But talk of chickens led her to say she hopes to rekindle the periodic meetings the city managers of Alamo Heights, Olmos Park, and Terrell Hills used to have. "I found those meetings to be helpful. We share so many challenges. We can learn so much from each other."
When she's not on the job, DeLeon told 78209 Magazine she enjoys camping in the RV with her family – especially her five-year-old granddaughter. A favorite destination is Big Oak River Camp. She and her husband, Gilbert, have been married for 19 years.
So, what about that Ice Cream Parlor? DeLeon says they are addressing issues along McCullough Ave, south of the railroad tracks, to improve the retail strip's look and feel. Her dream is to see an Olde Fashion Ice Cream Shoppe and a book store open up for business in Olmos Park.
Stay tuned. As DeLeon oversees the makeover of McCullough Ave, folks say they would not be surprised to see an ice cream parlor open its doors in Olmos Park.
By: Ron Aaron Eisenberg
To learn more about Olmos Park, Texas, visit https://olmospark.com/