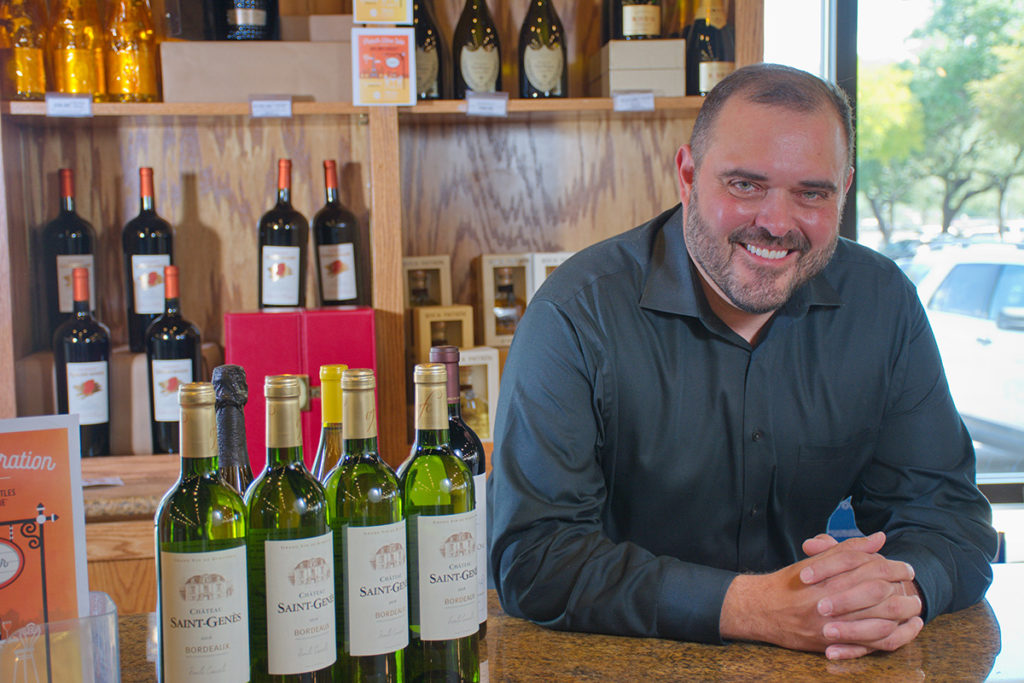 It's certainly true that we '09ers work hard – just look at our well-kept yards, prospering local businesses and other productive community involvements that all take considerable effort to maintain and nurture. But thankfully, as a neighborhood we also know how to relax, unwind and balance our energies, guaranteeing the continuation of that exceptional quality of life that is so endemic within dear old Alamo Heights. And on that positive note, there's one especially uber-appreciated area enterprise that fluidly focuses on the equalization of our energetic equilibriums. Can you say Twin Liquors?
Yep, to those among us with an ever-present thirst for the finest (and, that's most of us, most of the time), this bastion of beverages' foremost function seems solely to be the assurance that our entire ZIP remains in "good spirits" at all times and for all occasions, and who's not for that? Since 2009, Lincoln Heights Twin Liquors has been expertly recommending, vending and catering a world-class assortment of wines, whiskeys, beer and more to clamoring crowds seeking a little (or a lot) of social sustenance. Cheers, 78209!
Located conveniently in the Lincoln Heights Shopping Center at Broadway and Basse Road, Twin Liquors has certainly become a staple in the neighborhood after setting up shop here 11 years ago. Its mother-company (of the same name), founded in 1939, based in Austin and preparing to celebrate its 80th anniversary, felt the presence of an upscale, well-stocked, expertly manned outlet in the tony 78209 district would complement the existing commercial mix. And boy, was it right. As Mike Poremski, '09er and regional manager for the company, attests, "After opening, we were immediately engaged by the neighborhood. Sales were, and have continued to be, great. The people living in and around Alamo Heights are so amiable and inviting, we quickly realized we had found a home here."
But to truly understand what's so special about our '09 Twin Liquors, a visit is in order. With its Lincoln Heights location near the anchoring H-E-B and plenty of adjacent parking available, getting to it is never a problem. However, it's what's inside that really wows. Within its spacious 4,500-square-foot interior are row after row of product, all categorized for ease of shopping. The first impression can be dizzying, but after a few minutes, everything becomes clear. Starting on one wall near the entrance and flowing toward the center, the shopper finds a seemingly endless array of Scotch whisky, bourbon, rum, tequila, vodka, gin and other bottled spirits, all arranged by brand. So much so that even experienced imbibers are often astonished by the selection.
Mike explains, "It's not uncommon for us to exhibit hundreds of distillers' products with multiple variations within each brand category. While we don't have everything, it almost seems that we do. And if there is something that a customer wants that isn't in stock, we'll strive to get it." What is equally neat beyond the more traditional Western whiskeys and liquors are the other not so common offerings, such as imported sake from Japan and — believe it or not — modern-day moonshine! The store is also replete with nonalcoholic mixers (margarita, Bloody Mary, etc.), bar supplies and other necessaries requisite for those perfect cocktails. And there are plenty of beers to choose from. Did we mention the extensive cigar selection found in the large walk-in humidor?
One thing that Mike and Twin Liquors discovered after moving into the neighborhood was the '09er's passion for wine. In response, 60 percent of the substantial inventory is dedicated to the grape. Virtually every part of the globe is represented in this amazingly well-stocked section that dominates all the space from the center aisles to the far shelving installed across the entire rear wall. For those wanting a bottle produced locally (for example, right in our own Hill Country) to others requesting output from distant vineyards operating throughout South America, Europe, Australia and even the Far East, satisfaction can usually be attained. Mike affirms, "We're proud of what we've compiled in our wine department. But it's a continually evolving process with our buyers always on the lookout for new and different vintages. Our customers often help with this as well through their special requests."
So while Twin Liquors does boast an impressive inventory, usually possessing up to 4,000 individual displayed containers, that's not the whole picture. To further enhance the shopping experience, Mike's on-site staff comprises trained and knowledgeable attendants, each extremely capable of ensuring that complete satisfaction is achieved with every purchase. And additionally, as Mike states, "We're very budget-conscious as well. Not everyone is in the market for a $3,000 bottle of cognac. Likewise, that $3 wine purchase isn't for everyone either. Our pricing reflects an enormous range to accommodate many different tastes and desires. However, to sweeten every purchase, no matter the price, we have a standing 15-percent-off policy on any purchase of six or more bottles of wine, but from November through December, we've upped that to 20 percent. And that's the best deal in town!"
Couple inventory, product expertise and pricing, and what else could Twin Liquors do to make it better? Actually, quite a few things, such as catering events, delivery, special ordering through the website and more. As Mike smilingly offers, "We're good, but we're continually adapting to 78209, always looking for ways to improve, grow and satisfy. It's a joyful work-in-progress that never stops."
But that's all about Twin Liquors keeping the ZIP in good spirits (aged, fermented and/or distilled), all the time and for any occasion. And who's not for that? Cheers, again!
By Ernie Altgelt
Photography by Martin Waddy