Sloan/Hall is a unique upscale lifestyle store, which opened on Broadway in Alamo Heights 20 years ago this month. The owners, Marcus Sloan and Shannon Hall, have ridden the ebb and flow of the market and have not only survived, but also grown – even adding a second store in Houston in 1998. They moved the local Sloan/Hall store to its current location in the historic former Magnolia/Mobilgas filling station, where Austin Highway meets Broadway, shortly after Labor Day in 2011. "The move was necessary," states Shannon Hall, one of the two native Texan owners. They were in a smaller space in the Uptown Heights shopping center next to TCBY Yogurt and wanted to expand beyond greeting cards, CDs and gift gadgets to include women's fashions, and jewelry. Their landlord, Glenn Huddleston, thought Sloan/Hall would be the right retailer for one of his other properties, the iconic landmark. The move was well worth braving the 106° heat on moving day, as sales have increased dramatically. Sloan/Hall's offerings have been expanded to include not only fashions and jewelry, but women's shoes, handbags, designer scarves and other accessories, plus art and home décor. The partners brought in a feng shui expert to help them organize the space. The front entry and beautifully landscaped red brick parking lot are now located on the Austin Highway side of the building. To the unfamiliar, it may not be obvious at first sight what Sloan/Hall is. They were amused when a caller once inquired about renting "Sloan/ Hall" for a wedding.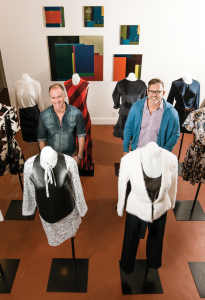 "We don't react to what other stores are doing. We just want to create our own environment," explains Shannon. ACCOUTREMENTS Once you enter Sloan/Hall, you see a partition of greeting cards across the front of the store, forming a visual barrier to the enormous window and high traffic intersection beyond. The colorful shoes, displayed vertically, form a decorative wall to the right. Two large tables placed prominently in the center of the room are covered with beautiful books on design and décor that capture the imagination. It would be easy to spend hours browsing through the store, eyeing the art and the chicly clad mannequins dressed in the latest fashions by such designers as Isabel Marant and Nina Ricci. More fashions are smartly arranged on stands in two of the four rooms in the store. There are also etagéres displaying their "apothecary," an assortment of luxurious crèmes and fragrances, etc., for the body and home. A spacious room is laid out with vitrines displaying an eclectic array of artisan jewelry curated from far and wide. Don't miss the fascinating wooly mammoth fossil earrings and dinosaur bone pendant – that is, if they are still there. Since all of the jewelry pieces are unique works of art, they too might become extinct. The home décor items, densely displayed on shelves in the cozy interior room, are just as unique as everything else at Sloan/Hall. Most are "one-offs," created by local artists. Items are easy to see and imagine in the home or as gifts. "In selecting items for the stores," Marcus Sloan says, "we just want them to be interesting." MODE DE LA MILLENNIUM He continues, "We have an eye that translates to the market – a democratic eye. We let a broad appeal guide our decisions. San Antonio has changed – for the better. The people, especially the young people, are more aware of trending fashions, and we do target people who know fashion." Sloan cited a recent thrill on a buying trip. He managed to track down a favorite designer who had "reappeared on his radar." Sloan/Hall became one of only two stores in the United States offering Dutch designer Iris van Herpen's line, inspired by her visit to the Hadron Super Collider in Switzerland. "Fashion is about attraction or repulsion. It's a weird animal." Sloan muses. "Those prototypes you see on the Paris runway are meant to make the designer memorable, rather than selling those particular garments. There are two Fashion Weeks per year in Paris, one in March and the other in October. That's when you can see all the European designers – the 'Brit Pack,' the Italians and, of course, the French, who gather for a central trade opportunity." Sloan and Hall go to Paris four times a year to buy for every season. "We can email an order to Paris and include everything on our wish list, then cut as necessary. It's easier to cut than to add to an order later on," says Sloan.
THE DYNAMIC DUO "Both Marcus Sloan and Shannon Hall have MBAs, and they make a pretty solid team. They have different strengths, which are complementary to each other," says Arthur Perez, the store's manager, who has been with Sloan/Hall since 2001. He knows them and their business sensibilities. He continues, "It has to be both of them to complete the leadership team. Marcus excels in the strategic planning to keep the flow of their business running in a positive upward direction following the downturns in the economy. Shannon is the more social, outgoing one who has the stamina it takes to keep operations running smoothly, especially at the larger store in Houston." So congratulations to Sloan/Hall on your 20th anniversary! Sloan/Hall is located at 5424 Broadway at Austin Highway, and can be reached by calling (210) 828-7738.
By CAROLYN SELDON LAY Photography by JOSH HUSKIN