BY ERNIE ALTGELT
PHOTOGRAPHY BY MARTIN WADDY
CLEANING IDEAS
KEEPING '09 SPARKLING FOR 48 YEARS
In the never-ending battle against domestic dirt, grime, grease, scale, germs and other unhygienic antagonists, mankind has developed an immense arsenal of soaps, solvents and sundry other sudsy and sanitizing solutions. And while it's nice to be well armed in this washable war, with so much diversity from so many manufacturers, selecting the right product can be a hit-or-miss process muddying the minds of even the most capable housekeepers.
Fortunately for '09ers, everything the clean-conscious might require can be easily found in one welcoming location where superior products, expert advice and instruction and competitive pricing all come together consistently, ensuring a sparkling, spotless success. Why, that's a great idea – or, more precisely, that's Cleaning Ideas!
Family-owned and operated, Cleaning Ideas has been a staple in 78209 for the past 48 years. However, its history dates back to 1929, when the founder, Joe Davis, a native San Antonian who was then living in Memphis, developed an incredibly good toilet bowl cleaner. Mixing it up in his garage on Mondays, then personally demonstrating and selling it on the other weekdays, he quickly found that it was a moneymaker.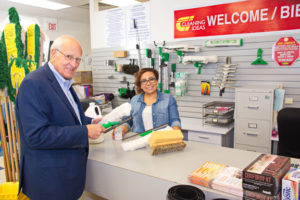 By 1938, he was back in San Antonio, now with a wife and two sons, and established the Davis Manufacturing Company, eventually locating on Morales Street on the city's near West Side. Other early products were developed, including an excellent glass cleaner and a floor sweep, but his mainstay continued to be the bowl cleaner, which schools and hospitals found ideal. Then, in 1947, responding to the needs of a local dairy farmer, the Davis Company developed an amazing cleaning and sanitizing liquid that removed the calcium buildup in milking machines. It also happened to be a superior remover of hard-water scale. Dubbed Sanivac, by 1950 this miraculous concoction became available in area grocery stores and was quickly discovered by previously frustrated Alamo City homeowners who knew the challenges of living in a hard-water environment. And demand for it 66 years later is still soaring as it remains the sought-after cleaner for scale removal today.
As the Davis product line continued to increase to include floor cleaners, laundry products, hand soaps, kitchen cleaners and others, the decision was made by Joe's younger son, Charles (known forever as Chizzy), and his wife, JoJo, to "get into the retail business" and open their own outlets. Previously, customers, commercial and residential, had to come to the factory to purchase products. In 1964, however, the bold young couple, who were living in Alamo Heights, took the plunge (and their plungers) and opened the first Cleaning Ideas nearby on Austin Highway, then at Seidel Street across from the Terrell Plaza Shopping Center. And even after a recent move to Vandiver and Austin Highway (basically, just across the street), store No. 1 is still there and still cleaning up. Under Chizzy's later leadership, nine other Cleaning Ideas locations were established, eight in San Antonio and one in Kerrville. More are in the works as Chizzy and JoJo's son, Randall, the company's current CEO, looks toward a bright and shiny future.
Most importantly, however, is after a visit (to Cleaning Ideas and especially with proprietor Chizzy), it quickly becomes obvious that this is the place to find out how to really get things clean. Everything is there: shelf after shelf laden with products formulated to tackle any and all cleaning tasks – almost 1,000 if you're counting. Most of the products featured are Cleaning Ideas house brands (and most are locally produced at the factory on Morales Street), but other popular offerings are available as well. And besides the actual cleaning agents, patrons can also purchase a variety of mops, brooms, brushes, buckets, vacuums, dusters, plastic bags and paper products, all to ensure a positive outcome.
But excellent inventory aside, what truly sets Cleaning Ideas apart from other retailers like the big box stores and grocery chains is the personal assistance customers receive when trying to decide on a particular product for a specific challenge. Whether assisted by Chizzy or one of his knowledgeable co-workers, visitors will be impressed with the depth of cleaning knowledge exhibited. "How-to" advice is freely shared, and as Chizzy smilingly expresses, "That's all part of the service."
After so many years in the business of battling dirt – through product creation, manufacturing and selling – it really isn't so surprising that Cleaning Ideas has become the one-stop sanitizing source and solution for 78209 professionals and novices alike. Yep, having "everything for cleaning anything" under one roof really is a great idea – or, more precisely, Cleaning Ideas!