Serving Up 70 Years of Savory Success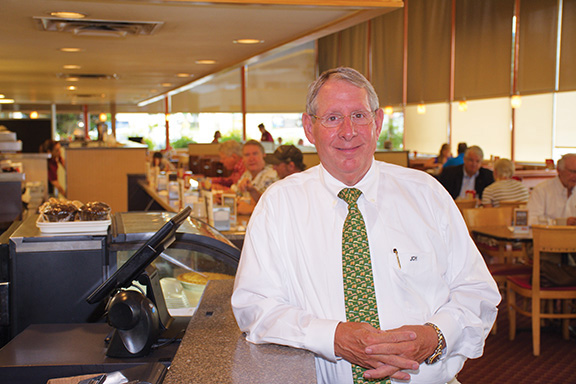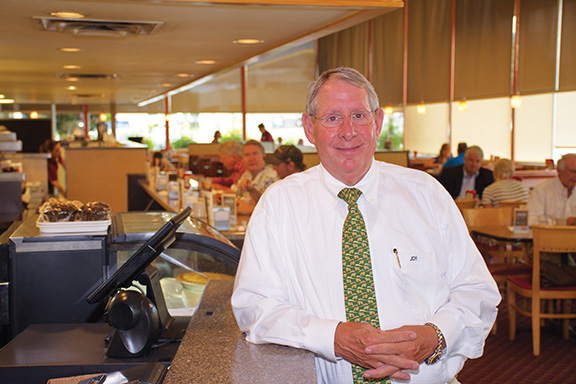 In nurturing households like those found across our ZIP, the daily enjoyment of a home cooked meal is a given. Families, young and old, regularly gather around their kitchen tables, not only for nutritional sustenance but to converse, catch up and connect as well. It's a communal thing that beneficially brings folks together, and that's good.
But what can we do when on the run within the 'hood, needing a break from the office or just out for a simple change of scenery and the need to refuel and reboot (gastronomically and socially) hits? Fortunately, thanks to '09's very own Frontier Enterprises, since 1947 satisfying that craving for some very close-to-home food and friendship – almost anywhere and at any time – always in a welcoming family-run, family-like environment — is just as easy as, well, pie! With its unsurpassed commitment to culinary quality coupled with incomparable (generally repeat) customer contentment, Frontier-owned-and-operated restaurants have been serving up a savory success for an impressive 70 years, and — like dear old Mom's cooking, not to mention the classy clientele — always in good taste too. Your order, please!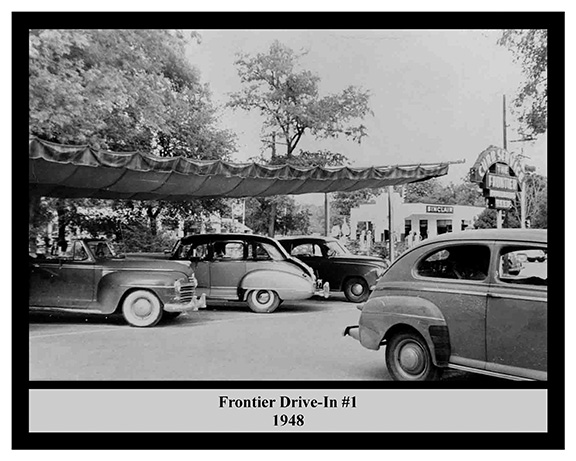 It all started so long ago when a young Jim Hasslocher opened a bicycle rental stand near the front gate of Brackenridge Park, just off Broadway. With summer came the additional offering of sweet sliced watermelon. While this proved to be popular, Jim sensed additional opportunities existed through the expansion of his edible offerings. The energetic entrepreneur, always a good cook, began vending his irresistible, on-site charcoal-grilled hamburgers. And the hungry hoards couldn't get enough of these smoky sensations. Can you see where we're going here? Yep, that was the humble (but oh-so-promising) beginning that eventually morphed first into the wildly popular drive- and dine-in eateries (no more bikes) that became San Antonio's much loved Frontier restaurants and then later, the equally iconic Jim's chain. But the story doesn't end there.
When considering Frontier Enterprises, almost everyone who has lived, or currently lives in 78209 or anywhere in and around greater San Antonio for that matter, has enjoyed a meal – breakfast, lunch or dinner – thanks to what "Mr. Jim" created so long ago. And not surprisingly, that's what many still gladly do – day after day. What most may not realize, however, is that behind the counter, decade after decade, a very hands-on Jim Hasslocher was personally fine-tuning and taste-testing all aspects of every serving to ensure a quality product that was always value priced – just what his customers came to expect and especially appreciate. And if something didn't sell, it was gone. But did he actually eat his own chow? You bet! When the menu referred to a certain barbecue sauce-basted burger as "Jim's Favorite," it wasn't kidding. That really was his favorite.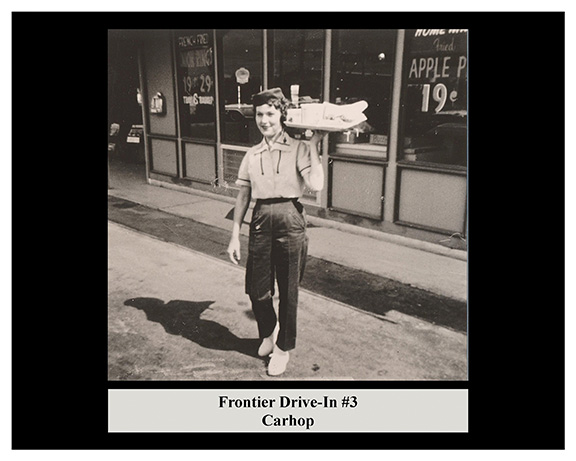 Jim's desire to please also extended beyond the kitchen and was reflected in each restaurant's designed-to-be-inviting décor and even more so in the incredibly caring and attentive people he (often personally) hired and then carefully trained to staff each location. With so much attention to detail, his self-developed recipe for success would prove itself a winner – for himself, his company and co-workers and especially all those that continue to patronize his restaurants after so many years.
Today, after his passing at age 93 in 2015, the company that he pioneered is still a private family affair ably led by his son and now president and CEO, Jimmy. And, while the makeup has evolved – the original Frontier hamburger drive-ins are gone with the Jim's chain (numbering 19 and featuring an expanded menu and longer hours of operation) now comprising the bulk of the properties – the Hasslochers haven't stopped adding, improving and tweaking while maintaining the core values that Mr. Jim instituted so long ago. There are currently 16 Jim's enterprises spread throughout the Alamo City. Three more are in Austin. Even the first Jim's, located at Broadway and Loop 410 and opened in 1963, is still packing 'em in.
His later inspiration, the quirky Magic Time Machine, operating at its original location on the Loop with a second now in Dallas, continues to wow the trade with unique performance-style service. And to the applause of generations of '09ers, the legendary Alamo Heights La Fonda Mexican Restaurant is now also comfortably under the Hasslocher wing, and its future has never looked brighter. Ole!
Lastly, although it all started with the Frontier Drive-ins, which due to a number of considerations were phased out in the 1980s, a new variant has come on line. Halleluiah! In 2016, the first Frontier Burger, located near company headquarters at Broadway and Loop 410, opened for business. Others are in the works. Old-timers insist the selections are even better than the original drive-ins' sandwiches. Neophytes just think everything's great – period! Whatever, what's old really is new again, and that's just fine for us '09ers!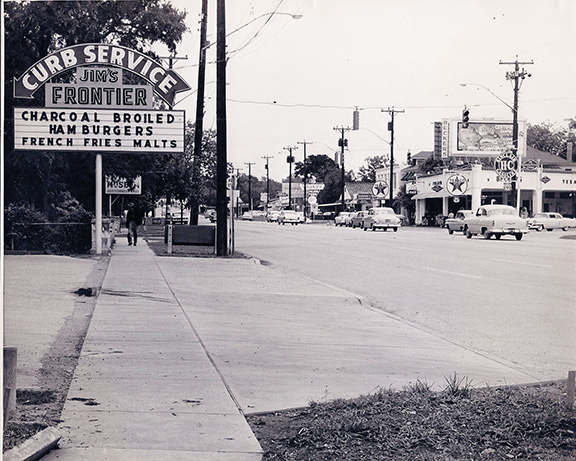 So 78209 and San Antonio, let's all give a heartfelt three cheers to the Hasslochers and their so appreciated Frontier Enterprises for a wonderful 70 years of serving up a savory success. May our great grandchildren know the pleasure of eating a juicy Frontierburger, a plate of spicy chili and scrambled eggs or maybe that tried and true cream gravy-covered chicken-fried steak plate because it really is a rare and wonderful generational thing that's 100-percent pure San Antonio and '09. Meet you at Jim's!
By Ernie Altgelt
Photography by Martin Waddy