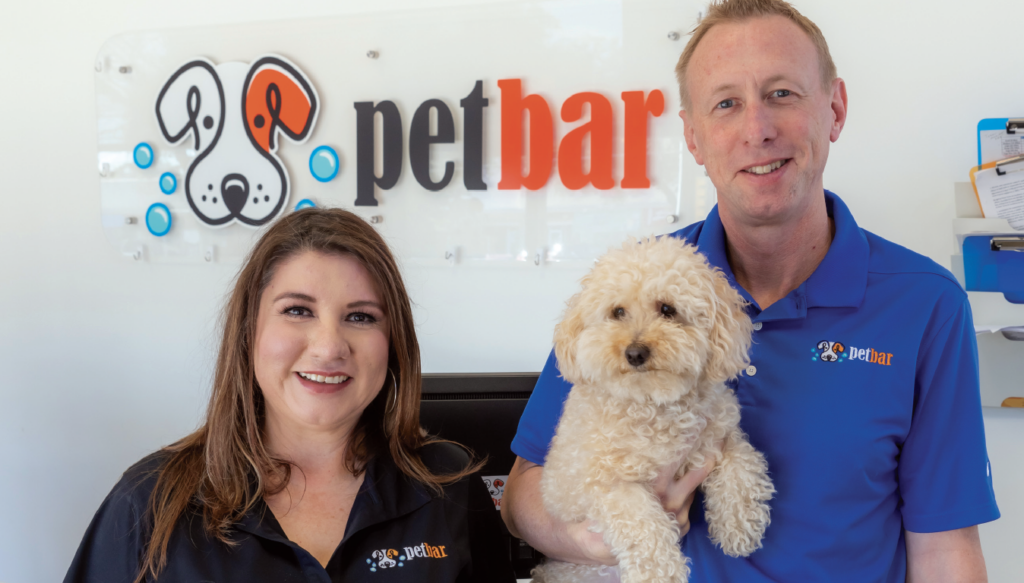 By Meredith Kay | Photography by Al Rendon
According to research, over 70% of U.S. households own a pet, and pet owners spend over $1,000 a year, on average, on their pets. So, when Marc Hildebrand was looking for a franchise opportunity, finding something that would make the lives of pet owners a little easier was a very attractive idea. Marc and his business partner, Cyndi Flores, worked together at USAA for over 20 years, and they had always kicked around the idea of going into business together because they noticed a strong synergy whenever they worked together on projects.
When the pandemic hit, forcing most employees to work from home, the idea of finding something different led Marc to get serious with his franchise research and business model analysis. He came across a franchise opportunity that had
started in Dallas, and he reached out to Cyndi, who loved the idea of opening a pet spa. Marc says, "Cyndi and I have
different strengths, and we complement each other's talents in a cohesive way that just works."

Petbar, in Alamo Heights, is currently the only San Antonio franchise location. The spa offers pet washing and grooming services for dogs and, sometimes, cats. This is a modern, open-concept pet spa featuring self-service pet washing stations, full-service pet washing appointments, as well as professional full-service pet grooming. Marc and Cyndi wanted to have a place where pets are treated like royalty, and they have several "party rooms" where your pet can wait comfortably in a spacious, individual playroom for their scheduled appointment. Cyndi states, "When you take your dog to the groomer, it will more than likely be kept in a small kennel or cage most of the day until the groomer can fit the dog in. It can be very stressful for a pup to stay kenneled all day, especially if that is not something the dog is used to. We wanted to avoid this because we wouldn't want our own dogs to be treated this way."

The goal at Petbar is to get each pet serviced as quickly as possible so that your four-legged baby can be returned to you quickly, happier, and cleaner. The layout at Petbar is one of total transparency so that owners can always see their pet while it is being serviced. They have open pet washing bays and doorless grooming stations, and they offer everything you could need to get your pet washed thoroughly and safely, and the best part is that there is no cleanup. Each of their multiple pet washing stations offers four different treatment options depending on your pet's needs. There is a tearless shampoo for the sensitive types, a color-enhancing shampoo for those that are prone to fur staining, a "dirty dog" shampoo for the more "rough and tumble" breeds, as well as a gentle conditioner for longer-haired pups. Petbar also offers specialty treatments that can be used if your curious pup decides to tango with a skunk, and each wash station has a unique system that perfectly mixes the right amounts of soap and water to produce the cleanest canine possible.

The business operates on a pay-per-visit or membership option, which offers members four full-service baths per month and unlimited self-service baths and brushing for one low monthly price, and it is based on the size of the dog. It's a great plan for anyone who likes to wash their dog(s) at least once a month, and memberships provide ongoing discounts on other products and services as well. Marc and Cyndi, who ironically both have dogs named Bowie, have created a warm and welcoming environment at Petbar, and they hold events throughout the year where you can bring your pup in for seasonal photo shoots. The partners love being a part of the Alamo Heights community and give back by offering discounts for fosters and rescue groups throughout the year. Petbar is open for tours during business hours, and there is even an outdoor area with artificial turf for those necessary potty breaks.


Petbar
5231 Broadway, Suite #121 (@ Kennedy) | (210) 845-0209 | petbarinc.com/location/san-antonio-alamo-heights
Monday-Friday 9:00 a.m. to 6:00 p.m. | Saturday