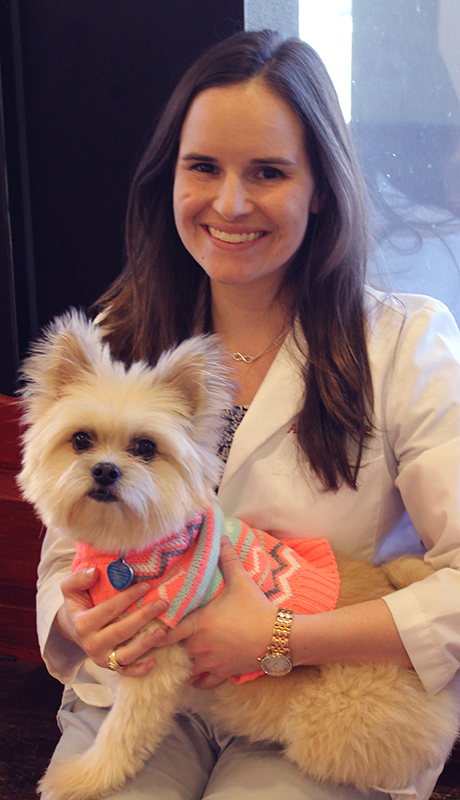 Even in semi-tropical 78209, winter occasionally makes an appearance. And while it's rare, temperatures can, and do, drop into the 30s, 20s and, even into the teens for short spells. Yep, it can get pretty chilly, and when that happens, we bundle ourselves (and our water pipes) up, turn the heat on high, check the car's antifreeze and sit tight until things warm again. But what about Fido? Really, what's a dog (or a cat) to do when Mother Nature gives all of us the cold shoulder?
Well obviously, our adored quadrupeds rely on us, their loving owners, for the additional care, concern and, of course, comforting that's crucially needed when one of those icy Texas blue northers careens in. So what should we do to ensure our pet's wintertime well-being? Simply read on, because pet ownership (in any season) comes with responsibility, and that's not just a lot of hot air! Arf-arf, brrr.
For some expert counsel we asked respected local vet (and Alamo Heights grad) Dr. Ashley Hagauer, an associate with '09's well-patronized Alamo Hills Animal Hospital, to wag in. And the following is her pet-approved advice for keeping our furry four-footed friends happy and healthy in a humanely heart-warming way. As Dr. Hagauer smilingly stresses, "Having dogs and cats is cool, but not when they're cold!"
• Keep your pets indoors as much as possible – Even though cats and dogs have fur, they are not necessarily acclimated to cold weather. Animals that are young, old or ill are particularly sensitive to changes in the weather and should not be left outside for long periods of time.
• Provide shelter – If you are unable to keep pets inside, make sure they have access to a warm, dry shelter that is off the ground and protected from the wind and offers access to clean, non-frozen water.
• Avoid using a space heater around pets – If it gets knocked over, a heater can cause burns and/or start fires.
• Know your pet's limit – Cold weather tolerance varies from pet to pet, so adjust outdoor activities based on your pet's breed, hair coat and health status.
• Dress 'em up – When outside and under supervision, short-coated dogs will likely need a sweater or coat.
• Inspect their paws – After outdoor activities check a dog's paw pads for cracking and bleeding caused by cold weather.
• Go for some permanent identification – Make sure your pet has an up-to-date collar and microchip so it can be returned to you quickly if it becomes lost during an inclement weather episode.
• Check your car before driving – Outdoor cats will seek out vehicle engines as a heat source, so it is best to check under your car and honk your horn before starting the engine.
• Get a wellness exam – Cold weather can worsen certain medical conditions such as arthritis, so it is important that your pet (especially an older animal) is examined at least yearly to make sure it is ready for the cold weather.
• And lastly, it is important to have a cold weather plan in place for your pets before the temperature begins to fall. Start thinking in advance!
For more tips and information regarding pet ownership in general, visit The American Veterinary Medical Association at AMVA.org. Arf!
By Ernie Altgelt