Humans have been homebound, too!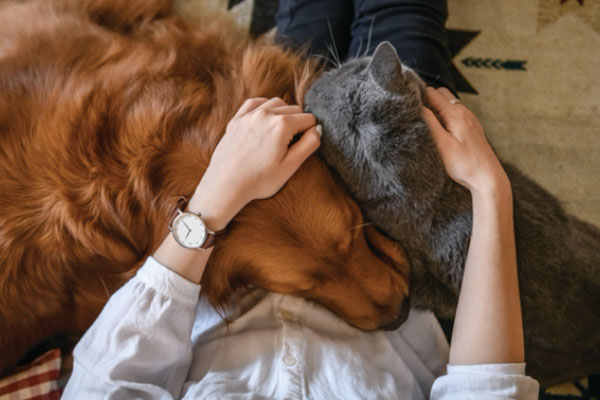 Some may remember that look from your mother, the one you got while lounging in front of the T.V. set when you were supposed to be looking for a summer job.
During the COVID-19 lockdown, some '09ers have been getting that look, from The Cat.
You've seen the meme!
"What the heck are you doing home? Why aren't you at WORK?" demands some miffed-off feline.
Those working from home have been intruding on her "me time," which with cats is all darn day.
There have been two sides, to the COVID-19 self-isolation orders:
Worry about the economic picture, while slowing the spread of the disease, staying in.
But being home, which meant time with family, furry family members, too.
During this terrible pandemic, self-isolation has offered the thinnest of silver linings.
We have spent less and saved more. We have been granted the luxury of life in the slow lane, with time to lavish on our- selves and our pets.
You know what I have seen a lot of?
People are exercising, huffing and puffing or strolling, up and down our leafy streets, happy pups in tow.
Have dogs been getting their walkies in, or what?
"Oz has enjoyed having plenty of people home, to take him for walks," says '09 attorney Ryan Anderson of the family pup.
Anderson says four people have been homebound, at his house.
But"… the change in Oz's routine is a little 'ruff' on him. He can tell, life is not normal right now."
You bet, because pets like a schedule! Breakfast at 8 a.m., and dinner at 6 p.m.
Late morning walks about 10 a.m. An evening stroll at 9 p.m.
Even some local feral cats have been complaining about the interruptions in "service."
"We have five long-time fixed feral cats, in residence," says Annabell Ames of the Hanley Wood gift shop. "Ingrid always fed them." Ingrid is a store employee, who has been temporarily at home. "Her feline family really misses her."
Social distancing? What social distancing?
"They come right up for their meals," says Mrs. Ames. "Roosevelt has been here 16 years and has started sitting in my lap. It's good for both of us," says Mrs. Ames.
That is true because spending time with animals lowers blood pressure, which helps your heart.
Two other pooches who have been dealing with an upset schedule are Mecca and Boerne. "Greeters" at The Jewelry Store, these rescues have been complaining about things being too quiet.
They've missed the revolving door of customers, and the store employees. They've been curled up in office chairs, awaiting their return, with only the postman coming 'round.
As the news people deliver reports, from home, we're left to giggle as their bedraggled family member wanders in and out of the shot. And then there was the T.V. reporter, whose cat decided, at that moment, to lift his leg, and clean his bottom.
That darn cat!
It's been a rough time, no doubt.
But before you know it, life will return to normal.
We will be back in full force at the office, and at school, with precious weekends spent running errands.
And, after the pandemic subsides, we will be left to wonder: Where in the heck, did the time go?
By Berit Mason