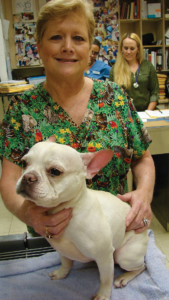 Listening to Fido scratch all night is no fun for you or for him. No one's getting any sleep around here! All that licking, scratching, and chewing of his skin and fur drives you both nuts.
Alamo Heights Pet Clinic's Dr. Claudia Alldredge, DVM, said if you've checked your dog for fleas but don't see any, have him checked for a skin allergy.
"Seasonal allergies in spring and summer are exacerbated by heat. Skin allergies can include allergies to grass, pollens, tree pollens and dust mites," Alldredge said. "Symptoms are redness, scratching, irritation and an increased thickness in skin or dark pigmentation."
Skin allergies are what brought rescue Labrador Maggie and her owner Alice Carson together. Before moving to San Antonio, Carson was an animal shelter volunteer in her hometown in Mississippi. One day, Maggie's former owner surrendered the cream-colored pup.
"Her ears were so infected, and so I think her owners were tired of treating her," Carson said. "Her ears were almost bloody, and she scratched all of the time."
However, Maggie was worth the challenge. The first thing Carson did after adopting her was take the pooch to the vet.
After some testing, it was revealed that allergies to the outdoors caused Maggie's distress, specifically allergies to Bermuda and Johnson grasses, Dock Sorrell, maples and cottonwood trees. She was even allergic to house dust!
After nearly nine unsuccessful treatments, Carson drove the sweet-natured dog over to the College of Veterinary Medicine at Mississippi State University. There, busy animal doctors concocted the perfect serum for her, tailored to each allergen, and now Maggie is itch-free.
It costs Carson roughly $300 for a three-month supply of antidote, which she injects into her pet every ten days. Just as Carson did, Alldredge said take prompt action if you suspect Fido has a skin allergy.
"It's not wise to ignore symptoms," she said. "If he chews too hard, he can break the skin, infecting hair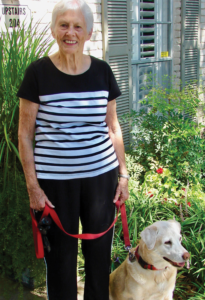 follicles, allowing an infection to spread. First, give your dog a medicated bath to wash off pollens. That is your first line of defense."
The veterinarian said if there is a break in the skin, medicated salve or pills should be the next step. Finally, shots may be in order. Steroid shots can act as an immunosuppressant, so Alldredge often employs newer solutions on the market.
Because you humans bathe frequently, skin allergies may affect you less. Rolling around in the grass, as we hounds love to do, covers us in pollen. Since we only bathe when we must, pollen builds up on our fur and skin, causing us to become itchy and allergic. However, bathing too frequently strips us of essential oils, so try not to overdo it.
The good doctor also noted that in hot weather, dogs are in and out of swimming pools, lakes and rivers more often. "Ear infections are more common, and swim water can lead to, or complicate, ear infections," she said.
Like people, pets can have a bad reaction to certain foods and medications. Pets can also be allergic to fleas.
Cats – see "Spoiled Brat" in the dictionary – also get allergies, but suffice it to say, if Fluffy has weird fur or itches, she might have a skin allergy. But that's enough on cats.
The good news in all of this is that skin allergies are treatable!
So pet families, like Maggie and Carson, can enjoy their early morning walks, breathe in the great outdoors, and, in the evening, enjoy a peaceful night's sleep.
Until next month!
Roxie
By Berit Mason