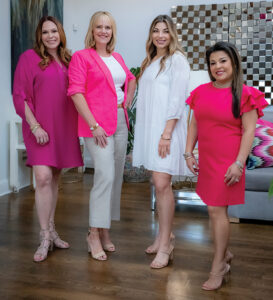 Buying or selling a home is one of the biggest events in anybody's life. It can be stressful to navigate the process, sort through offers from potential buyers, and figure out exactly what your home might be worth, and what changes or upgrades are necessary to get top dollar when you sell. It's important that you choose to work with a real estate agent that knows exactly what you are looking for and what your goals are when considering a move.
There are several nationwide real estate brokerage firms that have multiple offices in and around San Antonio, and they have capable and knowledgeable real estate agents ready to help home buyers and sellers, but there is something special about working with a locally owned real estate company that has built a reputation on knowing the communities they serve at a deeper level. Real Estate Muses is one such local real estate company specializing in the Alamo Heights area and surrounding communities.
Melissa Muse Wiggans began her real estate career as an investor in 2000, buying and renting properties throughout San Antonio. She became a real estate agent in 2006, working with other realtors to learn the business and gain experience. In 2010, Melissa invested in her career and became a real estate broker, and today her real estate company, Real Estate Muses, has become one of the premiere boutique brokerage companies in the area.
Real Estate Muses features a dynamic team of realtors that truly understands the meaning of customer service. Her husband, Scott Wiggans, handles the property management side of the business, and she has worked with her team of agents, Michelle Hendricks, Miranda Paredes, and Andrea Gimblet, for ten years now. Together, they have created a real estate firm that addresses many facets of the industry.
Melissa says, "In this industry, there is so much competition, and you have to be nimble and adapt to the constant changes, finding new ways to cater to, and retain, clients."
The office is located in Terrell Hills, and what sets Real Estate Muses apart is that Melissa and her team understand the financial impact of real estate transactions beyond the basics, and they are able to use their knowledge to advise and guide buyers and sellers to make sound, informed decisions that positively impact lives. The team prides itself on being master negotiators, and they offer programs for investors, showing people how they can build wealth through real estate investing. They are also experts in military relocation, helping those on active duty with PCS orders, as well as those retiring from the military who want to settle in San Antonio.
Melissa and the team at Real Estate Muses are firmly rooted in the community. Melissa speaks passionately when she says, "We are truly a part of this community. It is where we live and where we work, and we want to help this community grow and thrive. We want to be a resource for others who also love the community."
The office also hosts monthly events for the public to learn about a variety of topics or simply to just get together and network. The firm offers invaluable resources to sellers utilizing the most modern technology to market and sell homes, such as digital marketing, updated property marketing videos, and Instagram reels, along with social media posts detailing key selling features for the homes that they market. The team keeps up to date with the algorithms that boost rankings, and Melissa states, "We were using the technology available before it was normal and cool to do so in real estate."
Another resource that sets the Real Estate Muses team apart from other agents and brokers is that they are also very experienced in home staging and will act as a consultant to sellers so that their homes will show better than similar properties in competition for buyers. There are many reasons that make Real Estate Muses stand out in this community in such a saturated industry, but the key component to their success is their passion for serving their clients with the best customer service possible.
Real Estate Muses
925 Burr Rd.    (210) 332-0310    Realestatemuses.com
By Meredith Kay | Photography by Al Rendon