Last month, on what was for many the never-to-be forgotten evening of Feb. 19, an EF-2-rated tornado touched, tore and terrified its way through a narrow corridor of our neighborhood. With sustained winds reaching up to 120 miles-per-hour, natural and man-made objects alike flew and foundered beneath the funnel's fury. In its aftermath, the destruction that remained was, in far too many places, substantial – emotionally, personally and commercially.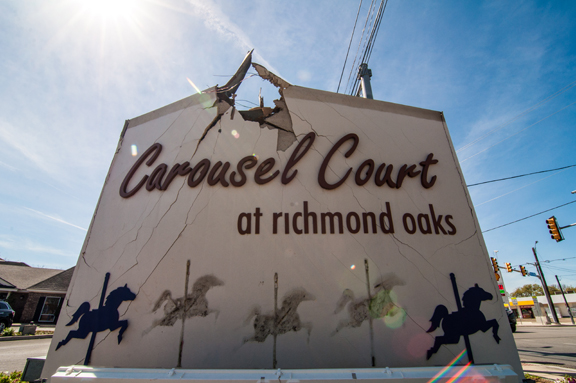 But when faced with adversity, '09ers, as a community, rally around what's theirs, offering sympathy and, more importantly, support in large and loving measure. Quite simply, it's a small-town kind of response, where restoration is paramount and the sooner the better. With that in mind, while not forgetting the individual losses to our many family members and friends on the home front, 78209 magazine has decided to present a very brief overview of some of the affected mercantile establishments and the post-storm challenges they have faced for, literally, getting back to business.
The twister first entered the ZIP west of the Quarry Golf Course, initially ripping across the front-nine, where, according to the pro shop, "trees were upended and the irrigation system was damaged." As a result, that side of the course suffered a one-day closure to allow for the cleanup while the back-nine remained open. While some of the destruction is still visible across the terrain, the entire course is once again up and running. Fore!
The next stop was the adjacent shopping center at Lincoln Heights, but as with its golf course neighbor, damage was light. Unfortunately, as the tornado continued east and slightly north, sizable sections of the nearby Chateau Dijon apartment complex weren't quite so lucky. The damage was so extensive that a large number of units on its west side were condemned by the city. The teardown (per management, "to the studs in some cases") and rebuilding is expected to take months, if not longer. Many of the residents were forced to relocate – some permanently. This area was one of two of the most negatively affected in '09.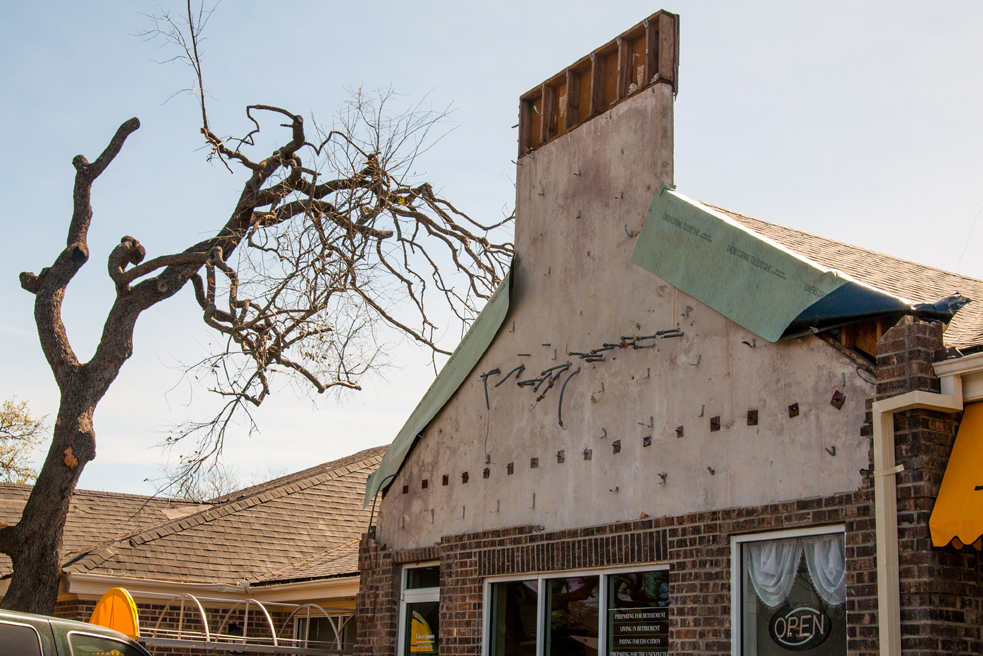 Near the apartment, just off Broadway, two popular eateries were fortunately only mildly touched. Frederick's gourmet-rated French restaurant and Florio's classic Italian pizzeria each suffered some cosmetic damage but were able to quickly "fire their ovens up again" after some tree debris removal, signage, window and awning replacement and roof work. Both owners are relieved that things weren't worse and want their loyal clientele to know "we're more than ready to serve you as before."
The next commercial stop targeted was the Oak Park area near Nacogdoches and North New Braunfels. Driving by after the event, it quickly became obvious that a lot of destructive power was unleashed on this relatively compact site. While the convenience store/gas station lost part of its carport, everything else survived intact. Across the street, however, one of the most damaged enterprises was the much-loved BurgerFi restaurant. Its entire building was so severely damaged that even at this printing, operations still haven't resumed. The word from the regional office is that it may take three to five months before staging a "grand re-opening," but, most importantly, all those associated with that BurgerFi want everyone to know that "this location will open again." So, burger-lovers, just be patient because BurgerFi is coming back. Guaranteed!
And just east off Nacogdoches at the trendy Carousel Court, the tornado's violence continued unabated. While most of the establishments on the center's north side were left untouched, the parking area and its trees, along with the southern row of commercial spaces, suffered badly. Evidence of this is clear by the clipped appearance of the many mature oaks that grace the grounds as well as missing brick facades on the buildings. The roofs were also affected, causing, in some cases, substantial interior water damage. However, Second Looks resale shop and Ann Pearce Jewelry are both open again after a two-day closing, but farther down the line, other businesses (at the time of this printing) are still closed and may be for some time.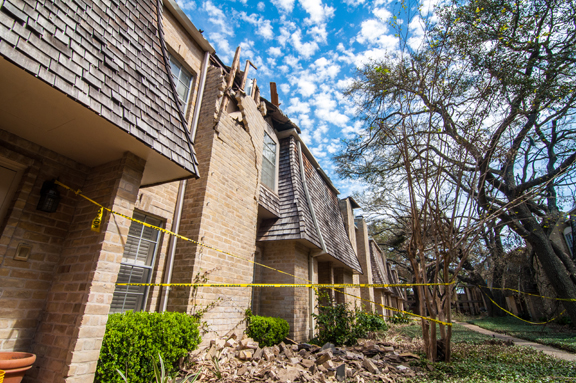 According to the property manager, "Severe structural damage was incurred when portions of the roof were actually lifted off, stressing the under-supports. Until those are replaced or repaired, occupancy, for safety's sake, is not allowed in certain areas." Commendably, the property's owners are committed to "putting things to right again – ASAP." In the interim, the business owners of Andie and Barbara, Cookie Cab, Shear Image Salon and Doralina's Hair Salon pray for a speedy return to normalcy. Past Carousel Court, condominiums sporting blue tarps over their roofs also show additional evidence of the storm. The tornado exited 78209 near Loop 410 and Starcrest.
In closing, what's done is done, and now the resiliency of those affected kicks in. It can be a hard climb back, but these folks will make it. First and foremost on this road to recovery is our continued patronage of their much appreciated and, in some cases, still missed businesses. So if you see some post-storm hurt, just stop by, say hi, and buy!
By Ernie Altgelt
Photography by Eber Guerrero