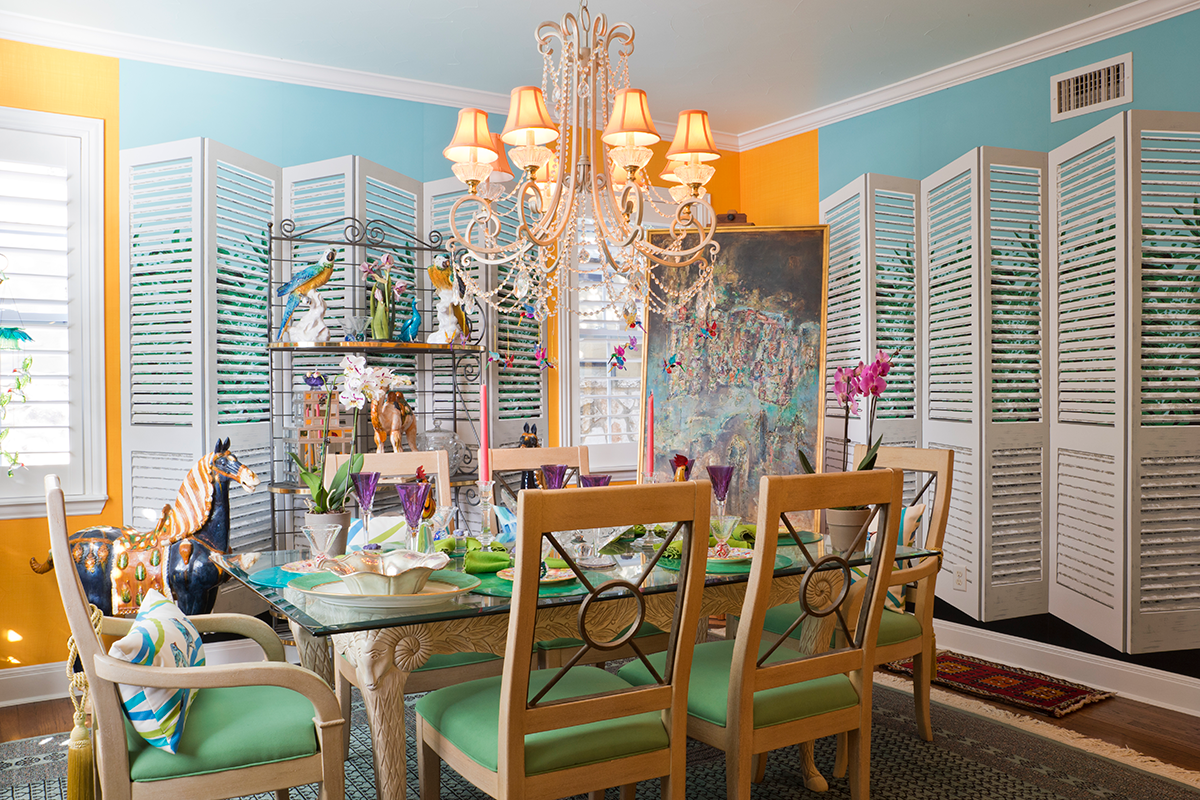 Kirk Mills is a fifth-generation rancher and a lawyer with a passion for Texas, art, dogs and classic cars. He loved his home on South Padre Island, but a severe allergy to "red tide," or algal bloom, after Hurricane Dolly caused him to relocate to San Antonio as his primary residence. Mills moved to a downtown condo and soon discovered a love for the city. He began searching for a house and found a Tudor residence in Terrell Hills.
"The floor plan was good, the yard offered possibilities, and the location was great," Mills said.
The 4,800-square-foot house has historical significance. It was constructed by noted homebuilder John Hagy for Joseph Hardin Frost in 1929. Frost was head of Frost Bank during the Depression.
Hagy houses are noted for special details throughout. One of these is the porthole front door. "You can identify a Hagy house by its porthole door," Mills said. "I wanted to install some kind of screen door that would let the breeze in, but I didn't want to detract from the significance of the porthole." His solution was to install an ironwork grill incorporating the porthole.
Unusual ceiling treatments are another Hagy hallmark. Mills' home has a dome ceiling rising over the stairwell. Mills commissioned local muralist Paige Holland to paint a sunset in the dome. She painted Mills' beloved schnauzer, Whittenburg, perching on a tree branch in the mural.
BANISHING BEIGE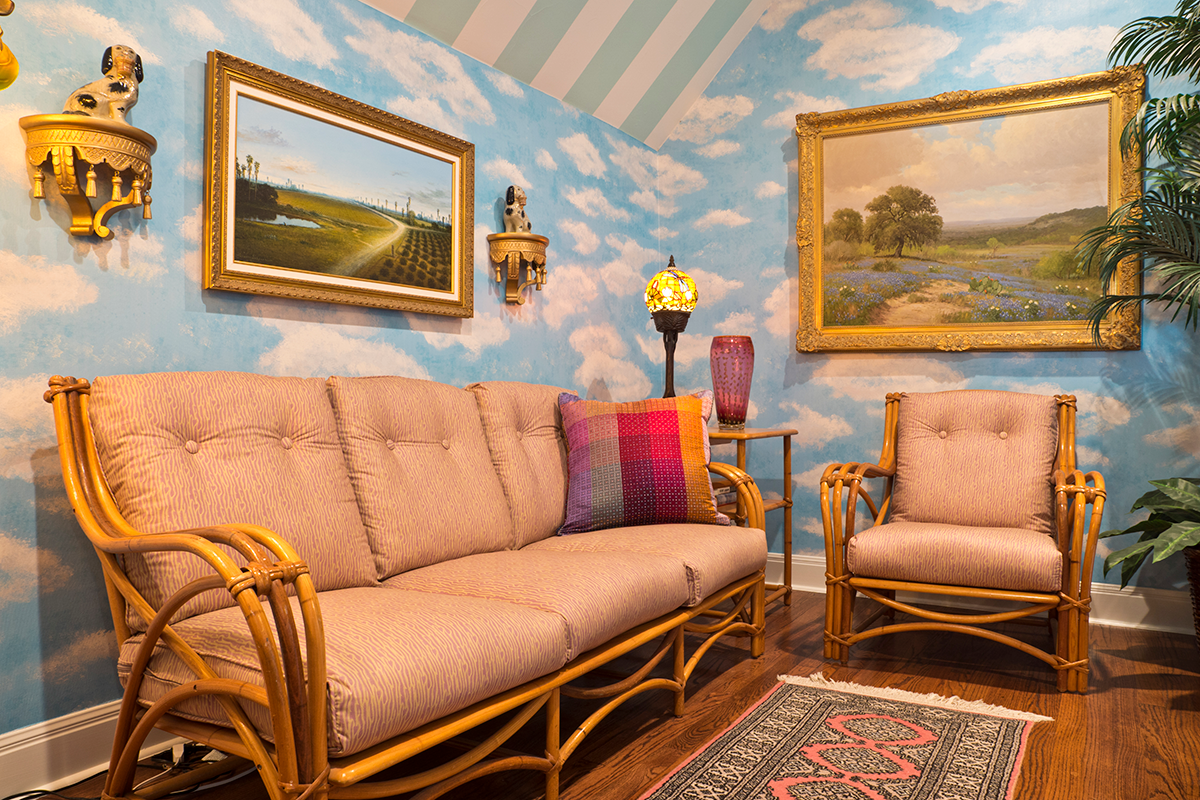 The house is also significant because of the designer who took it from a beige interior palette to one bursting with color. Mills met Carleton Varney at a party. Varney is a famous American interior designer and president/owner of Dorothy Draper & Co. Inc., one of the oldest and most prestigious interior design firms in America.
"Carleton is known in the design industry as Mr. Color," Mills said. "He took my house from beige to beautiful in one year and then proceeded to work his magic on my South Padre Island beach house."
Varney based the home's color scheme on the hues in Holland's mural but was also sensitive to the colors in Mills' extensive art collection. He drew on Mills' ranching history, island residence and affinity for Whittenburg in his design.
The result is, in Mills' words, "a whole lot of crazy." The entry hall walls are covered in vinyl, printed sky blue with scattered puffy white clouds. The staircase is covered in a custom green carpet woven with Whittenburg's paw prints running up the risers. The painting to the right of the staircase is by Hsiao-Hsia Tsai Hobbs, an abstract and impressionist artist and sometime resident of South Texas. Mills found this piece in a thrift shop, and it is one of several in his collection.
The color explosion continues in the living room, where Varney created a cheerful amalgamation of sunny color. The orange walls are painted with a strie technique, a glazing process that creates a special finish. The tray ceiling is painted a sky blue, a color repeated in the Gloria Vanderbilt painting hanging over the fireplace. The mirrored niches flanking the fireplace house a pair of 17th century gilded greyhounds.
"The two wingback chairs originally were upholstered in elephant tapestry, but Carleton recovered them in leopard skin," Mills said. Varney manufactures his own fabrics, branded as Carleton Varney by the Yard.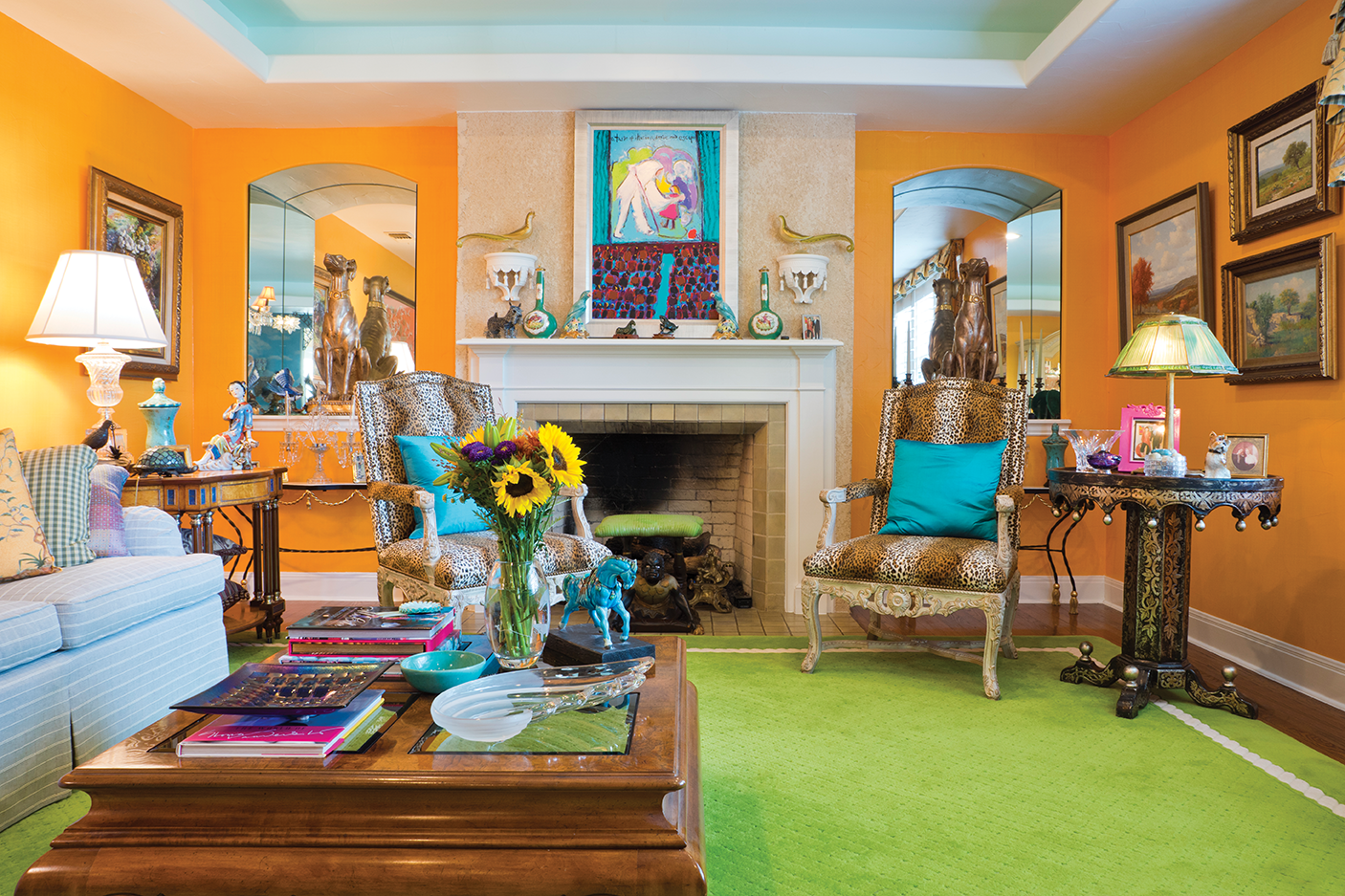 The blue and white striped sofa, strewn with colorful pillows, is positioned beneath a silk artwork of a hundred birds. "In feng shui, birds are symbols of good luck," Mills says. "This picture actually has one hundred birds embroidered on it."
Other treasures in the room include an antique secretary from the Texas Panhandle, a Tiffany lamp with an unusual linenfold shade, a Waterford chandelier and a beautiful étagère containing a Julian Onderdonk painting and pottery by noted ceramicist Harding Black.
Across the hall from the living room is the dining room (pictured on page 18), a tropical space painted in yellow and blue. The wall screens are wallpaper, used to provide dimension for the space. Mills keeps the glass-topped table set with Baccarat candlesticks from England and chargers from Bergdorf Goodman. The plates once belonged to a cousin and came from her yard sale. The chandelier came from Mills' island home; the tiny hummingbirds hanging from it were Christmas ornaments from Wal-Mart. "That's Carleton—he does things whimsically and colorfully!" Mills exclaims.
Shelving beside the table holds several large parrot figurines and a pair of imitation Tang dynasty horses. Whimsy, indeed.
GRANDPARENTS' GIFT
It's easy to see that art, in all its forms, is important to Mills. He attributes his interest to his grandparents. "Other youngsters got toys from their grandparents," Mills says. "I got art. Every year at Christmas, they gave me a painting. At first I was perplexed, but over time, I grew to understand the value of art in life. And then the value of it in my life."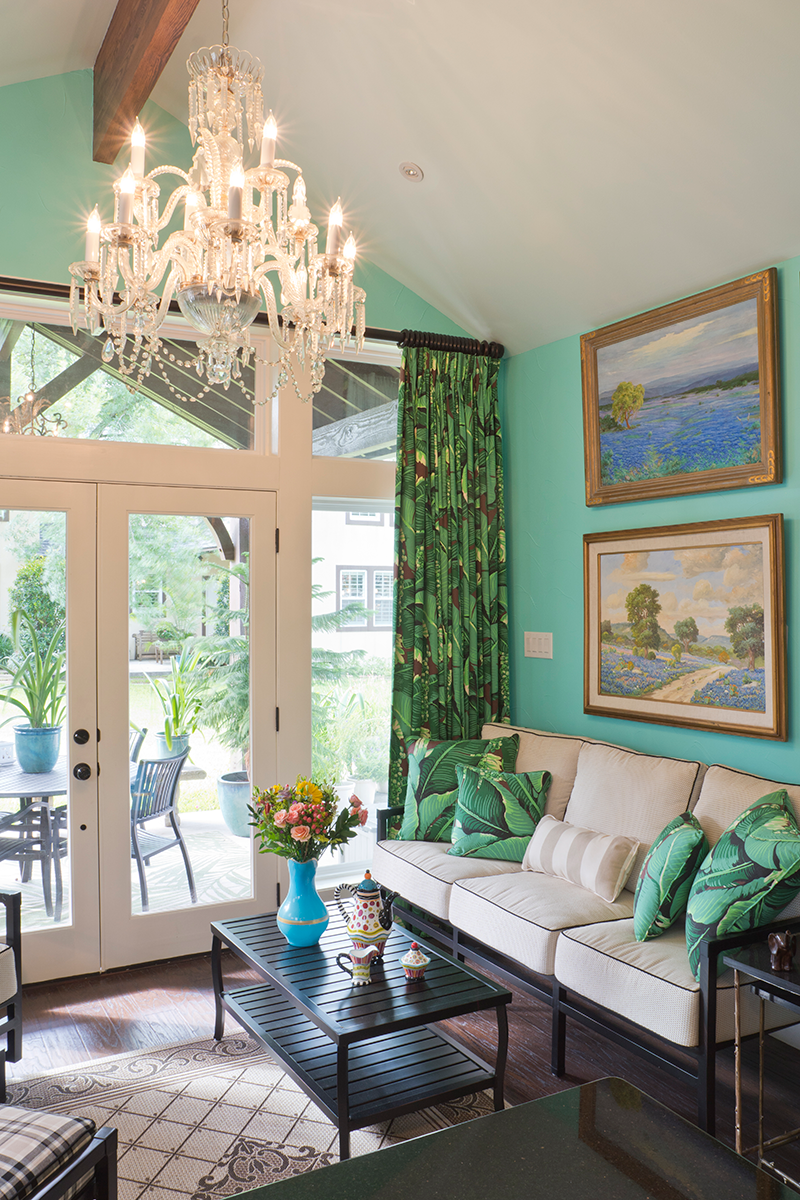 Varney used beige and white striped wallpaper in the master suite to provide a subtle backdrop for the G. Harvey bluebonnet artwork and the Porfirio Salinas range painting over the four poster bed. A Julian Onderdonk oil hangs by the back door. A chandelier provides overhead light, as do the bedside lamps with Chinese faces painted on them.
Mills' turquoise-painted office is located off the master suite. It is a working office, where he runs his ranching operation, but it is also a beautiful room for displaying paintings by Gloria Vanderbilt and Jose Vivas-Atsara, a large landscape by Gabriel Salazar and a Franco Mondini-Ruiz painting beside a chest. Mills sourced the chandelier locally from the Lion and Eagle.
"I have great appreciation for the art in this room," Mills said. "But the view of my front yard out these windows is one of my favorite landscapes. John Troy did all the landscaping, and I never get tired of looking at it."
The kitchen would please most proficient cooks—a claim Mills doesn't make for himself. He does enjoy the granite countertops, Jenn-Air range and double ovens. Pendant lighting hangs over the island.
The kitchen opens into the family room, where pale blue walls contrast with a comfy chocolate-colored sofa and club chairs. The blue of the walls is echoed in the eyes of Gloria Vanderbilt's Girl Purple Flowers that hangs in the room. Joan Crawford is Mills' favorite actress, a fact known to Varney, so he gifted Mills with a What Ever Happened to Baby Jane? movie poster as a bit of whimsy for the room. Mills' grandfather's cuckoo clock hangs here, as do several quail and dove ranch scenes by Austin artist Raul Gutierrez.
Upstairs, the Ranch Room has dark teal-colored walls. Mills' saddle recalls his ranching history, as do his branding irons in front of the fireplace. A colorful picture of a pair of boots hangs on one wall and carries its own bit of history. "That picture belonged to the actress Maureen O'Hara, who was great friends with John Wayne," Mills says. "It hung in John Wayne's bedroom for years before it found its way to my house."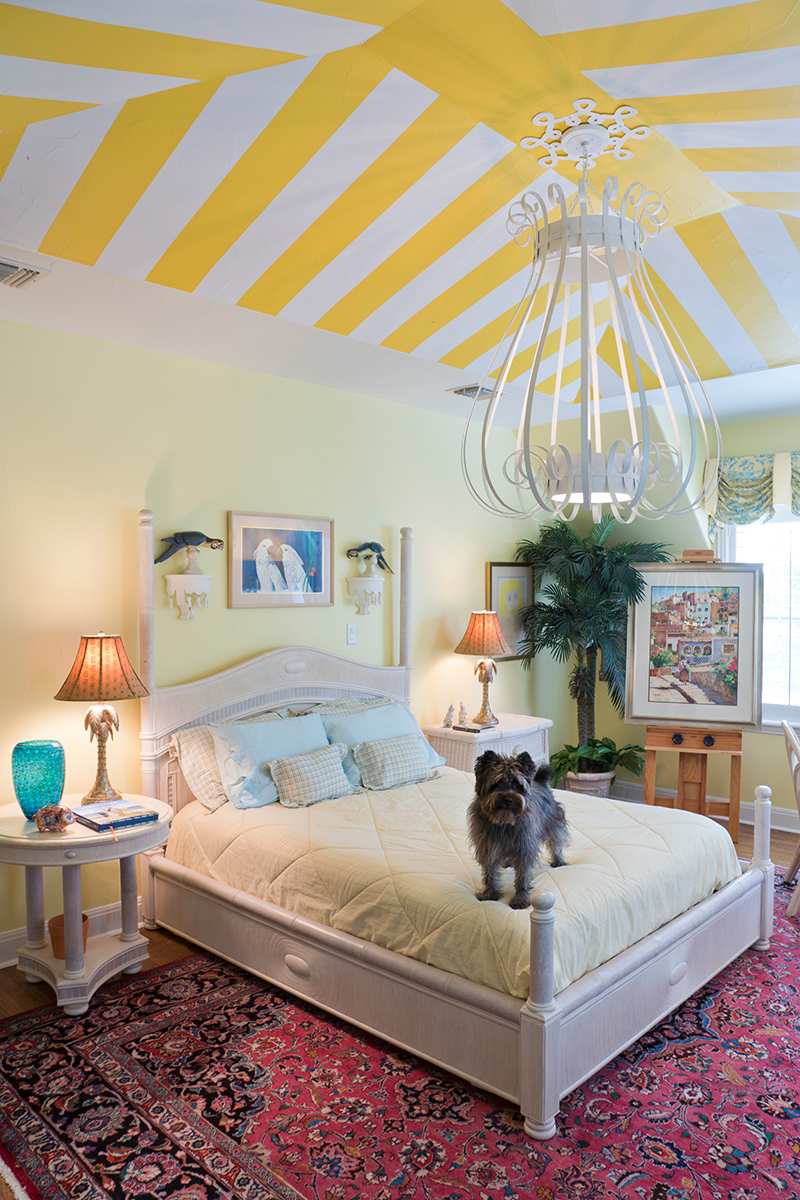 The Palm Beach bedroom is Varney's favorite. The yellow and white stripe ceiling resembles a tent awning, and the light fixture is a birdcage chandelier, similar to those hanging in the famous Greenbrier Hotel in White Sulphur Springs, W.Va. Edwina Sands' print of her grandfather, Winston Churchill, hangs in this room.
Presidential salmon is the featured wall color in the second guest room. The vaulted ceiling is striped, and the bed's coverlet picks up the color scheme in its pink and white print. The dresser holds photos of Mills' dad, a watercolor his mother painted and an easel supporting a landscape by Arturo Mercado.
GRATEFUL LIFESTYLE
Mills is the first to acknowledge he's had a lucky life. "Maybe the red tide allergy wasn't so great," he says with a grin, "but it did deliver me here." His hard-working ancestors have left him a legacy of land and art that he is grateful for every day.
"Running a large family ranching business is hard work," Mills said. "I've done my time in the saddle and been to the slaughterhouses. I've known drought, flood and hurricanes. Through it all I can see God's hand, and I'm thankful for all He's given me. This home is a happy place for family and friends, a harbor when needed and a place of grace. I'm so fortunate to live here."
By Robyn Barnes
Photography by Al Rendon