THE CUTTING EDGE FIESTA FASHION SHOW — APRIL 11
The Cutting Edge Fiesta Fashion Show is an official Fiesta event set for April 11 at the McCombs Center – Rosenberg Skyroom. The style show is presented by the University of Incarnate Word fashion management students and is the culmination of a yearlong process undertaken by senior fashion design students who learn to design and create within time-lines and budgets typical in the industry. A fashion show production class coordinates all aspects and produces the show. Along with sponsored tables (at different levels) with meals, there are individual seats without meals for $35/seat and raffle tickets are $5/ticket or five for $20.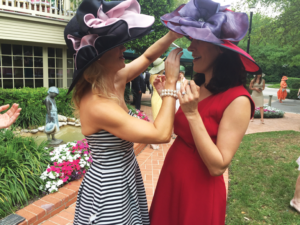 LE BRUNCH DES CHAPEAUX — APRIL 14
Le Brunch des Chapeaux, scheduled to take place on the lawn at The Argyle on April 14, is an elegant outdoor luncheon. It is a wonderful way to celebrate the colors of spring and the first day of Fiesta. Attendees wear handmade and professionally designed hats while dining on a delicious lunch and taking in a spring style show by Julian Gold. The event benefits Autism Community Network.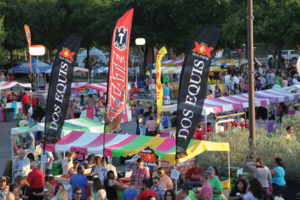 ALAMO HEIGHTS NIGHT — APRIL 15
The 30th annual Alamo Heights Night celebration, presented by Alamo Heights Rotary Club, is set for Friday, April 15, 5:30 to 11:30 p.m. on the University of Incarnate Word campus at 4301 Broadway. Some of San Antonio's popular eateries will feature delicious food and there will be family-friendly entertainment and activities with a carnival midway. Live entertainment will also be on the bill. Admission is free for children under 12 and for all active-duty military with a valid ID. Tickets are $5 for ages 12-17 and students with valid ID and $12 for adults. All ticket sales will take place on site. Free park-and-ride service is available from Alamo Heights Methodist Church and Alamo Heights High School. Shuttles will run from 5:15 p.m. until midnight. Parking will be available in the AT&T lot at Hildebrand and Broadway, and VIA will offer park-and-ride service from Wonderland Mall of the Americas/Crossroads Mall. For details, call 210-842-2462 or visit alamoheightsnight.org.
VIVA BOTANICA — APRIL 16
Viva Botanica, an official Fiesta event, will take place April 16. It is a family-friendly event celebrating the plant world. Explore the entire San Antonio Botanical Garden including its five storybook houses and participate in a Viva Loteria hunt from 9 a.m.- 5 p.m. Special children's activities are scheduled from 10 a.m.- 2 p.m. While there is no children's parade this year, the activities and beautiful gardens are sure to keep them busy. Don't forget to shop the annual plant sale featuring native and adapted plants from 10 a.m.-2 p.m. Admission is $10 for adults and $7 for children. Parking is limited this year while the Botanical Garden is preparing its eight new acres of inspiring gardens. For information call 210-207-3250 or visit www.sabot.org.
ALAMO CORONATION GOWNS AT THE WITTE – APRIL 16 THRU APRIL 24
Fiesta Fling, the Witte Museum's 2016 Fiesta exhibition, celebrates the city's rich tradition of Fiesta and the unveiling of the newest gem in the Witte's crown. This year's exhibition will be the first at the Witte's new Mays Family Center for exhibitions and special events. Fiesta Fling showcases a dazzling selection of Order of the Alamo Coronation gowns from the Witte's collection. Admission is $10 for adults and $8 for children. Parking is free. For details call 210-357-1900 | visit WitteMuseum.org.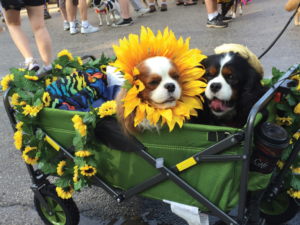 FIESTA POOCH PARADE – APRIL 23
The 18th annual Fiesta Pooch Parade is an official Fiesta event that begins at Alamo Heights Swimming Pool, 250 Viesca. It is a 2.6-mile walk for dogs with their human friends along the streets of Alamo Heights. As the major fundraiser for Therapy Animals of San Antonio, the parade's mission is to bring people and animals together for healing. Registration starts at 7:45 a.m. The costume contest begins at 8:15 a.m.. The six categories for the costume contest will be best in show, top dog, most creative, most patriotic, best Fiesta flair and best matched human and dog. The parade begins at approximately 9:15 a.m. Pre-registration is $25 for an individual and $30 for a family. You may pay by check (postmarked by April 16) or credit card by 12p p.m. April 22. On-site registration is $30 for an individual and $35 for a family (cash, check, and credit card accepted). T-shirts and goody bags are guaranteed for the first 600 pre-registrants. On-site registrants will receive a T-shirt and goody bag while supplies last.