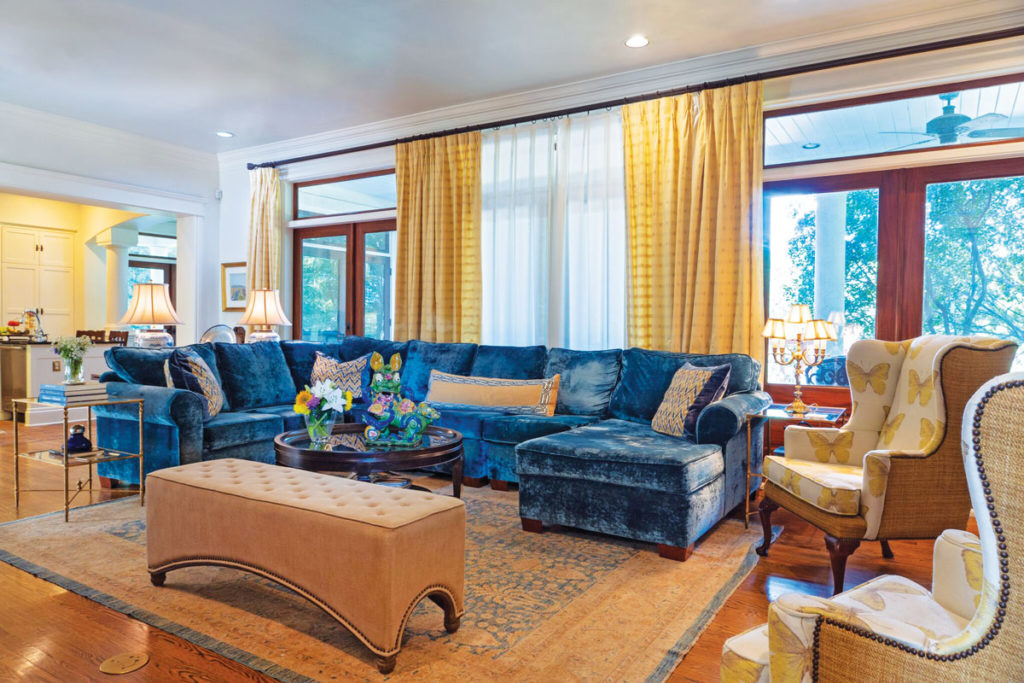 Nestled on a quiet cul de sac, the home that Karen and Joe Newton envisioned for their growing family of six in 2005 has seen the comings and goings of family, friends and charitable causes – and the house designed by good friend and architect James Rhae for entertaining is still going strong.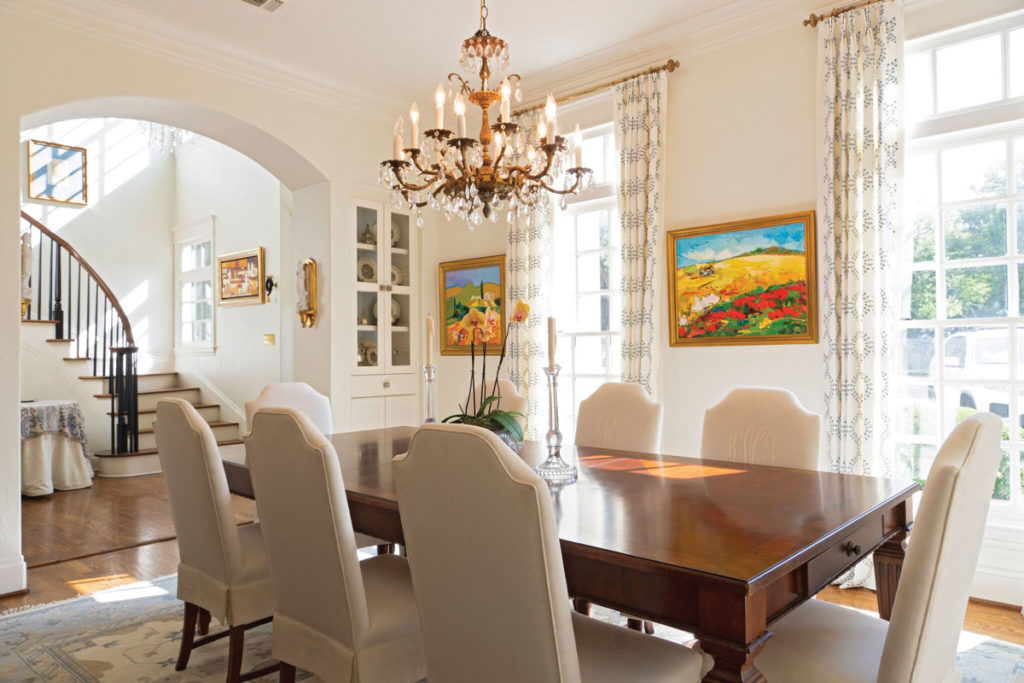 The short drive, secluded by a grove of lush greenery, belies the grandeur of the stately home reached by a circular entry court. The massing of the home rises two stories to a hip roof with dormers in a Georgian style. An augmented wing reached by a breezeway from the main house contains a three-car garage and storage rooms. The airy entry is bathed in light, reflecting off the brilliant white interiors that are featured throughout the home.
A change from the original color palette of yellows accented with reds and blues, Karen took her home to white interiors about five years ago showcasing a formidable collection of art that she and Joe have assembled on their travels. "We look at the paintings and remember where we were," said Karen. "There are very few pieces that we did not collect from our travels." With just over 5,000 square feet of space, there is not one room that they do not live in, emphasized Karen.
When entertaining large dinner crowds, the table in the foyer and the sitting room table become extensions of the dining room allowing guests to engage in conversation from table to table. A self-professed designer, Karen decorated her rooms – although she credits interior designer Megan Lewis with help in accessorizing and pulling family pieces together. "I move things around all of the time, and it drives Joe crazy," she admits.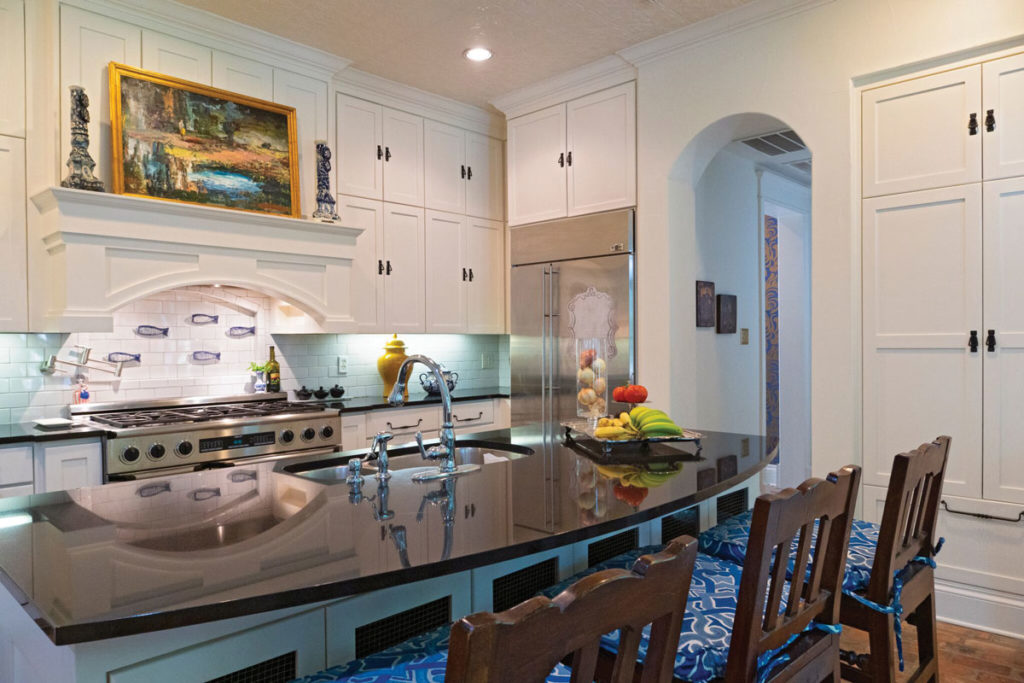 The gourmet kitchen with a massive Carrera marble-topped island hosts informal culinary fetes and large family celebrations. A well-equipped workspace for an expert in food preparation and meal planning, Karen established a successful epicurean business, An Accommodating Cook, to aid nonprofit organizations in developing healthy food practices for at-risk and high school age students. "Whatever was available in the food bank we'd use to make dishes like Moroccan Chicken," she recalled. If there was a surplus of peas, they became soups or combined in salads."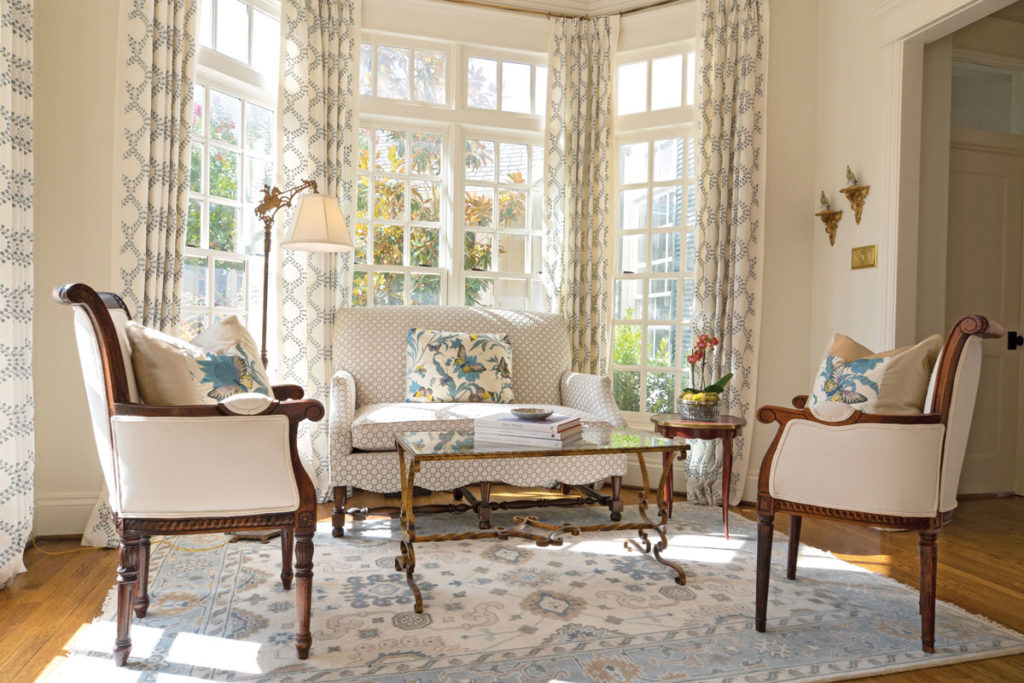 The spacious kitchen opens up to the family room, where Karen recently hosted her women's book club. "Joe calls the sofa our Elvis sofa because I upholstered it in blue velvet, and he insists it is the same color as the one we saw at Graceland," Karen said. "We can seat 15 in the room comfortably." Moving a door to the end of the room created more wall space where a bookcase and large screen TV balance the room. Purchased at an antique store in Houston, an Asian Foo Dog rests on the coffee table. "It has lots of cracks," commented Karen, "but it makes me smile." A painting that Joe purchased in Mexico City hangs above the mantel. A pair of wingback chairs upholstered in a raw silk fabric dominated by large butterflies adds whimsy to the setting. An upholstered bench can be pulled up for additional seating.
Raised in Guatemala, Columbia, Mexico City, and Venezuela and now an international attorney, Joe continues to travel to Mexico City where his passion for collecting art began as a young man. He has amassed an extraordinary collection of native masks. The first mask that Joe received belonged to his parents purchased in Guatemala. In 1995 his collecting really began. "I'd go around Mexico City where I found my favorite places that had a quality selection of festival masks," explained Joe. The Bazar Sabado, a shop owned by a family who have written books on Mexican Festival Masks – became his primary place to scout for the unusual. "Native Indians carve the masks to wear in their festivals," Joe said. "These are 'mascaras dancando' or hand-carved masks that were not for the tourist trade."
Joe's collection resides in a third-floor study where glass-paned doors lead to a balcony that Karen added several years ago. "The view is absolutely amazing with fireworks displays seen in every direction on holidays," Karen explained. A black wrought iron spiral staircase leads down to a second-story balcony and the covered porch on the houses' main level. "I had the staircase put in while Joe was away on a business trip," Karen mused. "When he came home and saw the staircase, he said, 'I thought we had just talked about a staircase.' I drive him crazy!"
By John Bloodsworth
Photography by Al Rendon