Cassandra Carr is Living The High Life at The Broadway
When Coco Chanel uttered the phrase, "Luxury should be comfortable, otherwise it is not luxury," one would think she had been a guest in the 2,300-square-foot high rise apartment of independent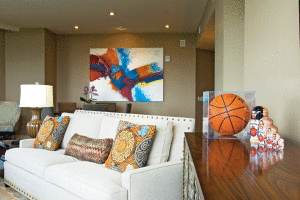 business consultant Cassandra Carr.
Carr, along with designer Michael Morrison of John William Interiors, has cultivated a little piece of heaven high in the sky in The Broadway. Each room is a reflection of her modern yet understated taste and style, and it invites guests to sink back on the comfortable sofa, or pull up a chair on the balcony and take in the bird's-eye views of downtown San Antonio.
Carr, who originally purchased the two bedroom, two-and-a-half bath apartment as a second residence, realized after just three months that high-rise living suited her to a T. She sold her 10,000-square-foot home in Austin, purged many of her belongings and decided to call The Broadway home.
"My husband died three years ago," says Carr. "Taking care of a home that size in Austin 3 was difficult."
At The Broadway, the responsibilities of home ownership are virtually nonexistent. Almost everything you can think of is handled by the concierge, from carrying up groceries to taking residents' vehicles to the car wash.
"It's like having friends and family members around you all the time, taking care of you," says Carr appreciatively.
Then there are the amenities. A beautiful pool, gym, yoga studio, party room and unparalleled security are just a few of the attributes of high-rise living that Carr prefers to a typical residence. There is even a small basketball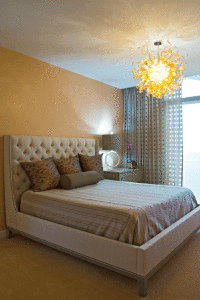 court where you can often find Carr, an investor in the San Antonio Spurs, practicing her free throws.
That sense of "anything goes" fun is the basis for the interior of Carr's residence. Her personal style is evidenced from the moment you walk in the door and are greeted by an equestrian sculpture that honors her Kentucky roots and a shadowbox display featuring antiquities from a business associate in Dubai. "It actually says, 'welcome,'" she translates.
A large, colorful canvas painted by her late husband is the focal point of the dining area and was the inspiration for the accents in the interior color palette. Shades of blue and orange punch up the taupe and beige backgrounds and complement the clean, modern furniture lines. "I told Michael that I wanted the look to be funky with an emphasis on fun," she says.
In addition to the pops of color, that "fun" was achieved through accessories such as an elaborate peach-colored glass chandelier in the Chihuly style, which hangs in the master bedroom. In the master bath, a trio of scalloped mirrors over the vanity balances the lines of the grasscloth wallpaper and the sleek bathtub and walk-in shower.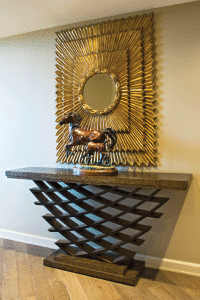 One of the more whimsical touches can be found in the powder room, where a black ceiling sets the stage for the black and white New York Cityscape wallpaper.
By BONNY OSTERHAGE                              
Photography By  AL RENDON