Home Construction Pleases Her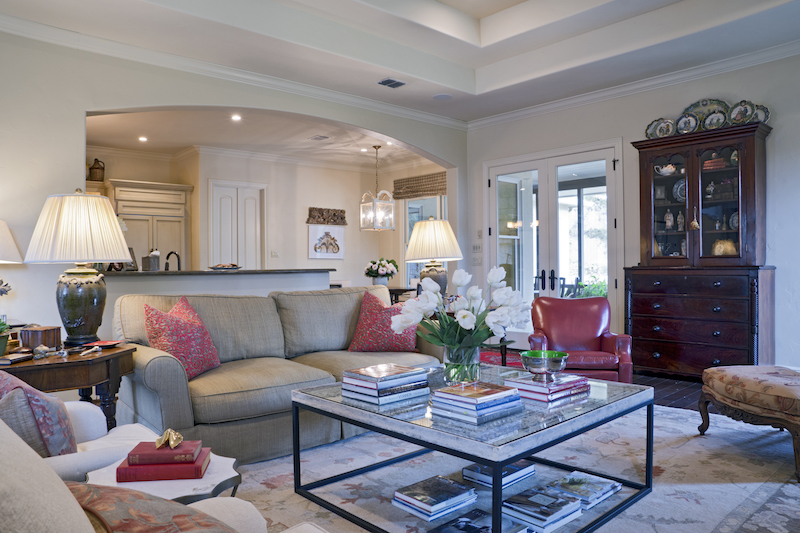 The old adage says if a couple can survive building a house together, they can survive anything. These two homeowners prove the point.
The couple lives in a beautiful home they built ten years ago. During their long marriage, they've remodeled three homes, built two, and are preparing to build a third.
"Nothing makes me happier than designing and building a new home," the wife says.
"I don't want to move," the husband quipped. "I like it here just fine."
"Here" is a two-story, 3600 square foot home comprised of three bedrooms, three-and-a-half baths, and a large screened porch. Every inch was lovingly planned by the wife, who took pieces of floorplans out of a book to her architect and told him to make them fit on the lot. She did all the design selects herself, from doors and drawer knobs to light switches and ceiling fans.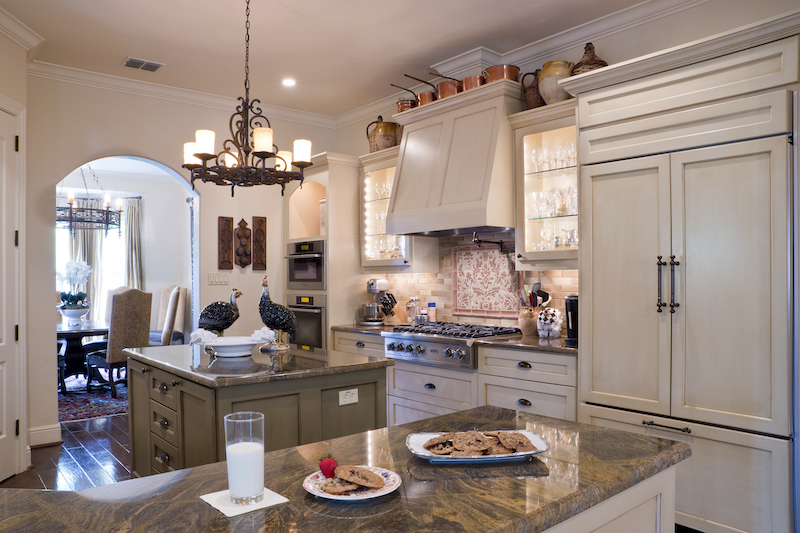 "That architect said he'd never seen anyone so organized in his life," she says. "Wait until he sees what I bring for the next house!"
For the current house, an open floorplan was a must. "I didn't want little rooms, where you couldn't see people," she says. "I wanted a plan where rooms flowed from one to the next, with high ceilings and lots of natural light. I wanted a big screened porch where we could hang out and a nice yard for our dog. A connected garage was imperative, as was an attic with doors that allow one to walk in.
"Whoever designed pull-down attic doors was crazy," she says. "How do you get Christmas decorations up those little ladders into that small hole? All houses must have walk-in attics," she states. "At least all my houses," she adds.
She insisted on a kitchen that was both a place to create meals and to socialize. She frequently entertains, so the double ovens and gas range get a workout. She says the pot filler over the stove is a lifesaver and will be a requirement in her next kitchen.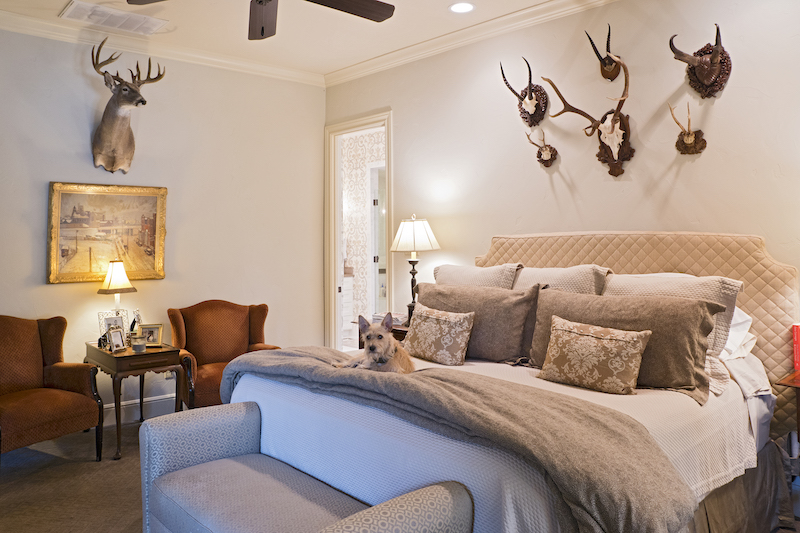 Other special touches in the home include the gas cast stone fireplace in the living room, flanked by custom-made bookcases. An original Audubon print hangs over the fireplace; another hangs across the room.
"We've really enjoyed living here, and I learned a lot building this home that I'll use constructing the next one," the homeowner says.
"As long as it has a big screened-in porch," her husband replies.
View Slideshow: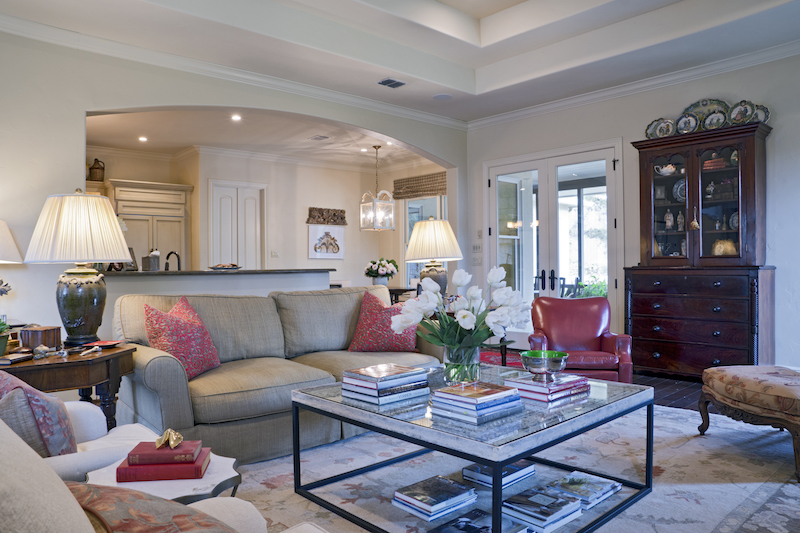 Design cues in the living room depend upon layers.  Stacks of design books, Fortuny pillows on the plush sofas, and an area rug on the wood floor.  The coffee table layers a carved wooden square on a metal frame beneath a sheet of glass.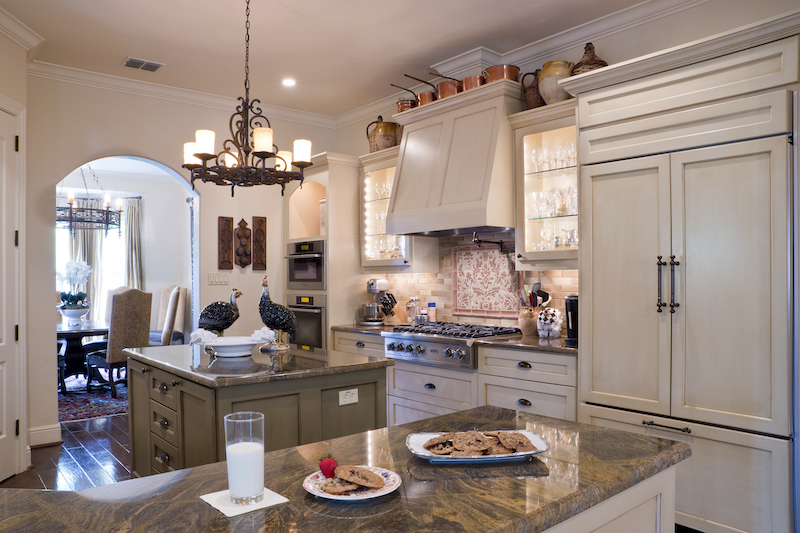 The homeowner loves to cook; for her, the kitchen design is paramount.  Custom-made cabinets are arranged to achieve maximum storage.  Two glass-front cabinets were created to display family china and crystal.  The double ovens and microwave are by Miele; the stove top is Viking.  All countertops are granite. Special collectibles on display include a white fruit bowl from Florence on the island and ceramic Guinea hens.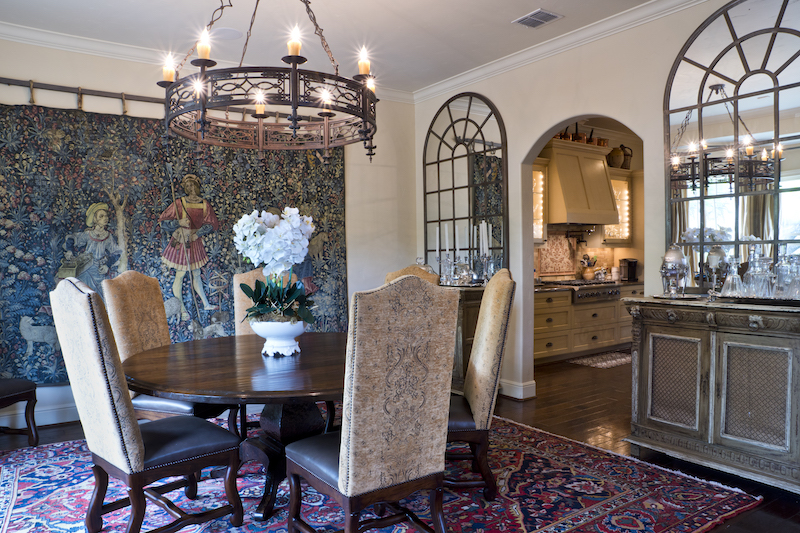 The striking wall tapestry is an antique find from Round Top Antiques Fair.  It formerly resided in an old Louisiana estate.  The round wooden table seats eight and sits on one of the couple's many Oriental rugs. The chandelier of wrought iron was a special order for the home. The antique buffets flanking the arched kitchen door contain antique family china and crystal.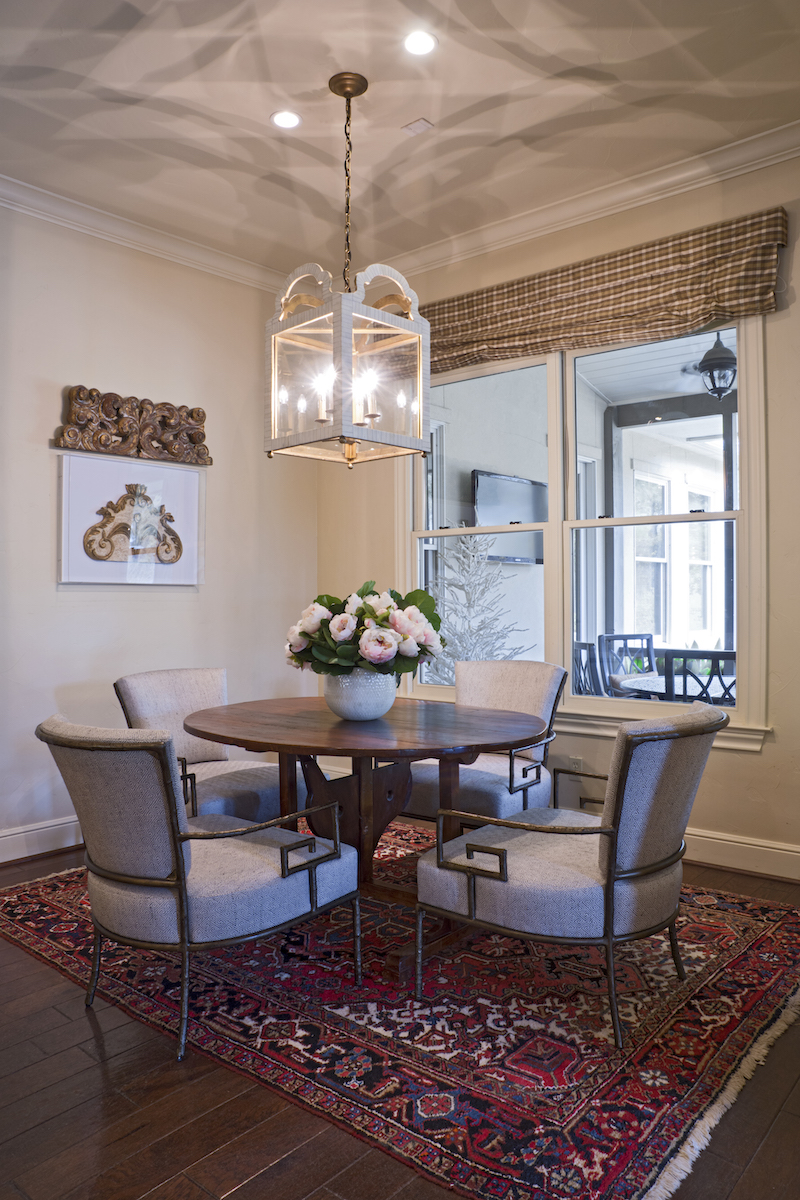 The Berhnardt table and deep- cushioned chairs rest on another Oriental rug in the breakfast nook.  The owner frequently plays bridge at this table and says there is no point in having uncomfortable chairs for food and games.  The bone chandelier was a special order and a favorite fixture in the home.  The space overlooks the patio and a view of the backyard.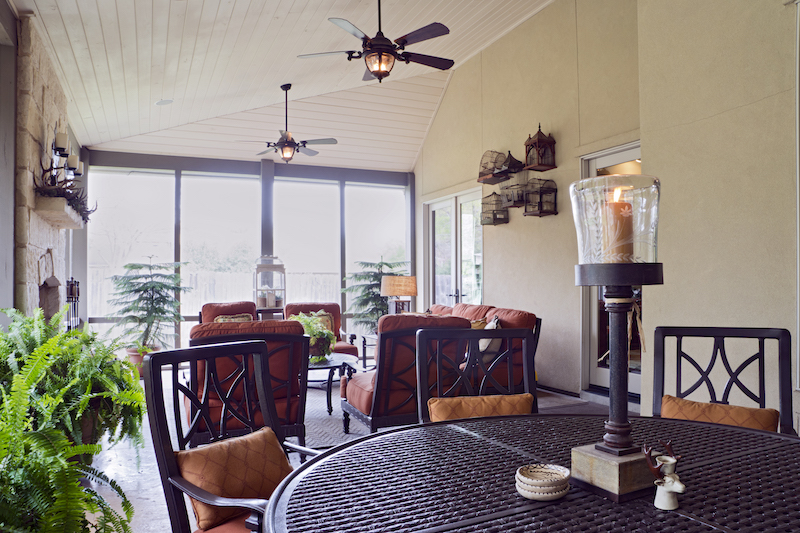 The screened back porch is the husband's favorite room in the house.  He enjoys his cigars by the limestone fireplace, watching football games on the big screen television mounted over the dining table.  "I've got everything I need right here," he says.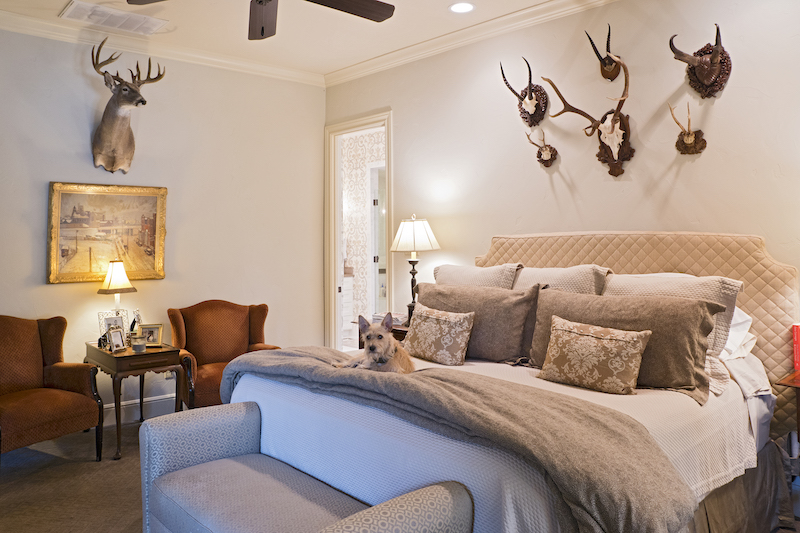 The master suite is a his-and-hers affair.  She enjoys the luxurious king-size bed with its quilted headboard, overstuffed pillows, and silky coverlet.  And of course, her trusty terrier, a SNIPSA rescue. Her husband enjoys the space for his hunting trophies, including a whitetail deer.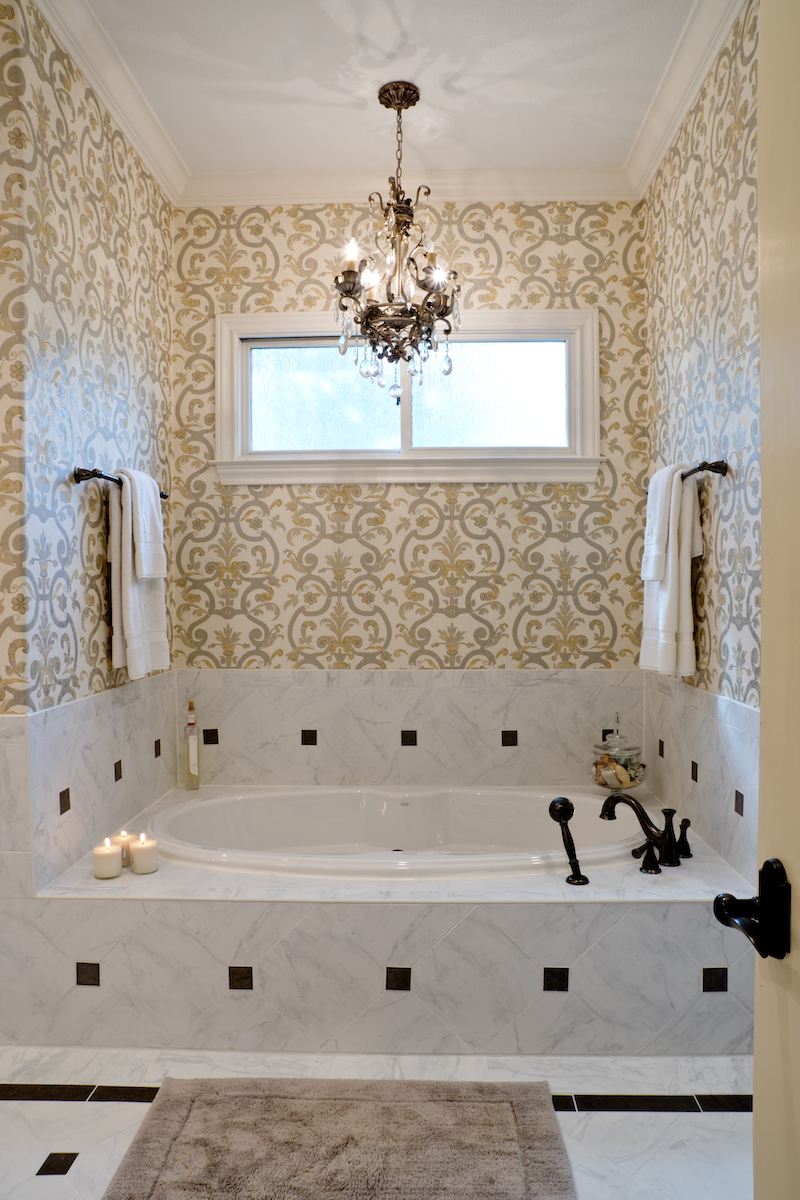 "Shouldn't every master bath have a chandelier?" the wife asks.  The oversized soaking tub with tile surround is a favorite splash zone for the grandkids, which see it as a small pool. 

By Robyn Barnes
Photography By Al Rendon