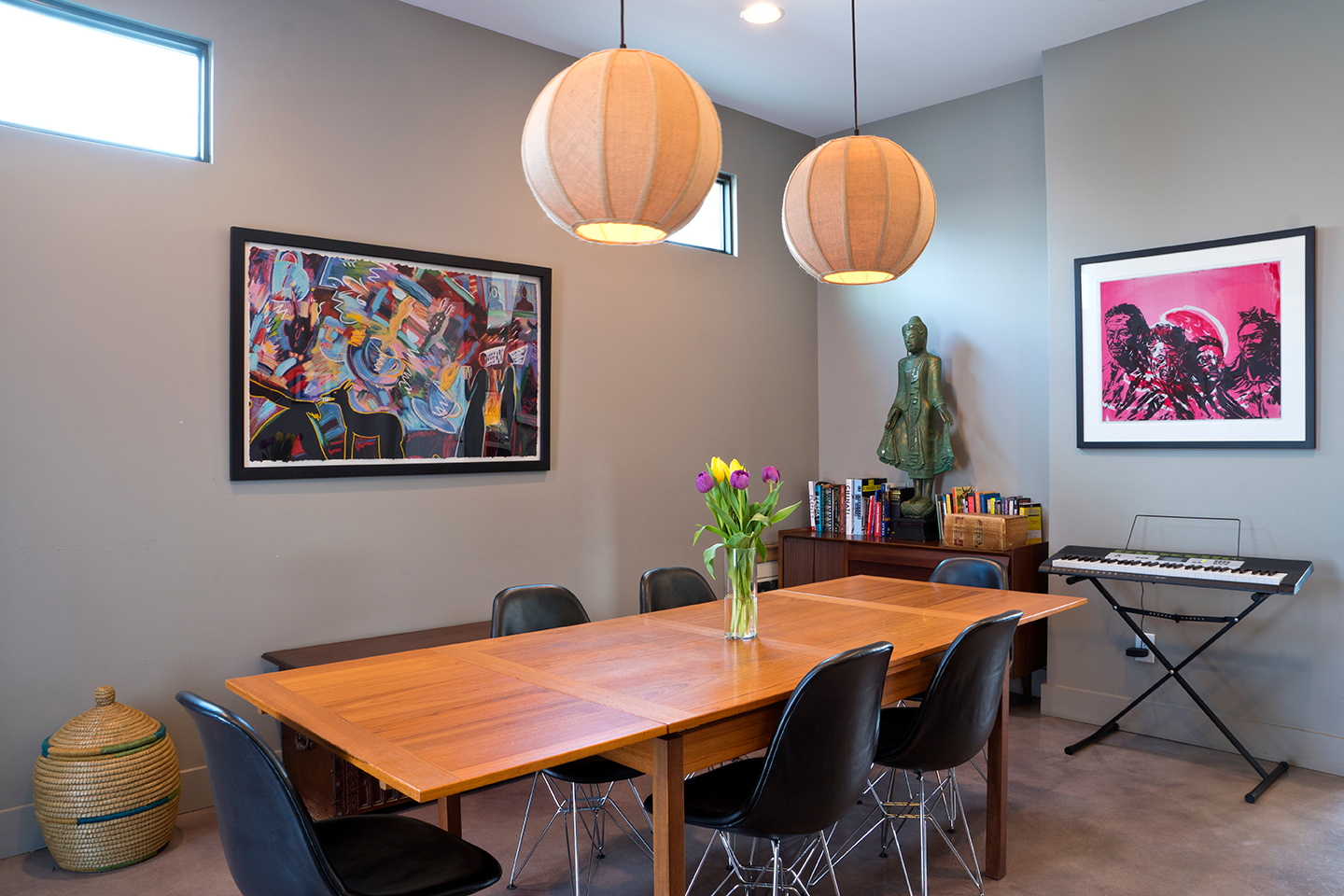 When Lorie Campos and Pete Pohorelsky met, Lorie was living in a 100-year- old house in the Lavaca neighborhood just south of downtown. Pete was in the far northern suburbs, but desired a more urban environment. Both knew that children were in their future and wanted a home that nurtured family.
Looking for a place to build, Lorie' used her well-refined nesting skills. As a principal of LUX Agency, she has years of brokerage experience specializing in downtown real estate. And being involved with the redevelopment of two industrial properties in the South Flores area that were converted to contemporary living, she has an appreciation for clean lines, repurposed materials and a distinctly modern vibe.
While working with a client, she sold a property in the Mahncke Park area along the Broadway corridor. With a nod to the developer's contemporary style, she liked what she saw and secured an adjacent lot for the home that she and Pete envisioned for themselves and their two young boys.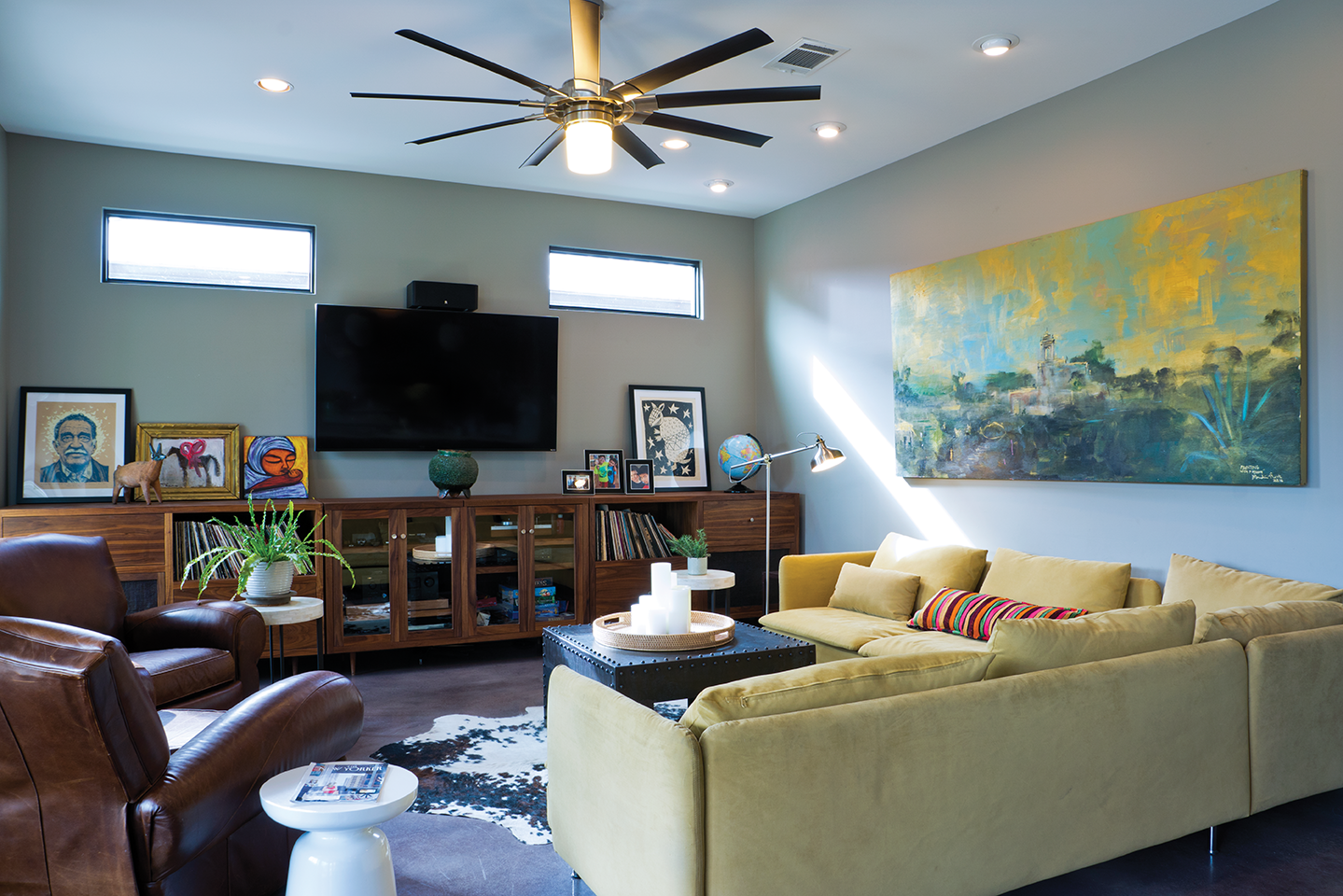 "I came up with the plan – literally – on the back of a napkin," said Lorie. Working within a budget, the couple had very specific needs for living. Every inch of the home was to be utilized, with minimal wasted space. They worked with a designer to come up with construction drawings and contracted a respected builder that had worked with Lorie on her first South Flores loft project.
The neighborhood is close to everything for the active family of four. Pete, a mechanical engineer with an architectural firm specializing in institutional design, often walks to work, just across a scenic park from their front door. "I have the shortest commute of all of my co-workers," he confides.
On the weekends, Pete and sons bike to Brackenridge Park, to Fort Sam Houston for soccer games in the spring and to Sunset Ridge for ice cream. "I love to ride my bike to Central Market for grocery shopping," said Pete. Both he and Lorie are accomplished cooks, having the open floor plan kitchen the hub of the home.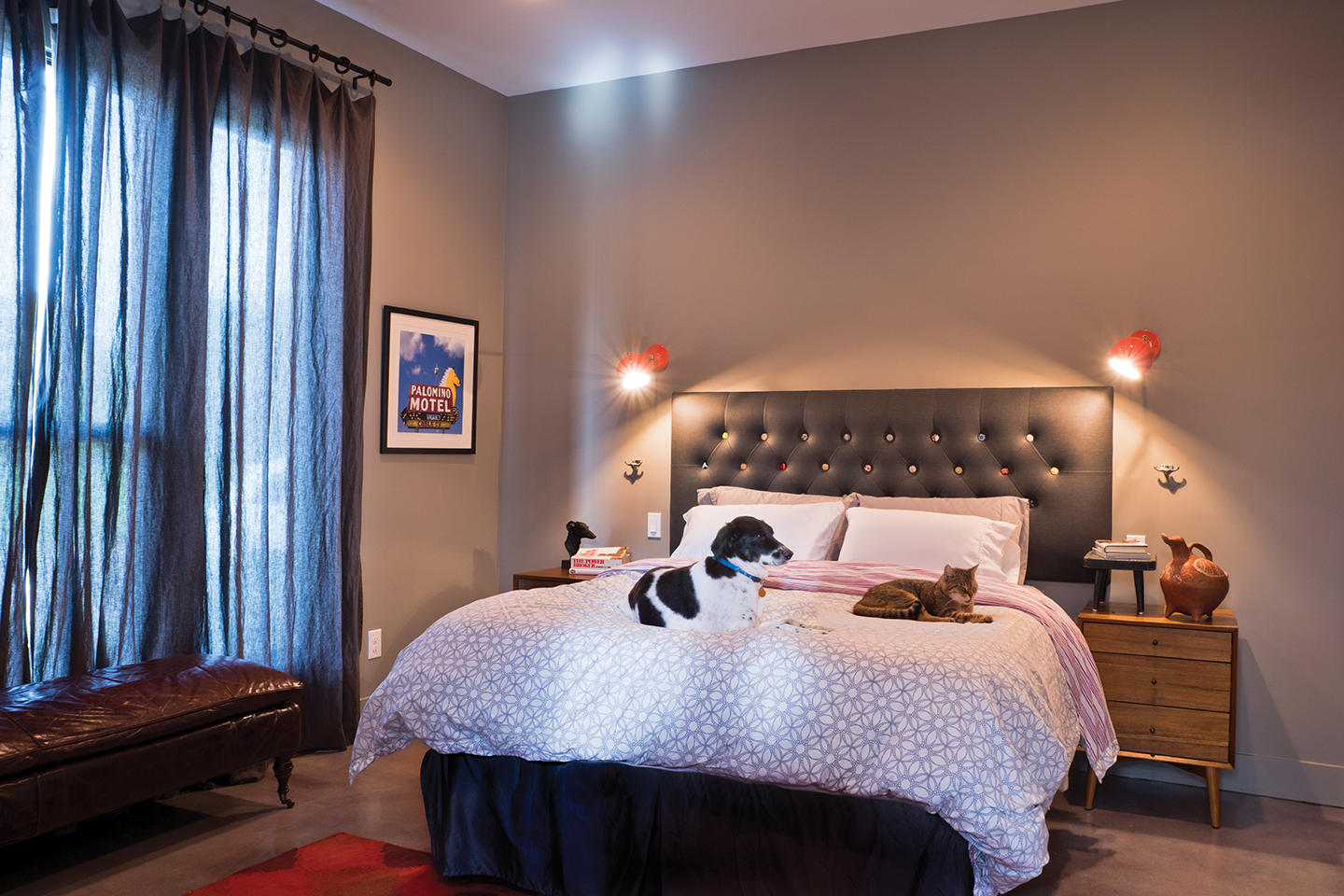 Illuminating a white quartz island for food preparation, a massive metal light fixture that the kids call the "tuna can" holds the boys' artwork, postcards from Cappy's Restaurant and daily reminders of living. "I thought I was going to be the kind of mom with no stuff on the fridge – now look at me," Lorie said with a laugh.
Clean contemporary lines dominate the kitchen with exposed grain cabinets of native oak stained dark brown affixed with strips of stainless steel serving as pulls. Stainless steel appliances include an Italian Verona range, Bosch dishwasher and Breville toaster that fits nicely into an appliance garage that keeps equipment out of sight when not in use.
The white ceramic backsplash tiles were purchased from a big box store. "I was lucky enough to see the tiles in a project that I was working on and was able to resource them," explained Lorie.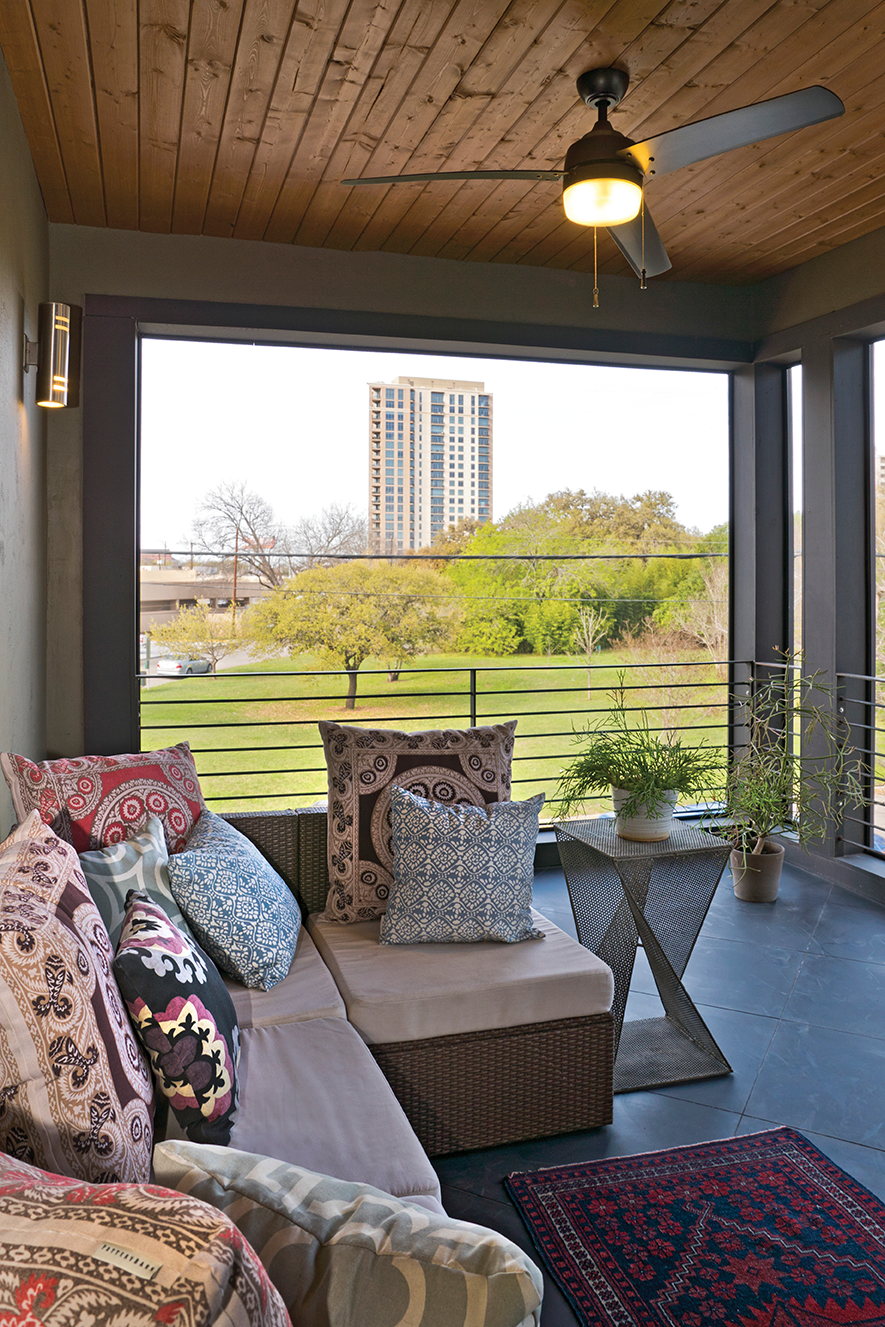 A midcentury buffet and contemporary dining table are appropriately paired with chrome and black leather dining room chairs from RED in Fredericksburg. The dining room holds a stand-up organ where the boys give impromptu recitals. A Salomon Huerta monoprint of Mount Rushmore featuring the faces of iconic Mexican artists Kahlo, Rivera, Siqueiros and Tamayo anchors the room with a silkscreen print by Carlos Almaguer.
Sweeping the width of the family room, a midcentury inspired custom-built media center holds coveted vinyl albums, turntable and speakers. No less panoramic, a painting by internationally recognized artist Franco Mondini-Ruiz is a prized possession. "I went with a friend looking for art to Franco's studio and fell in love with the work," recalled Lorie. "I could not think straight. I took my husband back to see the painting and bought it."
A riveted steel coffee table resting on a cowhide rug holds court with an L-shaped microfiber sofa from IKEA that comfortably cocoons the whole family for movie nights.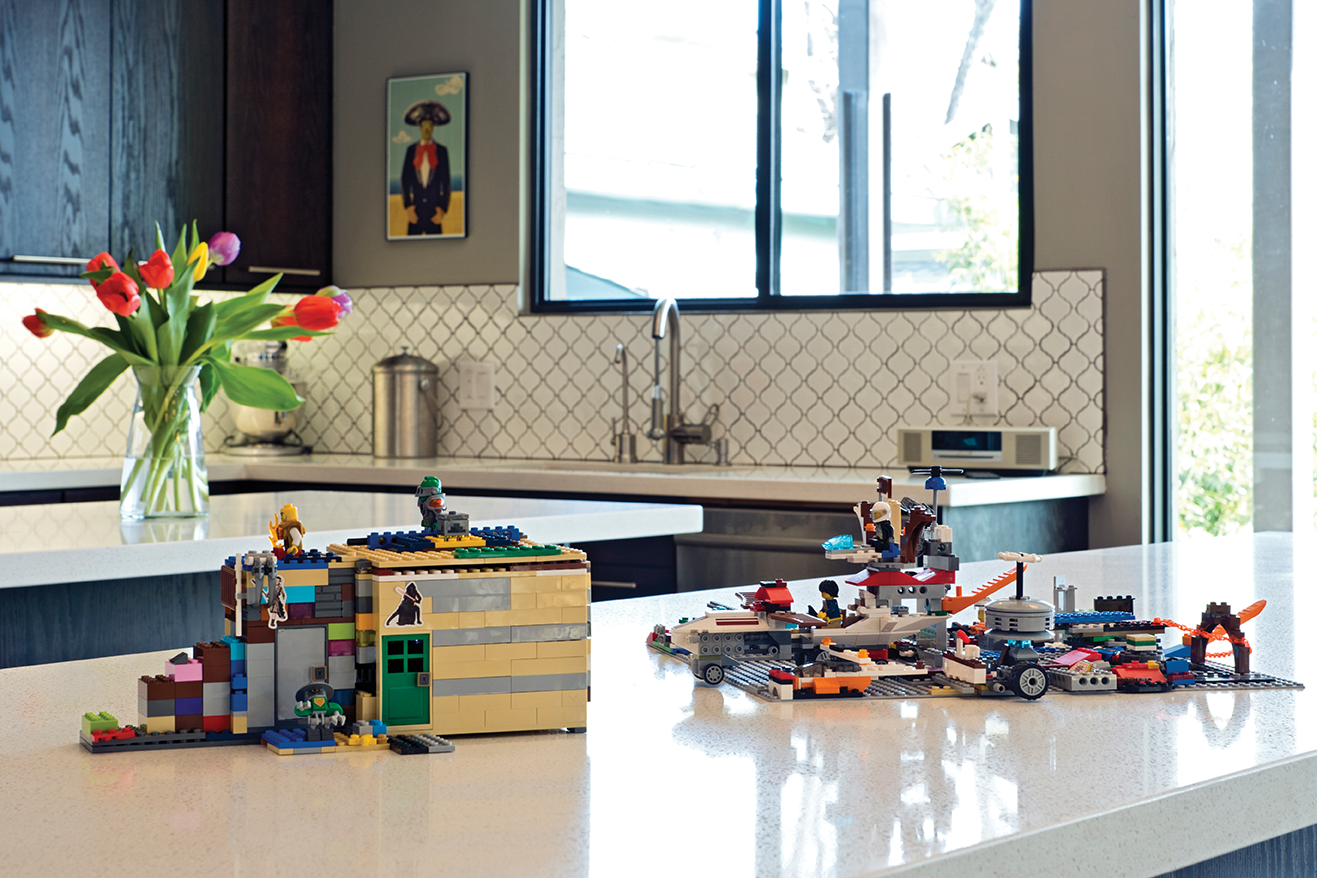 A shaded deck extends the length of the kitchen and family room for outdoor grilling and family dining al fresco. The contemporary detached garage of galvanized metal is joined by Pete's woodworking shop. "It's our man cave," he stated.
Building a house of walls and beams, the couple that planned for a family has built a home of love and dreams.
By John Bloodsworth
Photography by Al Rendon