Papouli's Greek Grill is a full-flavored fast food alternative. Tucked away in the Quarry shopping center right behind the Regal Alamo Quarry Stadium theater, Papouli's serves fresh heart-healthy Mediterranean cuisine. Nick Anthony, Papouli's owner and proprietor, is a San Antonio native with deep culinary roots. It's clear even in the name "Papouli," which is Greek for Grandpa, an homage to his grandfather Papouli Tom, that Nick's goal is to invite you into his familiy's culinary traditions and cultural heritage.
Papouli's is a casual dining establishment, perfect for families, large groups or takeout. Menus are available online and when you walk in the front door so you can look them over while waiting in line to place your order. If you don't have the time to dine in, there's an option for ordering online. The restaurant offers a relaxing environment with an attentive, well-trained staff. Large groups are no problem, as you can rearrange tables and chairs to fit a sports team, post-movie gathering or group of friends.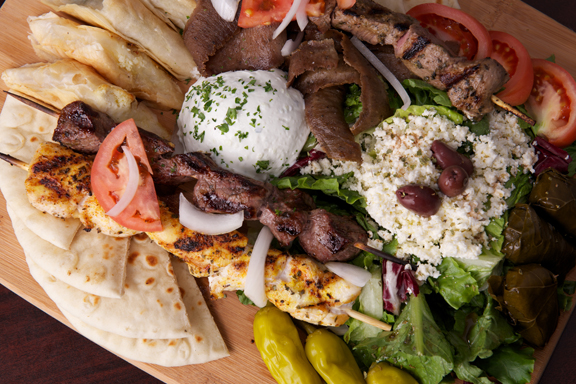 When considering Greek food, most people go straight for the pita sandwich. Papouli's pita game is on point, but this menu has so many more things to offer. Start your meal right with the tapas ("small plates") sampler. This option gives you a taste of several delicious traditional Greek items you may not normally try, like the dolmas. Dolmas are grape leaves stuffed with seasoned rice. They are bite-sized, citrus-forward chilled appetizers, perfect to start a meal, especially during South Texas summers. The sampler includes pita bread, multiple hummus selections, feta cheese cubes, cucumbers and falafel. It's perfect to share, and since ordering online is so easy, you might want to start with the sampler and a bottle of white wine, then jump back in line to order your entree.
Mediterranean food, for the most part, is on the healthy side. Papouli's takes it a step further, offering heart-healthy items, build-your-own-salad entrees and soups. The Papouli's feast stands out on their signature homemade dish selection. This option allows you to sample several items and choose from four different types of meat. Share the feast among two or three people; it's a lot of food. If family-style isn't your style, then try one of the fresh fish dishes like Baked Pesca Fresca, farm-raised fish filets topped with your choice of signature sauces.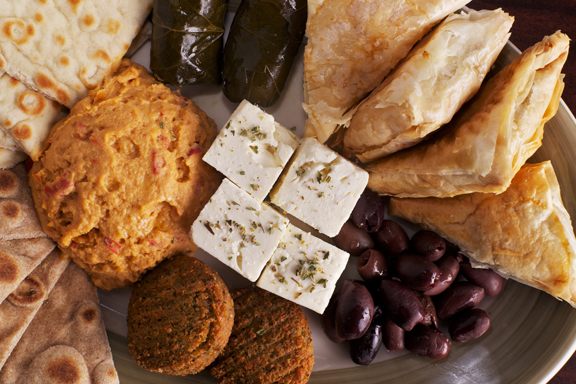 You can't go wrong with any of these entrees, but let's take just a second and talk pitas. Papouli's offers a delicious pita sandwich in three different sizes. You can opt for chicken, lamb, shrimp, steak, veggie or gyro. The gyro meat, a combination of meats cooked on a rotisserie grill, is exceptional. They top the sandwich with fresh veggies and tzatziki sauce. Tzatziki sauce is a mix of Greek savory yogurt, lemon, dill, garlic, salt and pepper.
One little secret about Papouli's — their fresh-cut "GreekTown" fries are exceptional. There are plenty of other side dishes like tabouli salad, hummus or fresh fruit … but seriously, order the fries. Chances are everything else you are eating is healthier than you even thought, so you earned those fries!
Stop into Papouli's Greek Grill next time you need a healthy option for lunch or dinner. Tell them Scott sent you!
By Scott Austin
Photography by Raleigh Hart