A Taste of Italy in Olmos Park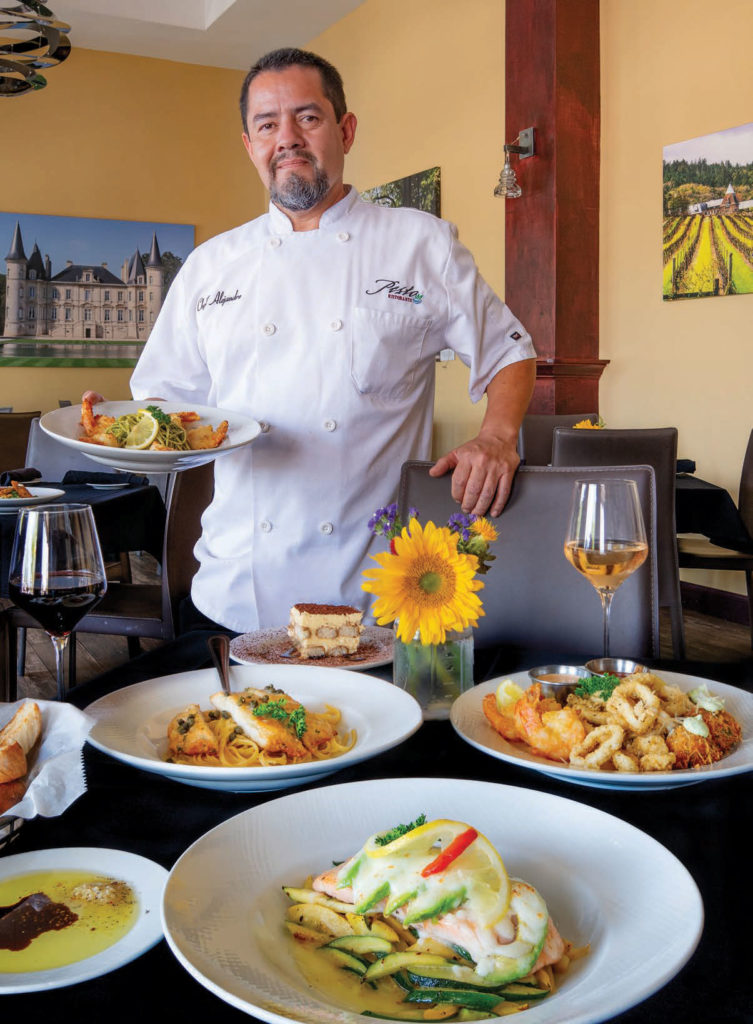 You would be very hard-pressed to find anyone who doesn't love Italian food. From pizza to pasta and every delectable Italian flavor in between, this beloved cuisine has become a staple in most of our diets. Authentic Italian food focuses on what is fresh and local. That concept is exactly what Chef Alejandro Santoyo set out to support when he opened his flagship restaurant, Pesto, on the far northeast side of San Antonio several years ago. Today, he brings his passion for Italian cuisine and his culinary experience to Olmos Park with Pesto Ristorante at The Yard Shopping Center.
Chef Alex has created a warm and welcoming atmosphere that exudes elegance with a very diverse menu. Pesto features traditional Italian classics like Chicken Parmigiana and Lasagna, along with Pesto originals like Avocado Salmon, a hearty portion of grilled salmon topped with avocado and melted mozzarella cheese served atop thinly sliced and sautéed zucchini and yellow squash. It is delicious, and the textures pair perfectly.
Pesto has something for every palate. Begin with one of their outstanding appetizers like Pan-Seared Mussels bathed in a white wine lemon butter sauce with fresh basil, or the very popular Parmesan Crusted Artichoke Hearts served with a pesto basil aioli sauce. Their salads are wonderful, too, and can be ordered as an appetizer or as an entrée of their own. The Pesto Mediterranean Salad is absolutely crave-worthy with Romaine lettuce,
sliced almonds, cranberries, Mandarin oranges, feta cheese, and their house-made poppy seed dressing. It can only be made more delicious when you add the Romano Crusted Chicken.
You can even make the experience a feast for the table if you order one of the house pizzas to share. Everything, including the bread and the pizza dough, is made fresh in house, so go ahead and indulge and try a little bit of everything. However you order, you will not be disappointed, but everyone must try their signature, Shrimp Alejandra. The shrimp is lightly dusted in seasoned flour, pan-fried, and served with a savory lemon butter garlic sauce that was meant to be soaked up with their famous garlic bread. You can order it as an appetizer or as a main course served over basil pesto spaghetti pasta.
Many dishes will satisfy even the healthiest diners, like the Lemon Pepper Snapper, served over sautéed spinach and asparagus in a lemon butter garlic sauce. The flavors are amazing, and you can always substitute the pasta served with any of the entrées with fresh vegetables. Pesto features gluten-free options as well.
Pesto is following all of the guidelines for restaurant safety during this COVID-19 pandemic, and they are also featuring take-out options and delivery through various delivery services. However, when life gets back to some semblance of what we know as "normal," Pesto will be ready for holiday gatherings. The restaurant features a beautiful private room that seats 35 people for parties, business meetings, and intimate events. You can dine amidst the impressive wine collection, surrounded by beautiful dark wood wine shelves and chandeliers.
Chef Alex is a graduate of the culinary program at St. Phillip's College, and he spent 18 years learning the restaurant business and perfecting his Italian cooking skills at Paesano's, a San Antonio icon. His wife, Norah, inspired and encouraged him to venture out and open Pesto Ristorante, along with his love for European and Italian cuisine. The restaurant is open for lunch and dinner, seven days a week, and reservations are recommended. The staff is incredibly friendly and knowledgeable, but the food will keep you coming back again and again. There is so much to love about Pesto and so many delicious and different dishes to try that it'll be difficult not to become a regular here.
By Meredith Kay
Photography by Al Rendon