Historically, Washington was the country's first state to celebrate Father's Day in 1910. It grew in popularity during World War II as a way to support U.S. troops. Since then, Father's Day has been celebrated for generations of Americans, but it did not become a federal holiday until 1972, when President Nixon signed an official proclamation. Unofficially, though, it has also come to mark the beginning of summer. Hooray!
How then shall we find creative ways to honor fathers (and beloved father figures) in the hot month of June? When in doubt, I forgo any efforts at sentimentality or physicality and return to the wise old saying, "The way to a man's heart is through his stomach." Thankfully, the wide swath of geography we think of as Alamo Heights is brimming with father-friendly choices. From formal to casual, hearty to lean, smoky to spicy, and everything in between, leave the stress and heat of summer cooking to the chefs, and celebrate Father's Day over many meals — why stop with one?
The following eateries are in "amuse bouche" form in order to "tease the palate" – the palate of dad-worthy meals in greater 78209. This short list is just a beginning, so let the adventures begin!
FRONTIER BURGER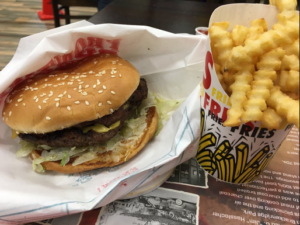 What father doesn't love an old-fashioned charcoal-broiled hamburger made from 100 perccent American beef? And who can resist thin-cut, hand-breaded onion rings … the sweet, feathery, crispy and addictive kind? Yes, the Hasslocher family is at it again; one bite of their revived Frontier Burger experience may seal devotion for life. It happened to the long-time fans of the original Frontier Drive-Ins in the 1950s and '60s, and now those same fans are back in droves, bringing offspring and transplants with them. Enjoy a fast power lunch with Dad or utilize the Frontier Burger drive-thru window and deliver a nostalgic lunch to him.
FREDERICKS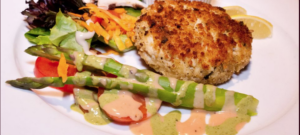 Consider making a special dinner or lunch date with the dad in your life by inviting him to Frederick's Restaurant for French fusion cuisine. The menu is known for many venerated dishes, but for something more unusual, I recommend ordering their Lobster Fest menu, or make a reservation for an upcoming wine dinner. The next wine series falls on June 13, 14 and 15 and will consist of a sumptuous five-course prix fixe menu with wine pairings from small estate vineyards. Discover how a more thoughtful and artistic menu might yield more meaningful dinner conversations with your father.
THE BARN DOOR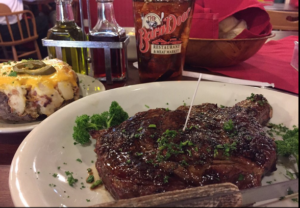 For the quintessential steak dinner experience, The Barn Door packs a high-class family punch. Steaks and chops glow in a charming Western atmosphere among unusually warm hospitality. Show extra love and appreciation for your dad by calling ahead and asking the staff to place his name on the sign above the restaurant. All around, The Barn Door is a slam-dunk Father's Day meal.
SMOKE SHACK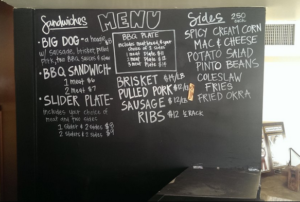 Owners Chris and Kate Conger first gained a reputation from their attention-getting smokehouse on wheels barreling through the neighborhood between school carnivals weekends perched in The Pearl parking lot. I remember doing many "double takes" when I first spotted it. Once word spread about the Smoke Shack's competition-level Texas barbecue, juicy pork sliders and Southern sides (like velvety mac and cheese and crunchy fried okra, a favorite among my French fry-loving children), the fan base swelled quickly. Regulars now line their smoky trail in three main locations: at the corner of Loop 410 and Nacogdoches for the lunch rush; their permanent restaurant home across from the Witte Museum; and their latest venture, known as The Pigpen Neighborhood Bar, with a modified menu, regular live music gigs, later hours, and conveniently located behind the restaurant on the Pershing side. For more details, visit www.thepigpensa.com.For the love of 'cue, any dad would be thrilled to accept an invite to a place so dedicated to the craft. And tell him not to miss the mac and cheese upgrade called "Smoke Shack Mac," chopped smoked brisket and bbq sauce piled on high on the mac — now that's a side!
SHUCK SHACK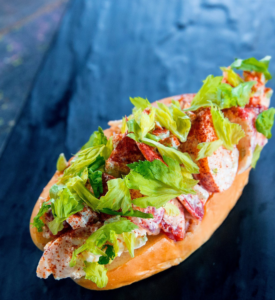 Chef Jason Dady's latest endeavor, Shuck Shack, promises a range of coastal favorites in a relaxed, casual atmosphere — ideal for the seafood-seeking fathers. For a Hamptons vibe, try their prized lobster rolls and outstanding fresh clam chowder, bursting with clams, salty bacon and yukons — truly "made to order." For a "30A" feel, try the oyster platters, which can keep up with the best of them south of I-10. Because the men in my family like oysters of all kinds, we splurge on the half dozen baked, raw and fried oysters. On a pretty day, I recommend bringing the family and sitting outside to enjoy the playground and a very reasonable kid's menu. For refreshment, there is an extensive beer and wine list, along with a spread of inviting craft cocktails. Across generational palates, though, the highlight for the entire family is sharing the "Cajun Boil" whole artichokes. When they arrive, it's a race to see who can yank off the most leaves for dipping. We inevitably order at least two more — even the heavy carnivores at the table savor this vegetable pleasure.
TNT: TACOS AND TEQUILA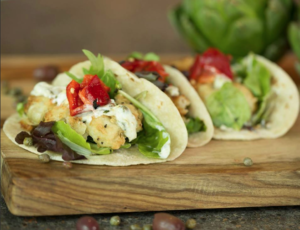 Brunching with Dad can provide a leisurely way to spend time together. If you have not yet discovered the authentic Mexican brunch experience at Tacos and Tequilas, here are several man-friendly highlights: The Street Taco Bar featuring savory chicken verde, pulled pork and picadillo; homemade tortillas and salsas; tomatillo chicken enchiladas and three-chile cheese enchiladas; signature Adobe Pie® stuffed with cheese and smoky black beans; eggs Benedict, omelet bar and migas; champagne, mimosas and aguas frescas … and plenty more. Return later for happy hour or dinner and explore their impeccable selection of tequilas and mixology-cocktails unique to TNT. This month, we salute fathers and wish you and yours many fun father-feasts to come.
By Lauren Browning