'09 ORTHODONTISTS' INSIGHTS FOR KIDS' ORAL CARE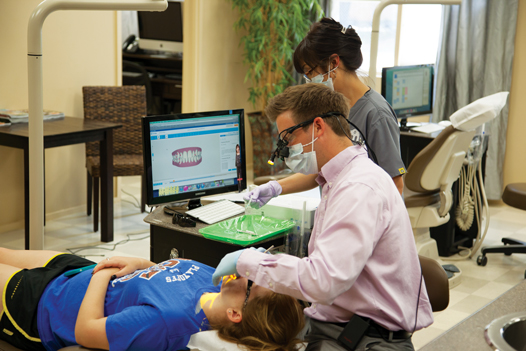 Vacations are done, supplies purchased, and school is in full swing. This is often the time parents begin to ponder the dental needs of children. Gone are the days of students hearing taunts of "metal mouth," yet the cosmetic and medical reasons to consider orthodontics still exist. While summer vacation is the best time to get in several needed appointments, the beginning of school remains a time when many families start the consultation. With that in mind, here are a few considerations from two 78209 orthodontic professionals.
Dr. Bart Wilson has been serving Alamo Heights for the past six years. He says, "In my office, I follow the American Association of Orthodontics (AAO) recommendations that we begin to follow a patient at the age of 7. It is not frequent that I initiate treatment at this age, but when indicated, early treatment allows me to eliminate major orthodontic issues early in life as the patient is still growing. If treatment is not indicated, I simply identify the issues, place the patient on a yearly recall and make a plan with the parents as to when I feel treatment may begin."
He acknowledges the unfortunate decisions by some practitioners to place braces on children too early just to pad pocketbooks. Because of this, early treatment has a negative connotation with some parents. Dr. Wilson believes the two biggest challenges when treating children at a young age are:
• General compliance with care of the braces and being compliant in the chair with the ability to sit still and follow verbal directions.
• Communication in such a way as to have the parents hear and understand the value of correcting major orthodontic issues at a very young age while the patient is still experiencing significant growth.
Most of Dr. Wilson's patients are from 11 to 14 years of age, and after seeing them over a two-year period or longer, he considers them family. "My treatment philosophy is to treat them as effectively and efficiently as possible," he says. "Having braces on for three years or longer is simply not fun, and I attempt to avoid this if at all possible. I see them roughly once every two months in treatment to minimize patient discomfort and minimize time off from school and parents' need to miss work."
Dr. Wilson discussed how orthodontic treatment has changed significantly since the '80s and '90s, explaining, "Extracting permanent teeth has been decreased from nearly half of patients to only about 10 percent of patients due to orthodontic technology advancements. Braces that used to seemingly cover the entire tooth have been diminished in size significantly, thus making them more aesthetic and easier to clean."
The greatest technological advancement, according to Dr. Wilson, is the use of clear aligners such as Invisalign. This treatment option is revolutionary: "We are able to treat adults and teens with Invisalign without being so visually obtrusive in their smile and life," he said.
Mission Orthodontics offers complimentary consultations where pictures and X-rays to identify any potential orthodontic issues will be taken. Patients are charged only when treatment is initiated.
Dr. Boyce Britton of Britton Orthodontics also follows AAO recommendations for children not to begin an orthodontic screening before age 7. "I believe this age is a good time to evaluate the eruption pattern of the permanent teeth and how the bite is fitting together," he said. "I think treatment timing is the biggest issue. From my personal experience of having braces for five long years as a child, I do not want to tire kids out, nor parents, by extending treatment time any longer than necessary. Therefore, I take great care in monitoring an individual patient's growth and tooth eruption." He states not every child who is seen for an evaluation requires treatment, but it's helpful to establish a baseline.
Dr. Britton recommends parents wait for all permanent teeth to erupt before braces are considered. "This would be the ideal situation," he says, "though sometimes early intervention is indicated to simplify later treatment." Some reasons for this early intervention would include psychosocial concerns, tooth trauma, cross bites, narrow palates, growth modification, habits, crowding issues and skeletal discrepancies.
Dr. Britton is also pleased to see the smaller, better-quality braces hit the market. He believes a huge advancement is the use of diagnostic X-rays in digital format, which minimizes radiation. He also likes the three-dimensional diagnostic tools to help with planning more complex cases. While there are many new advancements, Dr. Britton says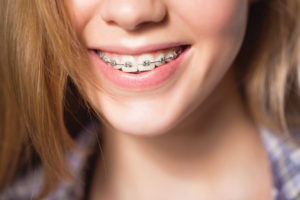 nothing can replace good oral hygiene. "One of the challenges for kids in treatment compliance is poor oral hygiene, along with appliance wear and repeated breakage," he says. "As an orthodontist, it is so disappointing to see decalcification and the beginning of cavities in patients due to poor oral hygiene. We offer incentives for good oral hygiene as a way to motivate patients to take care of their teeth while in treatment."
A couple of years ago, Dr. Britton's practice instituted an online patient incentive program that encourages patients to accumulate points for purchase of gift cards to major retail outlets. Patients may earn points with good oral hygiene, proper appliance wear, being on time to appointments and keeping up with routine dental checkups. The program is very popular with patients and parents.
BY PAMELA LUTRELL