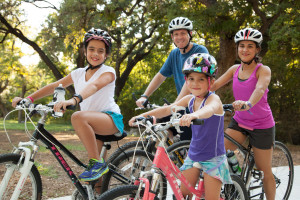 The Wallisch Family
Benjamin and Izabara, both 40, and daughters Ines, 10, and Clara, 6
BENJAMIN AND IZABARA, BOTH 40, AND DAUGHTERS INES, 10, AND CLARA, 6
CAREER: Iza is a full-time mother/homemaker and part-time children's Spanish book importer/distributor. Ben is an anesthesiologist at UTHSCSA.
FITNESS ACTIVITIES: Ben and Iza enjoy running, biking and yoga; Ines and Clara enjoy tennis, volleyball, ballet and gymnastics.
YOU KEEP ACTIVE TOGETHER AS A FAMILY; COULD YOU TELL US ABOUT THAT? We are a very active family, and our favorite weekends are spent riding our bikes and going on new adventures together. The new Lions Field Park trail and Brackenridge Park trail that goes all the way from the Witte Museum to the Pearl Brewery are trails that we enjoy. The girls love to go for runs on La Jara Boulevard, and it is fun for us to do as a family. We also enjoy exploring the nature trails in Olmos Basin. The weather in San Antonio from October to May is wonderful, so these are the months we like to be out and enjoying our beautiful city with all of its fantastic trails and parks. San Antonio Parks and Recreation has been doing major improvements on the trails, and we love being outside.
WHAT DOES BEING ACTIVE BRING TO YOU AS A COUPLE AND AS A FAMILY? Ben and I have a half-marathon tradition, and our romantic time is when we go out to run and train together for the Rock 'n' Roll every year. We both grew up doing outdoor activities. Ben grew up in Colorado. He was always hiking and skiing with his five siblings. I grew up in Mexico and would spend all weekend with my family and grandparents at the family ranch going out on long hikes and exploring nature. It just comes naturally for us to do the same with our family.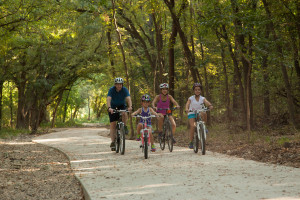 WHY DO YOU THINK IT IS IMPORTANT?
Being fit and exercising is a priority for our family because it keeps us happy, motivated and enthusiastic. We come together as a family when we are exploring and out on new adventures. Our kids will always have memories of picnics in the park, bike rides around town and exploring mountain trails while on vacations.
TELL US HOW YOU FIND THE TIME. This is the hard part. Finding the time to exercise is a luxury and a necessity. We just make it a priority for our family. This is who we are and it comes first. We hardly ever have time to watch TV or play video games. We even do most of our shopping online because we don't want to waste any family time out shopping. During the week, we exercise together after school when possible, even if it is just a quick stop at the park. It is a good way to reboot, be out in nature, get fresh air and relax. On the weekends, holidays and vacations, we make it our priority to be out exploring and discovering. It is our way of having fun. Ben wakes up before 5 a.m. to run, and I run after I bring the girls to school. I do yoga and cardio ballet during the week. It helps that we are morning people. When we are training for a half-marathon, we usually get a babysitter so we can do our long runs early on the weekend.
HOW DO YOU INCORPORATE NUTRITION/DIET IN YOUR FAMILY?  We are very open with our kids about nutrition. We talk about healthy food all the time, and we want them to be informed in order to make good decisions. We eat like a rainbow in our family, incorporating a lot of vegetables, fruits, grains and seeds in every meal, and we don't eat fast food. We don't comment on weight or body size, but we educate our kids on healthy choices and how to stay strong. Cooking at home is a key part of staying fit and healthy, and we try to cook most of our meals from scratch at home with produce from Central Market or the local farmer's market.
HOW DOES YOUR FITNESS OVERLAP INTO OTHER ASPECTS OF YOUR LIFE? Fitness has made our girls self-assured; they know that they can push through discomfort and not give up. Fitness has taught our kids perseverance: If they work hard and train, they can achieve anything that they have as a goal. The first step is just having a goal; the fun part is figuring out how to reach it. This is what we are all about — constantly working on our next objective and dreaming big.