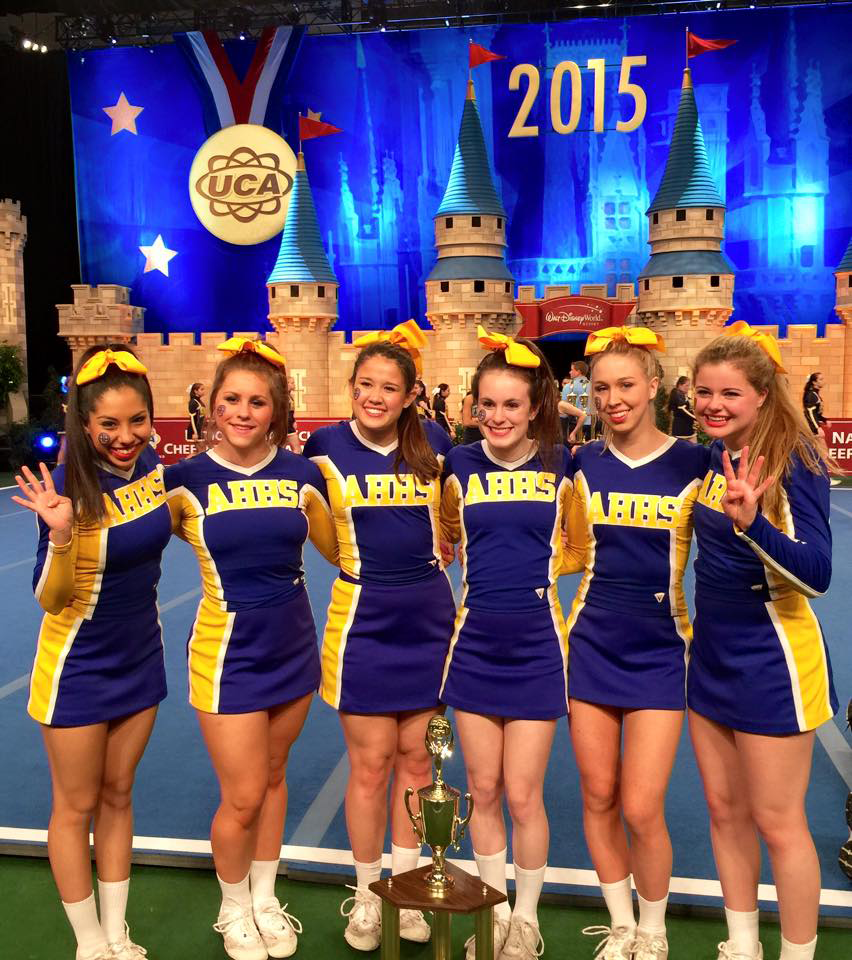 The spring sports season is in high gear with both boys and girls basketball finishing their regular season, baseball and softball teams beginning games and the junior varsity and varsity competition cheerleading teams heading to competition!
Under the leadership of Coach Ashley Johnson, the Alamo Heights High School Cheer Squads represented the school in the 2015 UCA Cheerleading Competition at Disney World in Orlando, Florida, Feb. 6-10. Led by a group of determined seniors, the teams were looking to make a name for themselves at the national competition. "We believed we had a good shot to win this year," senior Yesenia Lopez said. "We were determined and prepared to have a great showing in Orlando."
The path that led to nationals was paved with success for the Mule's Cheer Team. The girls won state earlier in the season, something that had not been accomplished in six years. This amazing achievement earned by all AHHS cheerleaders helped to bolster their confidence as they headed to nationals. "It was a great feeling winning state," senior Emma Andersen said. "The hard work paid off, and it was also great to win with the entire team. We looked to do the same at nationals!"
The cheer teams practiced since the start of school to have the perfect routine for nationals. Along with practice after school for countless hours, the teams also performed in multiple competitions around the city. These competitions helped them prepare for the big stage when nationals rolled around.
"We worked so hard in practice to make it to nationals," senior Melissa Mitchell said. "This was our best team, and I was so proud of our fourth place finish."
Although the teams were in Orlando for the competition, the girls had the opportunity to spend time and have fun, meeting many other cheer teams from all over the country, and enjoying some time at Disney World.
"I loved meeting girls from across the nation," junior Annabelle Spezia-Lindner said. "While we knew winning was the main goal, we also had fun and enjoyed ourselves."
It was exciting for the cheer teams to make it to Orlando to compete at the national level, and it was imperative that they did well while they were there. "Both teams did great this year," sophomore Alexi Romo said. "We were very proud of our effort."
AHHS's varsity cheer team earned the ranking of fourth in the nation and will have their performance featured on ESPN in March.
ALAMO HEIGHTS LITTLE LEAGUE SLATES MARCH 21 FOR OPENING DAY
Families from around 78209 will descend on the fields of Alamo Heights Little League on Saturday, March 21 beginning at 8am to officially kick off baseball/softball season. The day will be filled with music, AHLL baseball/softball games, Home Run Derby and Field 6 Fun – along with other activities and events! Teams will also have their team pictures taken. Funds raised from a silent auction will benefit AHLL.
NEISD HONORS JV WRESTLER FOR SPORTSMANSHIP
After winning his first-ever medal at the North East ISD Junior Varsity Wrestling Tournament on Jan. 21, Madison High School JV wrestler Matt Silva presented his medal to MacArthur competitor Earl Johnson. Silva had defeated Johnson in an earlier match but was truly inspired by Johnson, who has special needs but doesn't let it hold him back on the wrestling mat.
It didn't take long for the entire district and surrounding area to take notice. At the NEISD board meeting on Feb. 9, Dr. Brian Gottardy, superintendent of schools, honored Silva's outstanding show of sportsmanship with one of the highest awards given by the district, the commemorative "Superintendent's Coin." Silva was also presented with a plaque that included the quote, "Character is doing the right thing when no one is watching."
"It feels good, you know. I really wasn't expecting anything back," said Silva. "I was just trying to make Earl's day greater than mine."
By GRANT SECHLER – ALAMO HEIGHTS HS JOURNALISM STUDENT