Finding Success Serving Dogs and Humans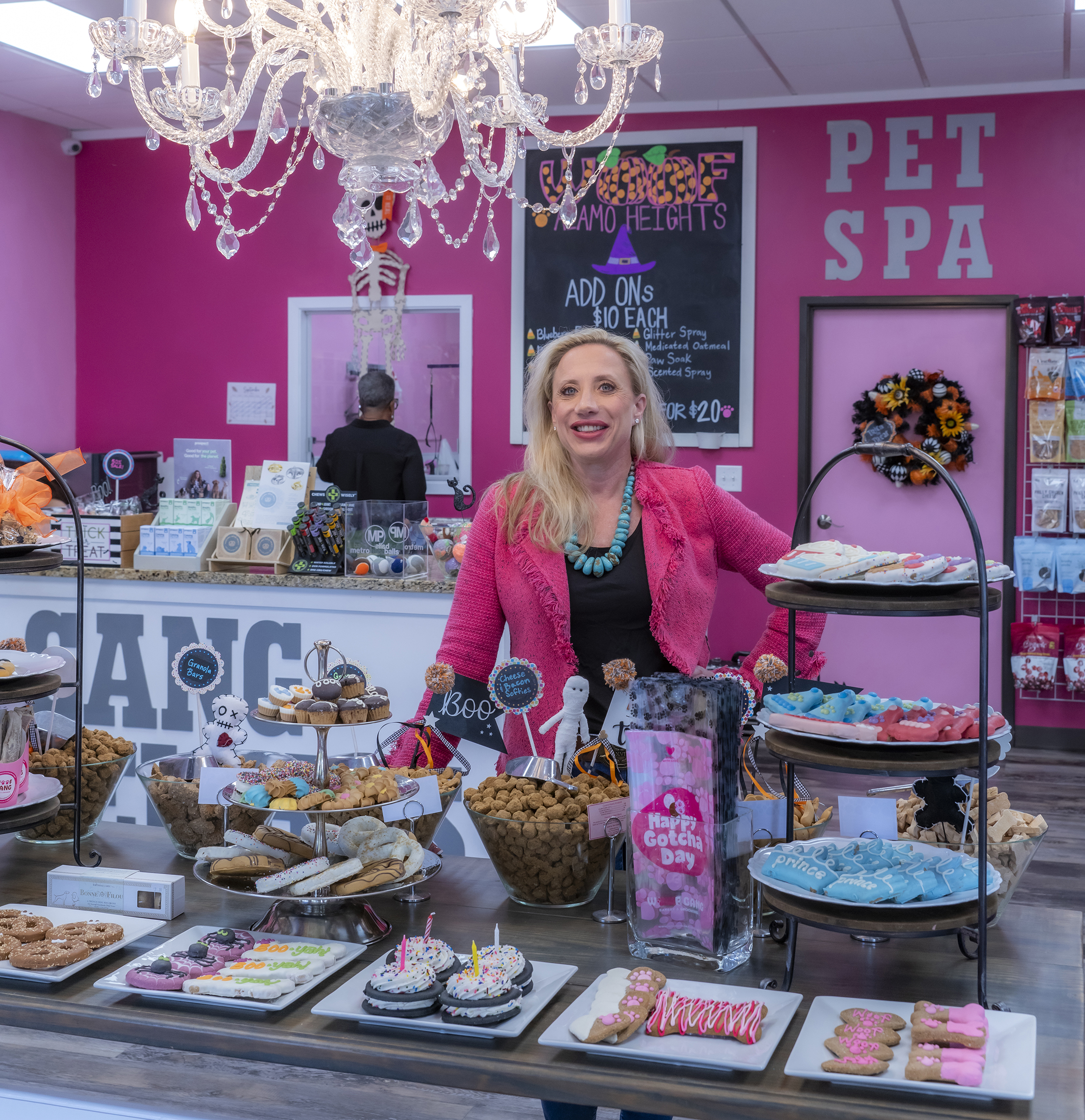 By Bruce X. Forey  |  Photography by Al Rendon
What does one mom do when looking for a new challenge? She buys a dog grooming business. It didn't matter she had never groomed a dog. She had pros to expertly do that. Emily Bodine Conrad knows how customers, both dogs and humans, want and should be treated. She saw Woof Gang Bakery and Grooming Alamo Heights as an ideal outlet to implement her vision of superior customer service. She became the official owner of the Lincoln Heights location on October 1, 2022. During the past year, Emily succeeded in taking an established operation to another level.
"My kids are now at school during the day, and I was ready for a new opportunity," Emily said. "I knew I'd be guided in the right direction. After walking into the store, I had this feeling this is where I was supposed to be."
After purchasing Woof Gang, Emily focused on streamlining operations and building relationships with customers. She identified ways to shorten the time for an appointment. She hired more employees. Trained all employees on Emily's brand of customer service. She worked with her groomers on how to engage with clients to make them feel special.
"This is much more about the customer service side than grooming or dog food. I was committed to putting the culture in the place I thought the business needed," Emily said. "I spend a lot of time training my team on the importance of building relationships. As our sign says, "your neighborhood pet store." We want Woof Gang to be the kind of place where a customer is more of a friend."
To create that kind of culture, Emily places a lot of emphasis on making Woof Gang a positive and fun place to work.
"A happy place is important. We laugh all the time," said Emily. "If we're happy, our clients, the dogs and their owners, will be happy too."
Dog grooming is an important service, but Woof Gang is a true pet store. It offers a variety of high-quality dog food and treats. A specialty is the baked treats that look good enough for people to eat.
"Our focus really is on what the customer needs. A lot of people don't even know we offer grooming. Not everybody has a dog. They come in, look around, and purchase treats for the dogs of their friends."
Woof Gang also sells irresistible stuffed toys and a collection of designer dog collars. Emily is the mom of four doodles. Before Woof Gang, her doodles never used to wear collars. Now, all four sport the latest fashionable collars and regularly get other perks such as sampling freshly baked treats or playing with new toys.
Emily grew up in Dallas. After attending college in Memphis, Tennessee, she moved to New York City to work for a publishing company. There, she learned the importance of how strong relationships create loyal customers. She moved back to Dallas and implemented her Big Apple experience in a successful real estate career. Emily wanted to be closer to her parents, so she moved with her husband and children to San Antonio. With her daughter now 12 and her son 9 years old, Emily felt the time was right for a new challenge.
Even while working up to 12 hours days, Emily finds balance with career, mom, and wife. The work ethic, vision, and business strategy are paying off. Emily says business has increased significantly since she purchased Woof Gang.
"In real estate, I fixed houses and then sold them for a profit. I've always liked to take on projects I could improve with my ideas," Emily added. "With Woof Gang, I wasn't exactly sure how I was going to do it. Every day, I get up and reset. It isn't a house, it's a pet store. It's basically the same thing, just a different version."
Woof Gang Bakery & Grooming Alamo Heights is located at 999 E. Basse Rd, in the Lincoln Heights Shopping Center. For a grooming appointment or to learn about other services, call (210) 822-9663.