Bringing Irish Charm to '09
by Meredith Kay  |  Photography by Al Rendon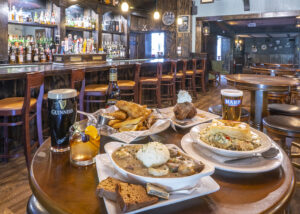 There's just something so cozy and welcoming about an Irish pub. No matter where in the world it might be located, if the pub holds true to the soul of Irish hospitality, then you're bound to feel at home. Luckily, that Irish spirit can be found right here in the Alamo Heights area at The Cottage Irish Pub & Eatery.
Located on Broadway, near Pershing, The Cottage has transformed the space previously occupied by Picante Grill. The pub is owned by Gina Capinelli and Phil Bentley. Gina grew up in Passage East, a small fishing village situated on Waterford Harbour in southwest Ireland, and she moved to San Antonio in 2006. Phil is from Manchester, England, and he owned a popular cocktail bar in Austin before moving to San Antonio when the pandemic hit. The couple had the concept for The Cottage, and the closed-down restaurant space gave them the inspiration to bring their idea to life. The duo worked closely with a local carpenter while leaning on Gina's background in art and design. In fact, Gina painted all of the murals and the signage throughout the pub, and she continues to add little Irish touches here and there to create an authentic and cozy atmosphere where everyone is welcome and the staff treats you like an old friend.
The Cottage opened its doors in late September of last year and welcomed the community with a huge grand opening Halloween party. The pub features a beautiful, Irish-inspired, solid wood bar in the main room, along with cozy seating in the "living room," where you can enjoy live music several nights a week, including a Celtic Jam Session that takes place every Wednesday, and traditional Irish music on Fridays. There is also a back bar in the garden room that can be closed off and rented out for events and special occasions, or you can relax on the open-air patio and enjoy a pint of Guinness in the perfect South Texas weather.
Gina and Phil have truly captured the spirit of a quaint Irish pub here in San Antonio, and they also feature some of the best food in the area. Working closely with their executive chef, Danny Ansualda, the team has created a scratch menu comprised of Irish standards and tried and true pub favorites. Bring the besties, or the family, in and sit down to a feast of Cottage Pie, Bangers & Mash, Guinness Beef Stew, Fish 'n Chips, or Corned Beef & Cabbage Boxty. The menu has several sandwiches, burgers, and salads to choose from also, and they even have a special menu for the little leprechauns.
Gina loves the '09 community and says, "We have been welcomed with open arms. Our regulars are like family, and it seems like everyone knows everyone else, and that's what Irish hospitality is all about."
The history of the Irish pub, short for public house, dates back to when people fed their neighbors in their own homes, and local musicians would come in for impromptu jam sessions. The concept grew to be more than just a bar and more than just a restaurant. A true pub is where people can come together to share social communion and community with friends and neighbors. In fact, when researching her family's genealogy, Gina discovered that her great, great-grandmother had owned a pub in County Cork in the early 1900s, so it has been in her blood for generations.
The Cottage always has something going on, which keeps things interesting. You can show off your trivia skills on Monday nights for their Pub Quiz, participate in Games Night on Tuesdays with darts tournaments and billiards challenges, or come hungry for Steak & Pint night on Thursdays. The pub also features a weekend brunch beginning in May, and on Sundays you can come dressed in your Sunday best and join them for Afternoon Tea from 3:00 to 5:00 p.m.
You'll find a place in every major city that labels itself an "Irish Pub," but at The Cottage Irish Pub & Eatery, you can be sure that the beer will be cold, the food will be fresh, and the hospitality will be authentically Irish.
The Cottage Irish Pub & Eatery
3810 Broadway @ Pershing, (210) 463-9111
www.thecottageirishpub.com