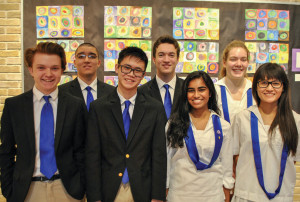 SAINT MARY'S HALL CELEBRATES THE MOST NATIONAL MERIT FINALISTS IN THE CITY

Nine Saint Mary's Hall seniors have advanced in the National Merit Scholarship competition as finalists, representing the highest number of finalists in any school in San Antonio. More than 1.5 million students in more than 22,000 high schools entered the 2016 National Merit Scholarship Program by taking the 2014 PSAT. Students who were named semifinalists showed exceptional academic ability and potential for success in rigorous college studies, and were the highest-scoring entrants in each state, representing less than one percent of each state's high school seniors. All nine Saint Mary's Hall semifinalists were named finalists.
The National Merit Scholarship Program is an annual academic competition for recognition and scholarship that is open to all U.S. high school students. More than one quarter of the Saint Mary's Hall senior class (27 percent) is recognized by the National Merit Scholarship Program as a semifinalist (nine students) or commended student (18 students).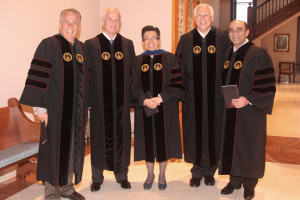 DR. LOUIS AGNESE JR. RECEIVES UIW'S HIGHEST HONOR
The University of the Incarnate Word (UIW) celebrated the 30th anniversary of UIW president, Dr. Louis J. Agnese Jr., at a conferral ceremony of honorary degrees on March 21. Agnese, Charles Amato and Harley Seyedin each received a Doctor of Humane Letters, Honoris Causa, the highest honor UIW can confer on an individual.
Agnese has been president of UIW since 1985, when at 33 he became one of the youngest presidents of a four-year university in the United States. He was inaugurated as the eighth president of Incarnate Word on March 25, 1986.
Amato is co-founder and chairman of SWBC, an international financial services company based in San Antonio, founded in 1976. Amato has been a member of the Board of Trustees at the University of the Incarnate Word since 1999. He is a past chairman of the UIW Board and has been a powerful advocate for the university.
Seyedin is president of the American Chamber of Commerce in Guangzhou, China. Seyedin's connection to UIW goes back more than 25 years. He has played a pivotal role in UIW's international initiatives and was instrumental in helping the university to establish China Incarnate Word in 2000, making UIW the first university from the U.S. to offer accredited college degrees in China. Seyedin has also been involved in the development of sister school relations for reciprocal education throughout China (UIW currently has agreements with more than a dozen). In addition, his efforts have resulted in many students from China choosing to pursue their undergraduate and graduate studies at UIW.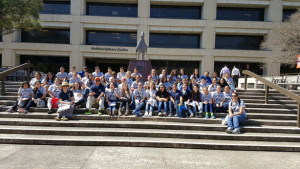 GARNER MIDDLE SCHOOL GO-GETTERS GAIN EARLY COLLEGE AWARENESS

The Go-Getters College Club took its annual college field trip last month. This year it was a beautiful day to be a UTSA Roadrunner and take a tour of the campus. The students were given a presentation of the campus, different colleges and majors, and enjoyed a scavenger hunt. They were able to observe an active campus with events such as a career fair and student-led community service fundraisers. The Garner students also learned details about UTSA by gathering scavenger hunt information from college students. The day ended with lunch at the Sombrilla, an outdoor patio area popular with students and faculty alike.
The club was created eight years ago by Martha Diaz, family specialist at Garner Middle School, as a way to bring early college awareness to middle school students. All grade levels go through an application process to join the club at the start of the school year.
ST. LUKE'S SCHOOL PARTNERS WITH PARTNERS WITH MAGIK THEATRE FOR KINDERGARTEN DRAMA EDUCATION

St. Luke's Episcopal School has added a new and innovative educational offering to its early childhood program. The school has partnered with local actress Brittney Thorne of the Magik Theatre to implement drama education with 3- and 4-year-olds. Thorne began working with St. Luke's Middle School students in the 2014-15 school year. She has taught children's theater for nine years. "I have had a love of theater and have been involved in a production every year of my life since I was in second grade," says the veteran actress. In addition to teaching St. Luke's students, Thorne also teaches 3- to 5-year-olds at the Magik Theatre.
The new class is not just entertaining but also serves developmentally appropriate purposes. "Drama education helps young students develop their oral communication skills as they project their voice and speak in front of others," explains Sherrye Macha, St. Luke's director of early childhood and elementary levels. "Acting also helps children expand their imagination and model different emotions."
Thorne has also witnessed many benefits of teaching theater to children at such a young age. "The children get a better sense of self-awareness and gain confidence. Through participation in theater, young learners improve their speaking skills and coordination." For more information about St. Luke's Episcopal School, visit www.sles-sa.org.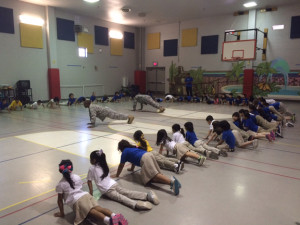 LAMAR ELEMENTARY FOCUSES ON HEALTH

Lamar kindergarten and first grade students took part in a "Heroes for Health" event on March 3 as part of a county-wide initiative to teach students about eating healthy and getting plenty of exercise. Army members from Fort Sam Houston volunteered to take part in the activity.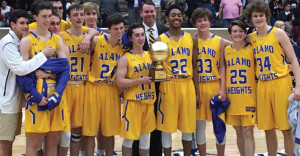 GREAT SEASON, GREAT COACH FOR ALAMO HEIGHTS MULES

Winning district games on the road is tough every season, but winning all eight in a season with only two returning letterman is almost impossible. When the dust settled in district play, the Mules had won every district road game and the district championship with a 14-2 record. After collecting their fifth district title in six years, the Mules advanced to the playoffs, going all the way to the regional semifinals, or sweet sixteen, before losing a heartbreaker in overtime. The basketball boys also racked up quite a bit of hardware after the season: senior, Andrew Puhl was voted all-district honorable mention; senior, Alan Valadez made all-district second team; junior, Will Schmacker and Sophomore, Evan Carcanagues were both voted to the all-district first team; and, senior, Jhonathan Dunn was named district MVP. Schmacker and Dunn also earned all-region honors and Dunn made the all-state team. Head coach Andrew Brewer was named 5A Outstanding Coach of the Year by the Texas Association of Basketball Coaches.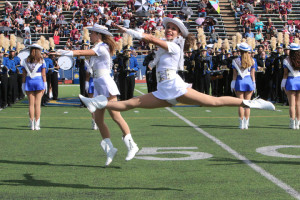 AHHS SQUAD PRACTICES, PERFECTS ROUTINES,
BECOMES PERFORMANCE READY
The Spurs Dance Team competed at their first competition of the year, the SMA Texas State Competition, at Texas State University on Feb. 26 and 27. The team is made up of 20 girls ranging from freshmen to seniors and is led by senior Col. Rosalia O'Brien, Jr. Lt. Paulina Alcala, junior Maj. Sarah Diaz and Jr. Lt. Robyn Reuter.
"The competition at the end of February was an annual competition," sophomore Maddie Campbell said. "Last year we placed first in both clog and pom, second in hip-hop and best overall group in our category." The dance team competed with routines in four different categories: pom, hip-hop, contemporary and open (clog). They also competed with one officer ensemble and a few solo routines.
"Everyone on the squad competes in clog and pom at our competitions," Alcala said. "However, our director decides who competes for hip-hop and contemporary." Before competitions, the team has tryouts for certain routines, and director Jessica Marie Sanchez decides which dancers are prepared to compete in that category.
"Most everyone learns the routines and then competes," freshman Arian Carman said. "But if someone isn't giving the routine 200 percent, they are taken out before the competition. Practice and competitions help our technique and skills get better. They are also great times for team bonding."
Sanchez, along with other outside professionals, choreographs the dance routines for the Spurs. The dancers learn more than 10 routines every year. "It is a lot of sweat and tears," Campbell said. "But the best part is knowing how hard we worked so that when we do well at competitions, we know we really earned our trophies."
On Feb. 26, select dancers from the Spurs competed in the officer ensemble and solo dances at the SMA Texas State Competition, and the whole team competed in the team dance categories on Feb. 27.
"We work really hard until we have our routines perfect," Alcala said. "Sometimes practice is tough, but we love what we do and it shows on the competition floor."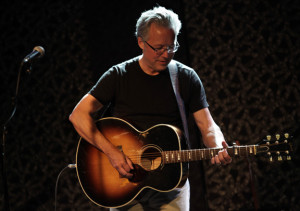 ST. LUKE'S EPISCOPAL'S RADNEY FOSTER AND FRIENDS CONCERT APRIL 13 FUNDRAISER

A rockin' charity fundraiser benefiting The John R. Foster Scholarship for St. Luke's Episcopal School is set for April 13. American country music singer-songwriter, Radney Foster will join his friends Darius Rucker, Grammy award-winning soloist and former lead singer for Hootie and the Blowfish, and American New Traditionalist Country singer-songwriter Kelly Willis, for one night of amazing country music benefiting the John R. Foster Scholarship Fund for St. Luke's Episcopal School. Since 2010 singer/songwriter Radney Foster has organized an annual concert event to benefit the John R. Foster Scholarship Fund. Proceeds from the concert–open to the San Antonio community as well as St. Luke's–support the scholarship fund. The April 13 concert is scheduled for 7:30 p.m. at the Tobin Center. Tickets are $45, $85 and $150. Call 210-223-8624 visit www.tobincenter.org for details.
ST. LUKE'S EPISCOPAL SCHOOL RECOGNIZES
EXEMPLARY SCHOLARS
San Antonio Book Festival Winner: Eighth-grader and St. Luke's "lifer" Scout Stevens was awarded second place in the seventh and eighth-grade division of the San Antonio Book Festival Fiction Contest. Her story, "The Lonely, Little, Old Lady," was chosen from 175 submissions from 40 schools. As a second place winner, Scout will receive $150.
Young Pegasus Poetry Competition winners: St. Luke's second graders Emmie August and Olivia Stupka have been recognized as winning poets in the 2016 Young Pegasus Poetry Competition sponsored by the San Antonio Public Library. The students' work was selected from over 1900 submissions and will be published in the 2016 Young Pegasus Anthology.
Alkek Merit Award recipient: St. Luke's eighth-grader Garrett Greiner was awarded the Alkek Merit Award for the 2016-2017 school year. Aaron Hawkins, TMI director of admissions, wrote, "Garrett was selected for this award based on his impressive academic and extracurricular record as a student at St. Luke's Episcopal School."
ARASE Regional Science Fair winner: Seventh-grader Claire Brown recently received fourth place in the chemistry category in the ARASE Regional Science Fair for her project "Sweet & Simple". The event attracts over 700 students from 32 counties in the San Antonio area to compete.
Junior Classical League accolades: St. Luke's seventh- and eighth-grade students recently earned third place in the middle school division of the Area B Junior Classical League Convention, competing against 25 local schools. Overall, the 15 SLES students achieved a total of 24 awards. Every participating student received an award in his or her category.